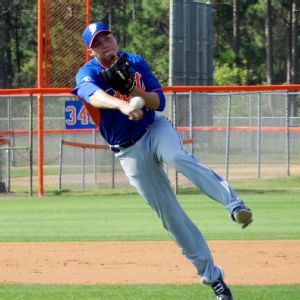 Adam Rubin
Wilmer Flores mans shortstop during Sunday's workout.
PORT ST. LUCIE, Fla. -- Terry Collins again pledged Sunday to get Wilmer Flores some time at shortstop during Grapefruit League play.
"First of all, I tip my hat to him. He's got a whole different body right now than he did at the end of the season," Collins said about Flores, who took grounders at both middle-infield positions during Sunday's workout. "He went to the [fitness and nutrition] camp in Michigan. He looks tremendous. He came in lighter. He came in more athletic.
"I'm going to let him play some shortstop, but I want to see him at second. I want to see him at third.
"The bat potential is off the charts," Collins continued. "Everybody talks about what a big RBI guy he is, what he's going to be. Somebody told me yesterday they've watched him in winter ball for a few years and he reminds them of Fonzie [Edgardo Alfonzo]. That is a big statement. And I don't like to compare guys. But that is a big statement, because Edgardo was an outstanding offensive player. And if that's what Wilmer Flores is going to be, obviously you have to find a position for him to play."