PORT ST. LUCIE, Fla.
FIRST PITCH: The Mets host the Miami Marlins at 1:10 p.m. Saturday (PIX11) as Grapefruit League play continues at Tradition Field.
Fifth-starter candidate John Lannan makes his Mets debut, opposite right-hander Kevin Slowey. Vic Black, Scott Rice, Kyle Farnsworth, Josh Edgin, Ryan Reid, John Church, Steven Matz and Cory Mazzoni also are scheduled to pitch for the Mets.
Saturday's news reports: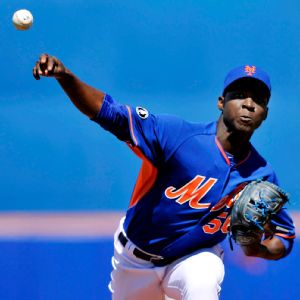 Brad Barr/USA TODAY Sports
Rafael Montero opened the Grapefruit League schedule with two perfect innings Friday.
• Not shying away from Sandy Alderson's statement in an internal meeting, Terry Collins acknowledged he plans to give each player specific goals that collectively will get the Mets to 90 wins. Read more in the Post.
In a positive start for both first basemen, Ike Davis belted a two-run homer and Lucas Duda had a broken-bat ground-rule double and was robbed of another hit Friday against the Washington Nationals. Pitching prospects Jacob deGrom and Rafael Montero tossed two perfect innings apiece, although the Mets lost, 5-4, in the ninth on a run-scoring triple against Jeff Walters. Chris Young started in left field and led off and went 1-for-2 with a strikeout in his Mets debut. Ex-Yankee Curtis Granderson went 0-for-2. Wilfredo Tovar suffered a right-hamstring injury in the seventh, but downplayed the severity.
On Montero and deGrom, Paul DePodesta told Kristie Ackert in the Daily News: "You look at the Cardinals and the Rangers in the last couple of years, they have had to bring their young pitchers up to the bullpen, because that is where there is room for them. We want to be in that type of situation, where we are bringing guys up to the bullpen in the big leagues. Maybe they are starters who will transition back to being starters later, or maybe they won't because they have become so valuable in their role in the bullpen." Read more on Montero and deGrom at MLB.com.
Read more on Davis and Duda in the Times, Star-Ledger, Record and Newsday.
Read a recap of the Grapefruit League opener in the Star-Ledger.
• Columnist Joel Sherman in the Post says the Mets remind him of the Harold Ramis-penned movie "Groundhog Day." Writes Sherman:
I was thinking of that film Friday as I entered Mets camp for what was their first spring game, but with a sense already of been there, done that. After all, there was the Flaw Firm of Ruben Tejada, Ike Davis and Lucas Duda in the starting lineup beginning, what is it, Year 4 of "they need to show us what they've got" portion of the program? Quite frankly, none of it has been as amusing as Bill Murray.
Plus there was that never-ending backstory playing out yet again in which the Mets are selling hard that they are better than the perception offered by their competitors, the public, the media and the odds-makers.
Sherman goes on to note that Bovada, the betting site that has the Mets at 73.5 wins this season, has come within 2.5, 0.0, 0.5 and 0.5 of the Mets' actual win total over the past four seasons.
• David Wright was voted on Twitter as the #faceofmlb, beating what one Mets staffer labeled "rickroll" candidate Eric Sogard of the Oakland Athletics in the finals. "Speech!" Bobby Parnell shouted in the clubhouse upon seeing Wright enter Friday morning. Wright then jokingly said: "First of all, I'd like to thank my parents for giving me this face."
• Jonathon Niese returned to camp Friday after undergoing an MRI in New York and reiterated he had received good news from team doctor David Altchek. Niese suggested his concentration on strengthening the rotator cuff in his pitching arm during the offseason prompted him to neglect other shoulder muscles and caused an "imbalance" and weakness. He expects to resume tossing a baseball this weekend, although he will not yet return to the mound. Read more in the Post, Daily News, Star-Ledger, Record, Newsday and MLB.com.
• Parnell, cautiously returning from herniated-disk surgery and briefly slowed by a left quadriceps injury, plans to throw live batting practice Saturday for the first time since arriving in camp.
• The Mets are offering $5 tickets that include a Wright T-shirt for their Friday, April 4 game against the Cincinnati Reds at Citi Field. Find more details here.
• WOR made its radio debut as the Mets' flagship station Friday. "See, you found us. That wasn't so hard, was it?" Howie Rose began the maiden broadcast by saying, Newsday's Neil Best tweeted.
• Jared Diamond in the Journal writes that the Mets could break MLB's all-time strikeout record this season. After all, the Mets added Granderson and Chris Young to a team that already set a franchise record with 1,384 Ks last season. The MLB record is 1,535, set by the 2013 Houston Astros. The previous record had been 1,529 by the 2010 Arizona Diamondbacks.
• The Mets had only one player exceed 502 plate appearances and qualify for the batting title last year: Daniel Murphy, with 697. It marked only the 15th time in the majors since 1900 (albeit 12th time since 2003) that a team only had one player with enough plate appearances to qualify, Michael Salfino writes in the Journal.
• From the bloggers … John Delcos at Mets Report suggests Niese's injury raises questions.
BIRTHDAYS: Former Mets (and Long Island Ducks) catcher Ramon Castro turns 38.
TWEET OF THE DAY:
Yes, Howie did just say "The Islanders are bringing the infield in"... just bear with him, we're almost done for the day. 5-4 Wash in 9th.

— Mets Booth (@MetsBooth) February 28, 2014
YOU'RE UP: Are the Mets setting themselves up to have the season viewed as a failure no matter how successful they are because of all this unrealistic 90-win chatter?