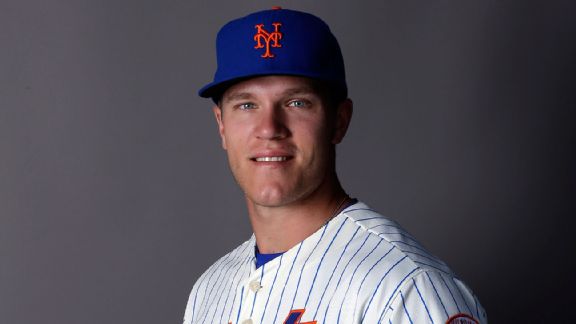 Jeff Roberson/Associated Press
Noah Syndergaard makes his Grapefruit League debut Monday at ESPN's Wide World of Sports.PORT ST. LUCIE, Fla.
FIRST PITCH: It's Noah Syndergaard Day!
Syndergaard makes his Grapefruit League debut at 1:05 p.m. Monday against the Atlanta Braves at ESPN's Wide World of Sports (WOR 710 AM).
Jacob deGrom, Miguel Socolovich, Gonzalez Germen, Josh Edgin and Jeff Walters also are scheduled to pitch for the Mets.
Right-hander Freddy Garcia starts for the Braves. Closer Craig Kimbrel also is scheduled to appear.
Monday's news reports:
• The Mets remained winless in Grapefruit League play with a 7-1 loss to the St. Louis Cardinals on Sunday. Daisuke Matsuzaka allowed one run in two innings. Terry Collins subsequently anointed John Lannan and Dice-K as the fifth-starter frontrunners. Long Island native Steven Matz continued to impress scouts with a scoreless frame. Wilmer Flores made his first appearance at shortstop since 2011, when he played in the Florida State League. (View the box score here.)
Read more on Dice-K in the Post, Daily News, Star-Ledger and MLB.com.
Read more on Matz in Newsday and the Star-Ledger.
• Jhonny Peralta, who signed a four-year, $53 million contract with the St. Louis Cardinals, indicated the Mets made him a two-year offer early in the offseason. Read more in the Post.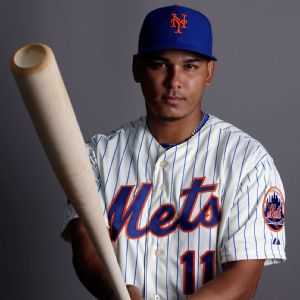 Jeff Roberson/Associated Press
Ruben Tejada was scratched from Sunday's game with hamstring tightness.
• Ruben Tejada experienced left hamstring tightness and was scratched from Sunday's game. Collins expected Tejada to return to the lineup as soon as Tuesday. Read more on Tejada's injury in the Post, Daily News, Times, Star-Ledger and Newsday.
Columnist Joel Sherman in the Post reviews shortstop alternatives to Tejada: Stephen Drew (free agent), Nick Franklin (trade) and Flores (internal).
Writes Sherman:
Executives I have spoken with say the Mets have indicated they will not add significantly to their 2014 payroll. Thus, while Drew's asking price has fallen, it will probably never sink to a level these Mets are willing to spend. …
Seattle with Franklin and Brad Miller and the Diamondbacks with Didi Gregorius and Chris Owings have shortstop battles ongoing. Thus, both will have depth to trade, and the Mets talked to both at the Winter Meetings. But there have been no strong talks recently. …
Even most Mets officials are skeptics [of Flores at shortstop]. He did play the final few innings Sunday at short and Collins said, "I am intrigued. We will run him out there and see what we have."
• Columnist Bob Klapisch in the Record suggests the Mets are headed in the right direction with their young starting pitching, but they are at best a .500 team this season -- and Sandy Alderson knows it.
• Tim Rohan in the Times writes a feature on Syndergaard. Read more on the top prospect in the Daily News.
• Citi Field will be one of three MLB ballparks to be fitted for the 2014 season with a system that will collect data about defensive plays. The others will be Target Field in Minnesota and Miller Park in Milwaukee. Select other stadiums will add the technology the following year. Writes Mark Newman at MLB.com:
For instance, on a brilliant, game-saving diving catch by an outfielder, this new system will let us understand what created that outcome. Was it the quickness of his first step, his acceleration? Was it his initial positioning? What if the pitcher had thrown a different pitch? Everything will be connected for the first time, providing a tool for answers to questions like this and more.
• Andrew Marchand at ESPNNewYork.com asks if Jose Reyes' next employer could be the Yankees.
Reyes, by the way, wanted Tejada to work out with him much of the 2012-13 offseason on Long Island. "He only worked with me for a week and a half," Reyes said, via David Lennon in Newsday. "That's not going to get it done. But I saw him two days ago [on TV] and he looked better. I think he learned from that mistake last year. He's still young. The talent is still there."
• Jared Diamond in the Journal suggests the Mets follow the Cardinals' path and introduce promising arms to the majors in the bullpen. Writes Diamond:
It worked for Lance Lynn, who made 16 relief appearances in 2011, only to emerge as an 18-game winner mostly as a starter in 2012. It worked for Joe Kelly, who pitched 30 times out of the bullpen in 2012 and 2013, mixed with 31 starts, before making four postseason starts during the Cardinals' run to the World Series last year.
It even worked for ace Adam Wainwright -- a brief chapter the Mets remember better than anybody. As the Cardinals' closer in Game 7 of the 2006 NLCS, Wainwright delivered the final curveball that froze Carlos Beltran, silenced Shea Stadium and sent the Mets into an era of ineptitude.
• Stephen Strasburg advises Matt Harvey to proceed slowly while rehabbing from Tommy John surgery, Kevin Kernan writes in the Post. "You'll feel great one day and the next day it's terrible," Strasburg, who has returned from the procedure, tells Kernan. "The best advice I got was, 'Look where you were at the start of the month and then at the end of the month. Don't look at where you were yesterday.'" Strasburg and Harvey both are represented by Scott Boras. And Strasburg has told his agent he is willing to speak with Harvey about the rehab.
• Marty Noble at MLB.com writes that No. 3 is fitting for Curtis Granderson.
• Ex-Met Guillermo Mota has retired.
• John Rowe in the Record discusses Mets pitchers at the plate.
• From the bloggers … Faith and Fear in Flushing presents its annual Oscars-style "montage" of the Mets who stopped being Mets during the past year. … John Delcos at Mets Report cites the case for Lannan as fifth starter.
BIRTHDAYS: Former Mets reliever Jorge Julio -- or, as Anna Benson prefers, Julio Jorge -- turns 35.
TWEET OF THE DAY:
@AdamRubinESPN I have a knack for blending in with my surroundings

— Noah Syndergaard (@Noahsyndergaard) March 2, 2014
YOU'RE UP: Do an 0-3 Grapefruit League record and producing four hits in consecutive games matter?