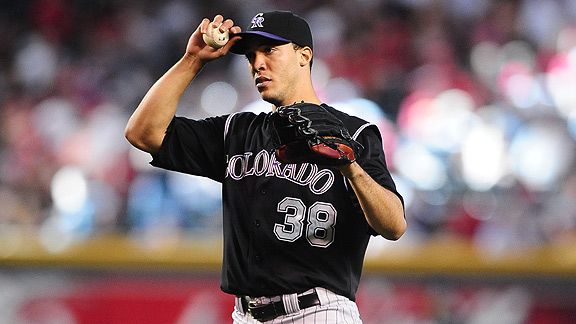 Mark J. Rebilas/US Presswire
Colorado Rockies pitcher Ubaldo Jimenez already has tied the franchise record for wins with 17.
METS (55-56, third place/NL East) vs. COLORADO ROCKIES (58-53, third place/NL West)
Tuesday: RHP Mike Pelfrey (10-6, 4.16) vs. RHP Ubaldo Jimenez (17-2, 2.61), 7:10 p.m. ET
Wednesday: LHP Jon Niese (7-5, 3.63) vs. LHP Jeff Francis (4-4, 4.67), 7:10 p.m. ET
Thursday: LHP Johan Santana (9-6, 3.06) vs. RHP Jason Hammel (8-6, 4.38), 12:10 p.m. ET
Rockies short hops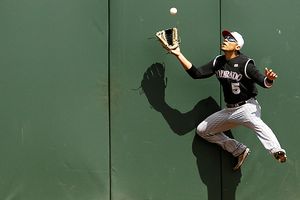 Cary Edmondson/US Presswire
Outfielder Carlos Gonzalez has eight homers in his last 11 games.
With nearly two months remaining in the season, ace Ubaldo Jimenez already has claimed a share of the franchise record for wins with 17, which also leads the majors. The other Rockies to record a 17th win in a season: Jeff Francis on Sept. 23, 2007, Pedro Astacio on Sept. 29, 1999 and Kevin Ritz on Sept. 19, 1996. In a 6-1 win against the San Francisco Giants on Wednesday, Jimenez improved to 8-0 at Coors Field. He is 13-1 when pitching the game following a team loss, the best record for any National League pitcher with at least five decisions, according to the Elias Sports Bureau. … Outfielder Carlos Gonzalez leads the National League with a .327 average and ranks fourth in homers with 25 and third in RBIs with 77. He is hitting .500 (24-for-48) with eight homers and 15 RBIs in his last 11 games. Gonzalez hit for the cycle on July 31 against the Chicago Cubs, completing the feat with a walk-off homer in the ninth off reliever Sean Marshall. Gonzalez does have a pronounced difference in home run production at Coors Field versus on the road. He has homered every 10.5 at-bats in Denver this season, but every 35.5 at-bats as a visiting player. Gonzalez, 24, missed the April 13-15 series against the Mets with a strained left hamstring. He was acquired from Oakland with closer Huston Street on Nov. 10, 2008 for outfielder Matt Holliday. The Venezuelan outfielder originally was signed by the Arizona Diamondbacks, and was sent to Oakland in a swap for Dan Haren. …. Shortstop Troy Tulowitzki is hitting .396 with 12 RBIs in 12 games since returning from the disabled list on July 27. Tulowitzki had missed nearly six weeks with a broken left wrist, which he suffered being hit by a pitch from Minnesota Twins reliever Alex Burnett. Clint Barmes hit .293 in 41 games at shortstop. … The day of Tulowitzki's return to the lineup, Street was struck in the abdomen with a line drive during batting practice and was taken by ambulance to the hospital. Street had missed Colorado's first 69 games with shoulder and groin injuries. He has seven saves in nine chances. … First baseman Todd Helton returned last Tuesday after missing 22 games with lower back stiffness. He homered for only the third time in 263 at-bats this season on Saturday, then did not play in the series finale. … Center fielder Dexter Fowler recently missed three games but avoided the disabled list with bruised left ribs, which he suffered while crashing into the wall on a catch at Coors Field against the Chicago Cubs. Fowler is tied with Philadelphia's Shane Victorino for the National League lead in triples with eight. The Rockies are 20-10 in games in which he leads off, despite his .244 overall average in 254 at-bats this season. … Colorado is 36-19 at home and 22-34 on the road. Manager Jim Tracy had a team meeting during the weekend series in Pittsburgh to address the subpar road play. … Lefties are hitting .169 against reliever Joe Beimel. … Francis missed all of 2009 and this season's first month and a half following shoulder surgery.
Matchups
Pelfrey vs. Rockies (career: 4-2, 3.18 ERA)
Todd Helton .857, 1 HR, 5 RBIs, 7 AB
Chris Iannetta .667, 3 AB
Carlos Gonzalez .500, 1 HR, 2 RBIs, 2 AB
Seth Smith .444, 9 AB
Troy Tulowitzki .417, 12 AB
Jason Giambi .250, 1 RBI, 4 AB
Miguel Olivo .222, 9 AB
Melvin Mora .200, 5 AB
Ian Stewart .200, 5 AB
Dexter Fowler .143, 7 AB
Brad Hawpe .100, 10 AB
Clint Barmes .000, 11 AB
Ryan Spilborghs .000, 4 AB
Niese vs. Rockies (career: 0-1, 7.15)
Chris Iannetta .667, 3 AB
Ian Stewart .500, 2 AB
Todd Helton .429, 7 AB
Ryan Spilborghs .333, 1 HR, 4 RBIs, 6 AB
Clint Barmes .333, 1 HR, 3 RBIs, 6 AB
Seth Smith .333, 6 AB
Dexter Fowler .333, 3 AB
Troy Tulowitzki .000, 4 AB
Brad Hawpe .000, 2 AB
Santana vs. Rockies (career: 1-0, 0.00 ERA)
Matt Belisle .500, 2 AB
Dexter Fowler .333, 3 AB
Todd Helton .333, 3 AB
Troy Tulowitzki .333, 3 AB
Jason Giambi .222, 1 HR, 4 RBIs, 18 AB
Miguel Olivo .182, 1 HR, 1 RBI, 11 AB
Melvin Mora .150, 20 AB
Brad Hawpe .000, 3 AB
Chris Iannetta .000, 3 AB
Ryan Spilborghs .000, 3 AB
Ian Stewart .000, 3 AB
Jimenez vs. Mets (career: 2-1, 2.79 ERA)
Luis Castillo .333, 1 RBI, 9 AB
Jose Reyes .286, 1 HR, 1 RBI, 7 AB
David Wright .250, 8 AB
Carlos Beltran .167, 6 AB
Jeff Francoeur .125, 2 HR, 2 RBI, 16 AB
Angel Pagan .125, 8 AB
Henry Blanco .000, 2 AB
Francis vs. Mets (career: 2-2, 5.40 ERA)
David Wright .667, 3 HR, 3 RBIs, 9 AB
Angel Pagan .333, 1 HR, 3 RBIs, 3 AB
Henry Blanco .333, 3 AB
Jose Reyes .308, 3 RBIs, 13 AB
Carlos Beltran .300, 5 RBIs, 10 AB
Jeff Francoeur .286, 1 RBI, 7 AB
Luis Castillo .200, 1 RBI, 5 AB
Hammel vs. Mets (career: 0-1, 33.75 ERA)
Angel Pagan .500, 1 RBI, 2 AB
Jeff Francoeur .250, 4 AB
Luis Castillo .000, 2 AB
David Wright .000, 1 AB
Last series results:
Rockies won 2-1 at Coors Field, April 13-15 (AP game recaps)
Rockies 11, Mets 3: Greg Smith won for the first time in 19 months, riding a six-run third inning by the Colorado Rockies to a rout of John Maine and the New York Mets. Smith (1-1) struck out eight over seven innings, allowing two runs and six hits. He replaced fellow lefty Jeff Francis (strained left shoulder) in the Rockies' rotation at the end of spring training. Smith also collected his first career RBIs when he stroked a run-scoring double into the left-field alley in the third and plated another run with a fielder's choice groundout in the seventh. Maine (0-1) tied a career high by allowing eight runs in just three innings. He also yielded seven hits and walked three. Smith, who spent last season toiling in the minors and dealing with shoulder troubles, displayed none of the nerves or profuse sweat that marked his start at Milwaukee the previous week. He picked up his first major league win since Sept. 6, 2008, for Oakland against Baltimore. Brad Hawpe doubled home the first two runs for Colorado in the first inning but left one batter later with tightness in his left quadriceps. He was replaced by Ryan Spilborghs. The Rockies scored all six of their runs in the third with two outs. Ian Stewart started it off with an RBI single that barely scored Todd Helton from second. He slid in just ahead of the tag. Maine couldn't handle Clint Barmes' tricky comebacker and sidearmed the throw past first base, allowing Stewart to follow Troy Tulowitzki across the plate. Seth Smith followed Greg Smith's RBI double -- the pitcher's second hit in the majors -- with his first homer of the season, a two-run shot over the center-field wall that made it 8-0. Even the third out was an adventure as Maine nearly overthrew first baseman Fernando Tatis on Dexter Fowler's comebacker. David Wright's second homer got the Mets on the board in the sixth and Rod Barajas added a sacrifice fly in the seventh. Jason Bay added an RBI single in the eighth. The Rockies scored three times in the bottom half of the seventh against Fernando Nieve, who gave up one hit and walked three while recording just one out.
Rockies 6, Mets 5 (10 innings): An inning after his throwing error let the New York Mets tie it, Chris Iannetta homered to lead off the 10th inning. The Colorado catcher sent a pitch from Jenrry Mejia (0-1) into the bleachers in center field to give the Rockies their third straight win and send the Mets to their fourth loss in a row. Randy Flores (1-0) came on for Manny Corpas and retired Alex Cora with runners on second and third in the top of the 10th. Jeff Francoeur and David Wright homered for the Mets. In the ninth, Gary Matthews Jr. began with a single off closer Franklin Morales, stole second and took third when Iannetta's throw went into center. After Jose Reyes struck out, Luis Castillo scored Matthews with a sacrifice fly. New York, which entered the game hitting .180 with runners in scoring position, cut the lead to 5-4 on Rod Barajas' two-out RBI single in the eighth. The Mets took a 3-1 lead in the third when Castillo singled with one out and Wright hit his third homer of the season, off Aaron Cook. Colorado answered in the bottom of the third off Mets starter Jon Niese. Todd Helton doubled with one out, Troy Tulowitzki walked and Spilborghs drove Niese's 2-2 fastball over the wall to make it 4-3. The Rockies made it 5-3 in the fourth when Cook scored on Dexter Fowler's single. He also led off the sixth with a double but was stranded. Cook was in line for his first win of the season after giving up three runs on four hits and striking out four in six innings. Niese allowed five runs on nine hits, struck out two and walked one in five innings. The Mets scored first when Francoeur hit Cook's first pitch in the top of the second down the left-field line for his third home run of the season. The Rockies tied it in the bottom half of the inning on Clint Barmes' one-out double that scored Ian Stewart from second base. Francoeur has hit safely in all eight of New York's games this season. Colorado outfielder Brad Hawpe didn't start because of tightness in his left thigh but pinch hit in the eighth. Rockies outfielder Carlos Gonzalez (left hamstring tightness) missed his second straight game.
Mets 5, Rockies 0: Mike Pelfrey pitched seven solid innings and hit an RBI single, helping the New York Mets avert a series sweep. Pelfrey (2-0) allowed five hits, struck out six and walked none as the Mets ended a four-game skid. Only two of the Rockies' hits got out of the infield. Pedro Feliciano and Francisco Rodriguez each pitched a hitless inning to finish New York's first shutout of the season. Jorge De La Rosa (1-1), whose 17 wins since June 1 are the most in the majors, struggled with his control while allowing five runs and eight hits over six innings. He walked five and threw two wild pitches that figured in a pair of runs. De La Rosa threw seven scoreless innings in his first outing of the season against San Diego and was 5-0 with a 2.49 ERA in his previous eight starts before facing New York. Pelfrey was in control throughout on the mound, but he had a wild time on the bases after drawing a leadoff walk in the third. He advanced to second on a wild pitch and moved to third on Jose Reyes' single. When Luis Castillo followed with a grounder to third, Pelfrey broke for home. Ian Stewart chased him down the line but his throw glanced off Pelfrey's shoulder and deflected off catcher Miguel Olivo's glove for an error that gave the Mets a 2-0 lead. The error kept New York from having three outs registered on the basepaths in the inning. Castillo was tagged out going for second, apparently on an aborted hit-and-run play, and Reyes was thrown out trying to steal third before David Wright struck out to end the inning. The Mets added two more in the fourth. Angel Pagan drove in a run with a fielder's choice and Pelfrey added his RBI single. Jason Bay also singled in a run for New York, and Castillo scored on De La Rosa's wild pitch in the fifth. Players and coaches from both teams wore the No. 42 as part of baseball's tribute to Jackie Robinson on the anniversary of his 1947 debut for the Brooklyn Dodgers, when Robinson broke the color barrier. The Rockies failed to hit a homer and also were shut out for the first time this season.