PORT ST. LUCIE, Fla. -- After tossing three innings in a controlled intrasquad game Thursday, Bartolo Colon pronounced himself fit to make his 2014 Grapefruit League debut on Monday against the Miami Marlins at Tradition Field.
Colon, slowed early in camp by a calf injury, tossed 54 pitches during Thursday's effort. He sat at 86-89 mph. The lone damage he surrendered came in the third inning, on a homer by David Wright.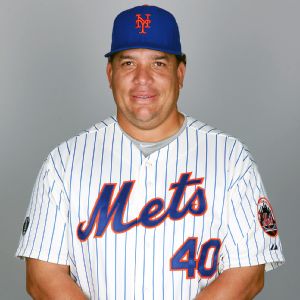 Eliot J. Schechter/MLB Photos
Returning from a calf injury, Bartolo Colon tossed three innings Thursday.
Wright playfully rounded the bases after the shot, even though the modified game did not call for that.
It was a loose atmosphere all the way around. Daniel Murphy, after walking against Colon earlier that frame, raised his hands like a champion as he jogged toward first base. Murphy is trying to lift his on-base percentage, which was only .319 last season.
Afterward, Colon indicated he was healthy, but dissatisfied with his location.
"I didn't accomplish what I wanted to accomplish, but I felt good," Colon said through an interpreter. "I just wanted to locate today and work on my pitches. The most important thing is I felt fine and that I'm working hard to make sure I'm ready for Opening Day."
Colon is expected to start the second game of the season, on April 2 against the Washington Nationals at Citi Field, after Jonathon Niese handles Opening Day.
Wright said he marveled at Colon's craftiness, even in a low-intensity setting.
"It's just in, out, in, out," Wright said. "There was an at-bat to Murph where he kept front-door two-seaming him. And then he'd backdoor, front door, back door, back and forth. And then he got to 3-2 and threw him a really nasty changeup that he hasn't seen the entire at-bat. And that's what Bartolo does. His fastball is deceptive. He's got a lot of movement on it. And you could just tell he's a master at his craft."