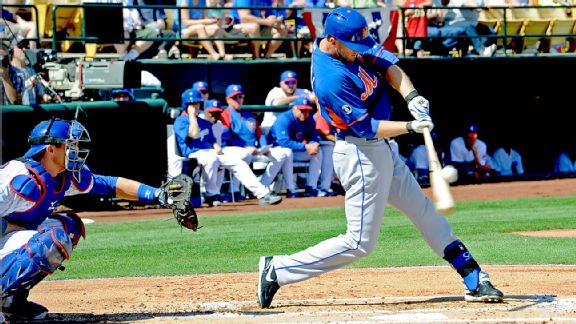 Glenn Pinkerton/Associated Press
Eric Campbell produced a ninth-inning double while manning first base for the Mets on Saturday in Vegas against the Cubs.PORT ST. LUCIE, Fla.
FIRST PITCH: Opening Day is only 15 days away.
And Sunday marks the final split squad of spring training for the Mets.
All eyes will be on Jupiter, Fla., where Jonathon Niese will make his second Grapefruit League start (WOR 710 AM).
Niese, slowed early in camp by shoulder weakness, needs to demonstrate he is ready to make the Opening Day start against the Washington Nationals on March 31 at Citi Field.
Niese did eventually ramp up to 88-89 mph in his initial Grapefruit League appearance five days ago. But early in that outing Terry Collins was concerned, especially when Niese's first pitch -- a fastball -- registered only 79 mph.
Niese opposes St. Louis Cardinals ace Adam Wainwright at 1:05 p.m.
Meanwhile, in Las Vegas, the Mets look to sweep a two-game series from the Chicago Cubs. After the game, the Mets take a chartered flight back to Florida, which should land about 1 a.m.
Although Jenrry Mejia may be ticketed for the Las Vegas rotation with Noah Syndergaard, Rafael Montero, Jacob deGrom, and Logan Verrett or Cory Mazzoni, Mejia will continue to try to make a case for the fifth-starter's job when he starts at 4:05 p.m. ET opposite Cubs left-hander Chris Rusin.
Mejia tossed two scoreless innings against the Nats in his lone Grapefruit League appearance, on March 5. He was dominant for another two innings in a "B" game in his last outing.
Sunday's news reports:
Mark Cunningham/Getty Images
With Jose Iglesias reportedly due to miss much of the season, the Tigers are in need of a shortstop.
• The Detroit Tigers will lose shortstop Jose Iglesias for a significant portion of 2014 with a shin injury, ESPN's Jim Bowden tweets. As a result, Detroit could be the ultimate landing spot for Stephen Drew.
Mike Puma in the Post reports the Mets "seem resigned to at least starting the season with [Ruben] Tejada at shortstop."
• Dillon Gee escaped unscathed in three-plus scoreless innings despite surrendering five hits, but the Mets ultimately tied the Minnesota Twins, 3-3, in a split-squad game at Tradition Field on Saturday. Vic Black surrendered three eighth-inning runs. 2013 first-round pick Dominic Smith singled in his first career Grapefruit League at-bat. Jeurys Familia, working for a second straight day, topped out at 98 mph and broke the webbing of catcher Taylor Teagarden's glove with one fastball. Familia has now tossed five scoreless innings. Read more in the Star-Ledger, Daily News, Newsday, Record and MLB.com.
• In Las Vegas, Chicago Cubs first baseman Anthony Rizzo homered twice against Bartolo Colon, but the Mets produced a 9-4 win at the home of their Triple-A affiliate. Bobby Parnell contributed a scoreless innings. Wilmer Flores had a two-run homer. Read more in the Star-Ledger.
• Lucas Duda and Ike Davis continued to get minor-league at-bats Saturday without running full throttle after making contact. They are expected to repeat that activity for a third straight day Sunday, Bob Geren said. Both are aiming for actual Grapefruit League games by midweek. Read more in the Post and Star-Ledger.
• Terry Collins continues to suggest he may bat the pitcher eighth, at least on occasion. In that scenario, Tejada would bat ninth, the manager tells Anthony Rieber in Newsday.
• Tim Rohan in the Times features the Mets' program that teaches Spanish-speaking players English. He notes that because Montero rose so quickly through the system because of his on-field success, he missed out on some of the English-learning opportunities more readily available in the low minors. Writes Rohan:
It has not helped that Montero has only a first-grade education, as he told The Star-Ledger last year. He grew up in rural Sabana Higüero in the Dominican Republic and moved to Santo Domingo at 17 with an older brother, hoping to play professional baseball someday. He trained tirelessly, and at 20 he signed with the Mets for $90,000.
• Columnist John Harper in the Daily News notes Las Vegas is not the ideal location for the Mets' Triple-A affiliate, especially because it is rough on pitchers. However, while the player-development agreement expires after the 2014 season, allowing the Mets to switch, the club may be forced to stay in Vegas, since it is unclear if any city with an International League team will have a vacancy. Sandy Alderson has noted that Las Vegas has hired an experienced groundskeeper for the upcoming season, which should help. Read more in the Post, Newsday and MLB.com.
• Matt Ehalt in the Record profiles Syndergaard, who can squat 460 pounds and dead lift more than 500 pounds.
• Michael J. Fensom in the Star-Ledger has a Q&A with Chris Young, whose favorite TV show is "Fresh Prince of Bel Air." His favorite episode? "When Will teaches Ashley to play the drums."
• From the bloggers … The Eddie Kranepool Society asks: Opening Day, are we there yet? … Faith and Fear shares an anecdote about our small digital world and a long-ago Braves playoff defeat. … The King of Queens urges Sandy Alderson to acquire Nick Franklin before someone else swoops in.
BIRTHDAYS: Curtis Granderson turns 33. ... Stephen Drew, who isn't a Met -- not yet, anyway -- turns 31.
TWEET OF THE DAY:
Yeah josh RT @Mets: RBI single for @JoshSatin! 3-0 #Mets bottom 5th. #NYMvsMIN

— Howie Mandel (@howiemandel) March 15, 2014
YOU'RE UP: Do you think Ruben Tejada will be the Opening Day shortstop?