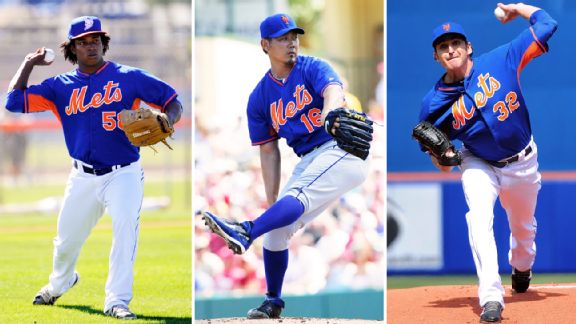 USA TODAY Sports
If Jon Niese misses any significant time, two of three from Jenrry Mejia, Daisuke Matsuzaka and John Lannan should be in the Opening Day rotation.PORT ST. LUCIE, Fla.
FIRST PITCH: Jonathon Niese is scheduled to have an MRI and be examined by team doctor David Altchek on Monday at the Hospital for Special Surgery in Manhattan.
Niese departed Sunday's game against the St. Louis Cardinals after two innings and 35 pitches with elbow discomfort. The southpaw did not believe the injury was severe, but clearly he now is unlikely to make the Opening Day start on March 31 against the Washington Nationals at Citi Field.
Terry Collins previously had indicated Bartolo Colon is the probable Opening Day starter if Niese is not available, with Dillon Gee the other consideration.
If Niese's elbow issue is not severe, the Mets still can place him on the disabled list to open the season and backdate it nine days into spring training.
That means Niese would be eligible to return April 6 against the Cincinnati Reds, which happens to be the first day the Mets would need a fifth starter. That also would allow the Mets to carry an extra bench player (Andrew Brown or Wilmer Flores, perhaps?) or an extra bullpen arm for the first five games of the season.
Daisuke Matsuzaka was the probable fifth starter before Niese's injury anyway.
If Niese is lost beyond April 6 and the Mets need another starter, the team would need to debate John Lannan and Jenrry Mejia's candidacies as the fill-in. Lannan otherwise should make the team in relief.
Mets officials previously have told ESPNNewYork.com that they do not want to continue to shift Mejia between starting and relieving. If Mejia is not in the rotation to start the year, team brass will have a serious discussion late in spring training about Mejia's future role -- and then stick with it.
Rafael Montero is not an Opening Day rotation consideration, but will get consideration for a relief role, according to Collins. Still, unless Lannan ends up in the rotation, it is difficult to see where Montero might fit in the pen to start the season. The projected bullpen pre-Niese injury has included Bobby Parnell, Vic Black, Jose Valverde, Carlos Torres, Jeurys Familia, Scott Rice and Lannan.
Meanwhile, the Mets who traveled to Las Vegas were due to land in the early morning hours on Monday. Most of those players likely will be excused from an afternoon game against the Miami Marlins at Roger Dean Stadium in Jupiter. Lannan opposes Marlins right-hander Henderson Alvarez at 1:05 p.m. (WOR 710 AM).
Monday's news reports:
• Cory Vaughn homered against Adam Wainwright and finished with four RBIs as the Mets beat the Cards, 10-4, despite losing Niese to injury after 35 pitches. Ruben Tejada committed his fourth Grapefruit League error and was hitless in four at-bats, dropping his average to .091 (2-for-22). Read more on Tejada and the game against the Cards in the Post and MLB.com.
• Mejia and Montero allowed a combined five runs (four earned) in five innings as the Mets lost to the Chicago Cubs, 6-3, in Vegas. Juan Lagares made a dazzling catch and also threw out a runner at the plate. Flores started his second spring-training game at shortstop, with Collins pledging more action there. Brown belted a two-run homer and Zach Lutz contributed his third spring-training homer. Read more on Mejia and the Vegas game in the Post, Star-Ledger, Newsday and MLB.com.
• Read more on Niese's injury in the Post, Daily News, Times, Star-Ledger, Record, Journal, Newsday and MLB.com.
Getty Images
The D-backs have a pair of shortstops: Chris Owings and Didi Gregorius.
• Ike Davis (calf) went 2-for-6 as a DH but did not run the bases after making contact during a minor-league game Sunday. He did run postgame. Lucas Duda (hamstring) had Sunday off. Read more in the Star-Ledger.
• Columnist John Harper in the Daily News suggests it might make sense to trade some of the Mets' young pitching for offense while they're still prospects and before they get hurt. Of course, Niese's injury potentially means the Mets have less room to deal because they need the pitching depth. Still, Harper notes, the Arizona Diamondbacks have two shortstops, Didi Gregorius and Chris Owings, and now may need a starting pitcher with Patrick Corbin apparently headed for Tommy John surgery.
• Matt Ehalt in the Record speaks with Matt den Dekker about his solid camp. He is hitting .379 (11-for-29) in Grapefruit League play.
• Jared Diamond in the Journal notes Las Vegas is a tough place for prospects to pitch. As for whether the 51s will remain the Mets' Triple-A affiliate beyond this season, when the current player-development agreement will have expired, Las Vegas president Don Logan told Mike Vorkunov in the Star-Ledger: "I think the geography is going to come into play. If there is a team on the East Coast available it just makes more sense maybe for them. But if you're going to be in the West, this is the best place to be, because we have tons of air access to everywhere in the country."
• How did the Mets celebrate Curtis Granderson's 33rd birthday on Friday night in Vegas? Anthony DiComo at MLB.com writes:
After a dinner at Andiamo Steakhouse, the Mets gathered around a Sigma Derby machine on the casino floor, where players could wager quarters on fake horses.
"Guys were upset they lost six dollars," Granderson recalled, laughing.
It was a way for the Mets to blow off some steam, enjoying their two-day trip to Vegas for a pair of exhibition games against the Cubs. While some members of the traveling party stuck to relaxing -- David Wright spent much of his free time watching college basketball on television -- many others dabbled in what Vegas had to offer.
BIRTHDAYS: Lagares turns 25. ... Former Mets catcher Vance Wilson is 41.
TWEET OF THE DAY:
A smile is the lighting system of the face, the cooling system of the head and the heating system of the heart. #buenasnoches

— Jose Reyes (@lamelaza_7) March 17, 2014
YOU'RE UP: Which two pitchers should fill the Jon Niese and fifth starter's roles assuming Niese misses a portion of the beginning of the season?