PORT ST. LUCIE, Fla. -- John Lannan reported for work Sunday morning believing he was headed for a two-hour bus ride and a start against the Atlanta Braves at ESPN Wide World of Sports.
Instead, Lannan was informed by Terry Collins that the southpaw's final week of spring-training duty would be performed in a relief capacity.
Lannan, working out of the stretch, then tossed a perfect inning against the Washington Nationals in a home split-squad game Sunday. Bryce Harper, the lone lefty batter he faced, was retired on a bunt attempt.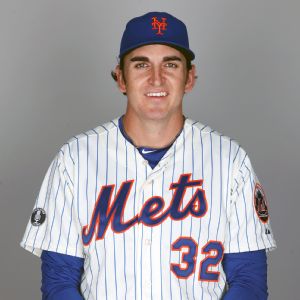 Eliot J. Schechter/MLB Photos
John Lannan will work as a reliever this week.
All 148 of Lannan's career major-league appearances have been as a starting pitcher.
"I definitely wasn't expecting to do that today," Lannan said about the relief role.
Lannan is projected to complement Scott Rice as a lefty reliever in the Mets bullpen. The relief corps also is expected to include Bobby Parnell, Jose Valverde, Vic Black, Carlos Torres and Jeurys Familia.
While Lannan has never pitched in relief in his major-league career, if that is his vehicle back to the majors, so be it.
As a member of the Nats in 2012, Lannan spent most of the year at Triple-A Syracuse. Last year with the Philadelphia Phillies, his season was cut short by August surgery to repair a tendon that links the thigh muscles to the knee in his left leg.
"I still think I can start, but for now they want to see how I do out of the bullpen. That's the plan for now," Lannan said. "… You want to pitch in the big leagues, especially coming off an injury and coming off surgery. Goal No. 1 is to be healthy all year no matter what role it is. And another goal is to help the team win in any capacity."
Collins got Lannan a "clean inning" Sunday, but there will be situations in-season when the southpaw is inserted for a particular matchup with runners on base.
Lannan got a crash course in having to hurriedly ready Sunday. Jenrry Mejia required a visit from the trainer midway through the fifth inning, so Lannan started urgently preparing to enter, although it did not end up being necessary.
"They called down. I threw about 10 to 12 pitches right away. Not surprisingly, but I felt pretty good right after that," Lannan said.
Collins will try to have Lannan work again Monday.
Lannan added that the challenge will be how to get ready, and then stay ready, if the Mets have a long half-inning at the plate before he is due to enter.
"It's just something that I have to get used to," he said.