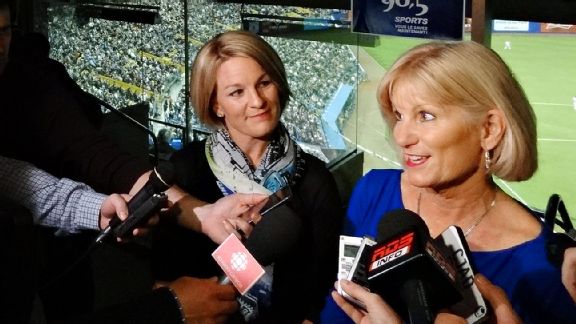 Adam Rubin
Widow Sandy Carter and daughter Kimmy Bloemers address the media at Olympic Stadium after a moving pregame tribute to the late Gary Carter.MONTREAL -- Ten years after the Montreal Expos played their final game at Olympic Stadium, Major League Baseball returned Friday night, with an exhibition game between the New York Mets and Toronto Blue Jays.
The event, which drew an announced crowd of 46,121, appropriately began with a tribute to the late Gary Carter.
With widow Sandy Carter and daughter Kimmy Bloemers on the field for the pregame ceremony, and with ex-Montreal players Steve Rogers, Warren Cromartie and Tim Raines also participating, a video tribute to The Kid played on the Olympic Stadium scoreboard. Organizers also unveiled a banner on the right-field wall that read:
MERCI! THANK YOU!

'THE KID' 8

GARY CARTER

1954-2012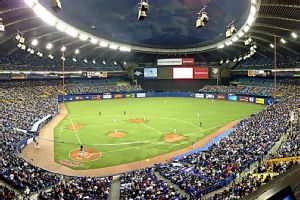 Adam Rubin
Olympic Stadium was packed Friday night for the Mets-Blue Jays exhibition game.
"It was emotional. It was beautiful," Sandy Carter said afterward about the ceremony. "It was even more special than I thought it would be, which I had [high] expectations. We just felt so much love from everyone. The city always embraced Gary, embraced us as a family. I just really felt that tonight.
"We bought a home here. Little Kimmy was born here. We learned a little French. We made it our home. We felt privileged and blessed to be here for 11 years, and he gave 100 percent."
Said Kimmy Bloemers: "I feel so honored to be Gary Carter's daughter, not just because of the fame at all. It's not truly that. It's because he treated people like people, and he loved people. I know he was on this Earth for a short time, but he was here to impact, and he was here to love people and basically teach all of us a lesson in how to treat people and how to live life, and how to live with a lot of joy.
"He played this game with a lot of joy. How can you not love baseball when you see somebody like that play the way that they do? He instilled it in me. And now I'm instilling it in my own children. And it's because of my father."
Carter, who died on Feb. 16, 2012 after a battle with brain cancer, played 12 seasons with the Expos before getting traded to the Mets on Dec. 10, 1984.
Sandy Carter agreed having the Mets involved in the event made the evening that much more significant.
"It makes it extra special, because we love Montreal, but when we got traded -- or when he got traded, I say we ... we were together 40 years -- that was some exciting years too with the Mets," she said.
She appreciated the current Mets and Blue Jays players taking an interest in the ceremony, too.
"It meant so much to me when I looked over and I saw the Blue Jays standing up on the dugout [steps] and the Mets standing up, that to me was very honoring to Gary," Sandy Carter said. "I thought that was very special."
Cromartie, who played for the Expos from 1974 through '83, is spearheading an effort to attempt to bring Major League Baseball back to Montreal. He acknowledged that would have to come through relocation rather than an expansion team.
"There's no expansion in Major League Baseball any time soon," Cromartie said. "We all know that. We know the teams that are available. Of course, we're not talking about the teams that are available out of due respect for their team now and their franchise now. But things have changed for the better."
Cromartie insisted the climate is different now than a decade ago, when the Expos played their final game here before relocating to Washington and becoming the Nationals. He said there is a commitment from businesses and TV to support a new team. He also cited a more favorable exchange rate between the Canadian and U.S. dollars.
"The corporate sector is stepping up. The local businesses are stepping up. And the TV are stepping up," said Cromartie, who married a Canadian woman, and who played minor-league ball in Quebec City as well. "I can't complain now. I'm very pleased with what's going on.
"This here tonight is a tremendous stepping stone for Montreal. The whole world should be watching this, and I'm sure Major League Baseball will be watching as well."
Cromartie concluded his pregame-ceremony remarks about Carter to the large Olympic Stadium crowd by saying: "And let's bring baseball back to Montreal!"