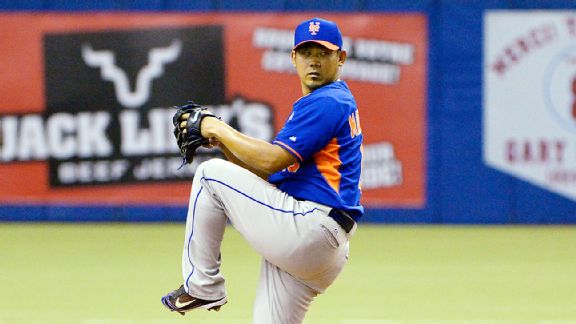 Eric Bolte/USA TODAY Sports
Daisuke Matsuzaka found himself off the Opening Day roster despite tossing five scoreless innings Saturday against the Jays.MONTREAL -- Daisuke Matsuzaka officially will open the season with Triple-A Las Vegas, although he may never throw a pitch for the Triple-A club.
After Saturday's exhibition finale at Olympic Stadium, GM Sandy Alderson said Jenrry Mejia had made the Opening Day roster over Matsuzaka.
"I always knew there was a possibility that I would be going to the minors, but ... I have confidence in what I've been doing," Matsuzaka said through interpreter Jeff Cutler. "I definitely am shocked at this decision. ... I'm disappointed. But I just have to move on from this and go out and pitch."
Despite the demotion, four scenarios exist in which Matsuzaka can pitch in the majors very soon:
• Mejia, who has a forearm bruise after being struck with a line drive Friday, is unable to make the Game 4 start and needs to be placed on the disabled list.
• Jonathon Niese, who is slated to return from the disabled list April 6 to face the Cincinnati Reds, is unable to make that start.
• The Mets navigate the Mejia and Niese injuries OK, and Matsuzaka replaces Mejia after one turn through the rotation. (Officially, Alderson says the intention is to keep Mejia in the rotation beyond one start.)
• A rainout on Opening Day means Dillon Gee's start is pushed to Tuesday and he cannot come back as planned on Saturday, requiring Matsuzaka to step in since Niese is not eligible to return from the DL until the following day.
For now, though, the planned rotation order is:
Monday: Gee vs. Nats
Wednesday: Bartolo Colon vs. Nats
Thursday: Zack Wheeler vs. Nats
Friday: Mejia vs. Reds
Saturday: Gee vs. Reds
Sunday: Niese vs. Reds
Alderson and Terry Collins essentially acknowledged the decision may have been different had Niese been healthy, with the GM indicating Matsuzaka may be in the big leagues soon regardless.
"The situation with Daisuke was very difficult. He pitched very well," Alderson said. "Jenrry Mejia also pitched very well. Obviously we have health issues pending with respect to Jonathon Niese and Jenrry. Were we to do something somewhat different, it might make it more difficult for us to have a replacement ready on either Jenrry's day or Jonathon's day. I'm not suggesting that Jonathon won't pitch. We just have to provide for those contingencies."
Said Collins: "There are some circumstances that are beyond all of our control. As I told [Matsuzaka], it may be one start. There are 33 to go. Someone has got to pitch those 33."
Asked how Matsuzaka took the news, Collins added: "My background is such that I know how it is in Japan sometimes, when you can get sent out for no reason. So I know he's probably been through it before. He shouldn't be happy. He better not be. I'm sure he feels that it was the wrong decision, and I certainly understand it because of the way he threw the baseball. But, as I told him, we don't know what's going to happen in the next few days. He's got to stay ready, and I know he will."
While there is growing confidence Niese will be able to return from the DL on April 6, some uncertainty remains.
If Matsuzaka instead of Mejia had made the Opening Day roster and then Niese were unavailable, Mejia would have been ineligible to make the April 6 start. That is because Mejia is on the 40-man roster and would have to spend the first 10 days of the season in the minors after being demoted.
Niese tossed 4 1/3 scoreless innings in a Class A game Thursday against St. Louis Cardinals farmhands and has indicated no recent difficulty with his pitching elbow. He received a cortisone injection to relieve inflammation on March 17 in New York.
Why not just carry Matsuzaka and Mejia? Because carrying four starting pitchers for the first five games of the season will allow the Mets to carry extra bench player -- Andrew Brown -- until Niese is activated from the DL.
As the team left the visitors' clubhouse at Olympic Stadium on Saturday, Mejia (2.70 exhibition ERA) had not yet been informed he made the rotation.
"If that's true, I feel pretty good about it," Mejia said.
Mejia, who had been battling a bunion issue on his right big toe, was struck with a line drive on the back of his right forearm and was forced to leave Friday's game against the Toronto Blue Jays in the fifth inning. X-rays were negative, but Mejia is dealing with inflammation. Mejia expects to see a New York doctor on Sunday.
"He responded well to treatment today," Alderson said. "We're not sure he can make the [Friday] start, but we're proceeding now as if he will be able to. So we'll see how he progresses in the next two or three days."
Said Mejia: "The only thing the doctors say is I have inflammation -- nothing at all," Mejia said. "... Right now it's like normal."
Matsuzaka essentially finished spring training with 11 scoreless innings over his final two outings. The lone run charged to him came when he departed in the seventh inning against the St. Louis Cardinals on Monday and Vic Black allowed an inherited runner to score from first base.
Matsuzaka had five scoreless innings, striking out eight and walking none, against the Jays on Saturday.
He benefited from strong fielding behind him. In a scoreless game in the third, Chris Young retreated and corralled Ryan Goins' smash to deep center. That inning ultimately ended when Moises Sierra was thrown out at the plate on a relay from right fielder Curtis Granderson to second baseman Daniel Murphy to Travis d'Arnaud.
The Mets lost Saturday's final tune-up, 2-0, to the Jays to finish 14-16-2 in exhibition play. Melky Cabrera launched an eighth-inning two-run homer against Adam Kolarek after the southpaw inherited a runner on third base with two outs from fellow minor-leaguer Cody Satterwhite. A crowd of 50,229 was on hand at Olympic Stadium.
After Eric Young Jr. had a game-opening single against Brandon Morrow, the Mets mustered only one other hit: Murphy's one-out single in the sixth.
Matsuzaka ended exhibition play with a 3.04 ERA in 23 2/3 innings.
Asked if he regretted the decision to re-sign with the Mets on a minor-league deal given Saturday's decision, Matsuzaka indicated he did not have another offer when he re-upped in late January.
"I'm just disappointed in my current situation," Matsuzaka said, "and don't have any regrets coming here."