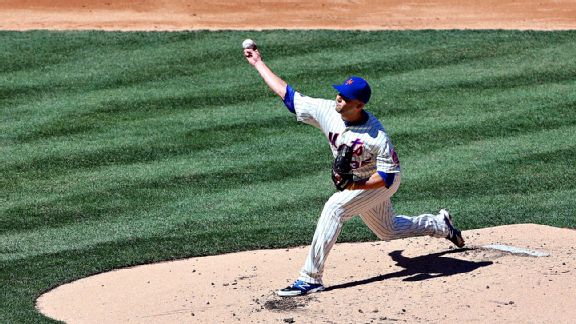 Anthony Gruppuso/USA TODAY Sports
Dillon Gee departed with a lead in his first career Opening Day start.NEW YORK -- Dillon Gee tried to downplay it in the days leading up to his first career Opening Day start. In retrospect, the right-hander acknowledged, it proved a meaningful and, at least initially, a nerve-racking event.
"It was pretty special," Gee said after the Mets lost to the Washington Nationals, 9-7, in 10 innings on Monday afternoon at Citi Field. "I'd be lying if I said I wasn't really nervous leading up to the game. I thought I did a nice job of keeping it in check and I got on a nice roll there. It felt pretty good today -- just a couple of guys here and there that I didn't get it done and they crept back in the game."
After allowing a two-run homer in the second inning to Adam LaRoche, Gee retired the next 15 Nationals batters. But things unraveled in the seventh.
He departed with a 4-3 lead and two runners in scoring position with two outs after Anthony Rendon produced a two-out, run-scoring double.
"For the most part I felt pretty good today, but I let them come back in the game," Gee said. "I mean, it starts with me. They gave me some runs off a really tough pitcher [Stephen Strasburg]."
On the Rendon at-bat particularly, Gee added: "I got behind. The ball he hit wasn't terrible, but it's tough to make pitches when you're behind in the count over and over again to those last couple of hitters. He did a good job of going down the right-field line."
Gee's final line: 6.2 IP, 4 H, 4 R, 4 ER, 2 BB, 5 K, 1 HR. He departed at 100 pitches.
"It was quite obvious he was running out of gas," Terry Collins said. "He was getting the ball up, having a tough time getting it down. But he pitched an outstanding game.
"In the second half last year, I thought Dillon Gee was as good a pitcher as there was in the National League," the manager continued. "He gave us big outings. He got us deep into games. And that's why when Jon Niese couldn't pitch the opener, I thought Dillon was the easiest guy to go to. I just think he's grown so much as a pitcher."