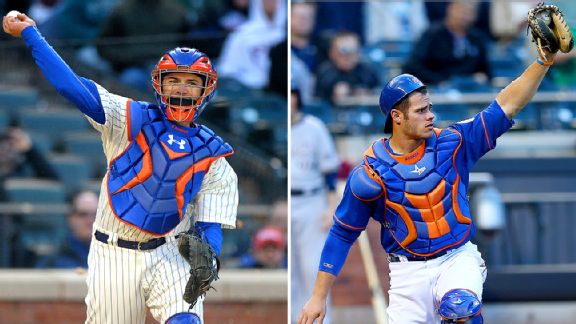 Getty Images
Terry Collins says he does not have a set plan in place for distributing playing time between Travis d'Arnaud and Anthony Recker.NEW YORK -- Terry Collins indicated he does not have an already scripted strategy for how much Travis d'Arnaud and Anthony Recker will start behind the plate early in the season.
Recker makes his first 2014 start in Saturday's matinee after four straight starts by d'Arnaud.
"I don't have any schedule written down as 60-40, 70-30," Collins said. "You guys are way more scientific than I am."
D'Arnaud is hitless in 12 at-bats to open the season.
Asked if there was concern about d'Arnaud's pysche, especially considering his offensive struggles last season as well, Collins said: "It certainly is a concern if it starts to get in his head that he can't hit at this level. That's your biggest fear that all of a sudden someone feels they can't do something. Travis has always hit. He believes he can hit. He has great confidence in himself.
"You know, any time you're off to a slow start you get frustrated. He hit the ball hard to the third baseman last night, and you get a little tired of guys patting you on the back. ... You ask Travis, he'd rather take a jam shot up the middle over line drives at people. But he's just got to stay with it and battle through it and continue to use the field and continue to put good swings on it, because eventually the balls are going to fall."