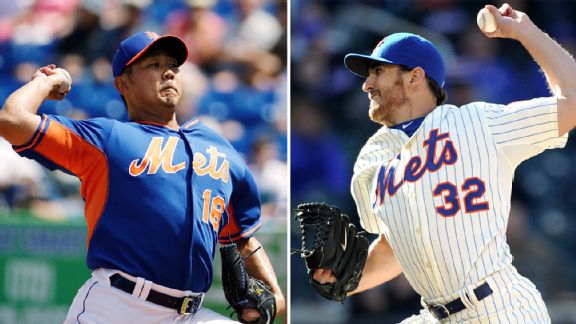 Associated Press/Getty Images
Daisuke Matsuzaka replaced John Lannan with the Mets on Wednesday.PHOENIX -- Daisuke Matsuzaka and John Lannan briefly shook hands in the visitors' clubhouse Wednesday at Chase Field. Then Matsuzaka and interpreter Jeff Cutler settled into the space occupied by Lannan the first two days of the series.
GM Sandy Alderson indicated Matsuzaka for now is here to serve as a reliever, as Lannan had been used. Matsuzaka has only pitched out of the bullpen once in the United States -- in the 13th inning of a May 4, 2011 game with the Boston Red Sox, when he allowed two runs and became the losing pitcher.
Of course, there is at least modest uncertainty about the health of Bartolo Colon (back spasms) and Jenrry Mejia (blister), so Matsuzaka could slip into a starting role if needed.
Lannan has 72 hours to decide whether to report to Triple-A Las Vegas after being outrighted. He otherwise could elect free agency.
The southpaw had signed an advance consent agreement, allowing the Mets to demote him during the first 45 days of the season without being entitled to his full $1.5 million salary. Still, Lannan did have some other rights that allow him to block being sent to the Pacific Coast League without his approval.
Lannan, a starting pitcher throughout his career, had a 15.75 ERA in five relief appearances this season. He did toss two scoreless innings to earn the win in extra innings against the Los Angeles Angels on Saturday. Then he proceeded to allow three runs in an inning Sunday while working back-to-back days for the first time in his career.
Lannan said he had not yet learned from the Mets whether they plan to use him as a starter or reliever if he decided to report to the Triple-A club. His departure leaves Scott Rice as the lone lefty in the bullpen, although Lannan had not been used as a specialist of late anyway.
Matsuzaka had been beaten out for the final slot in the rotation by Mejia to open the season. He made two starts for Las Vegas, producing a 2.25 ERA in 12 innings. Matsuzaka took a no-hit bid into the sixth inning against Fresno on Saturday in his last appearance.
Matsuzaka did not have the right to declare free agency until June 1.
"I actually expected to be in Vegas for longer, so this is pretty just out of the blue," Matsuzaka said through his interpreter.
As for working in relief, he added: "Coming out of the bullpen is definitely something new to me, but I understand what's expected of me. So I just have to go along and do the best that I can and pick things up as I go along."
Even though Lannan's performance warranted the decision, he still said he was caught off-guard.
"I kind of wished I figured it out, but I didn't," Lannan said. "The team is doing really well and I wasn't really contributing, so they had to go in a different direction. I completely understand. Back to the drawing board."