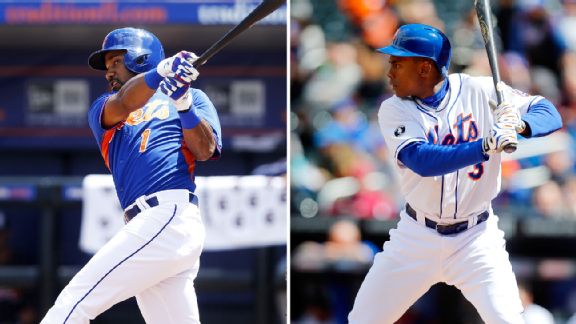 Getty Images
Chris Young and Curtis Granderson both should return to the lineup Friday.PHOENIX -- The Mets should get two jolts to their outfield Friday, when they open a series at Citi Field against the Atlanta Braves.
Chris Young joined the Mets on Wednesday in Arizona and is scheduled to be activated from the disabled list Friday, when he is eligible.
Terry Collins expects Curtis Granderson will return to the starting lineup that day as well. Granderson bruised his left forearm, rib cage and knee when he crashed into the outfield wall on an attempted catch Monday. He has resumed taking batting practice.
Young reached base in his first nine plate appearances during a three-game rehab stint with Triple-A Las Vegas that concluded Tuesday. Overall, he went 8-for-12 with two doubles, two homers, five RBIs, two walks and a stolen base with the 51s.
"It wasn't so much about the hitting," Young said. "It was more about getting my leg right, trying to get comfortable running the bases again, and just getting that comfortable feel. Normally when you pull a muscle, it's still a small adjustment period that you have to go through to get comfortable with running and being comfortable pushing yourself. That was pretty much the main thing I was working on. It got better every day. Yesterday I played and it was definitely the best day.
"I'll probably run around a little bit today and tomorrow and get ready for Friday."
Young had been scratched on Opening Day by the Mets with a right quadriceps injury. He tried to start Game 2 of the season two days later, but was pulled after an inning without ever coming to the plate.
So, in essence, Young's Mets debut -- at least as a hitter -- comes Friday. He signed a one-year, $7.25 million contract in November.
"I'm definitely not counting that first one," Young said about his one inning in the field two weeks ago at Citi Field. "It's tough to sit there and just watch ballgames and not be able to get out there and participate.
"I kept up with the guys. I found out how to download the app for my iPad and my computer. I was freaking out, because I had no idea how to watch the games. But I ended up finding out how to watch the games with my computer, so I was able to keep up with the guys, see how they were doing."