PHOENIX
FIRST PITCH: After going 6-3 on their three-city trip and moving above .500 for the first time this season, the Mets take a day off before opening a 10-game homestand.
The Atlanta Braves, St. Louis Cardinals and Miami Marlins are due to visit Citi Field.
"I almost wish we didn't have [Thursday] off because we're playing really well," Anthony Recker said.
Jonathon Niese (0-1, 3.46 ERA) opposes ex-Met Aaron Harang (2-1, 0.96) in Friday's 7:10 p.m. series opener against the Braves.
The Mets (8-7) actually are above .500 for the first time since last April 24, when they were 10-9.
"We've got to pitch," Terry Collins said. "It starts there. We've got to pitch."
Thursday's news reports:
• The Mets completed a sweep of the Arizona Diamondbacks with a 5-2 victory in Wednesday's series finale. Dillon Gee required only 72 pitches for seven scoreless innings. Recker homered and doubled and may see increased playing time at Travis d'Arnaud's expense. Jose Valverde allowed two homers in the ninth, but Collins insisted he remains the closer.
As for moving about .500, Gee said: "We're concentrating on winning. I didn't even know what our record was, to be honest, going into this game."
Read game recaps in the Post, Daily News, Times, Newsday, Star-Ledger, Record and MLB.com.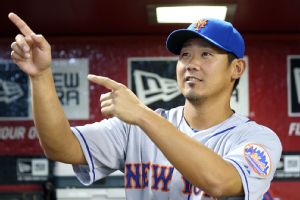 Christian Petersen/Getty Images
Daisuke Matsuzaka gestures in the visitors' dugout at Chase Field on Wednesday after rejoining the Mets.
• The Mets promoted Daisuke Matsuzaka from Triple-A to serve as a longer reliever and dropped John Lannan. Lannan had 72 hours from Wednesday's decision to accept a demotion or declare free agency. With Lannan's departure, Scott Rice is the lone lefty in the bullpen, but Collins said he won't burn out the southpaw. Read more on Dice-K's return in the Post, Daily News, Newsday, Record, Star-Ledger and at MLB.com.
• Chris Young joined the Mets on Wednesday in Phoenix after three rehab games with Las Vegas. Young (quadriceps) is due to be activated from the disabled list Friday. Curtis Granderson, officially day to day with bruises to his left wrist, rib cage and knee, is expected to reenter the starting lineup Friday, too. Granderson pinch hit in the eighth inning Wednesday.
• Andrew Brown could be demoted when Young is activated from the DL on Friday, but none of the first basemen should be in jeopardy, according to Sandy Alderson. Brown, though, had a strong game Wednesday, going 2-for-5 and making a stellar catch in right field. So maybe Kirk Nieuwenhuis will be returned to Vegas instead.
• Trainers told Juan Lagares, who underwent an MRI on Tuesday, that they do not believe his right hamstring pull is severe. Read more in the Star-Ledger.
• Collins believes Bartolo Colon, who has been dealing with back spasms, will be able to make Saturday's start against the Braves. Jenrry Mejia, who left Tuesday's start with a blister issue, is due to throw a bullpen session Friday at Citi Field, but expects to make his next start, too. Read more in the Post and Star-Ledger.
• The Mets plan to scout free-agent reliever Joel Hanrahan's showcase for teams Thursday. Hanrahan underwent Tommy John surgery on May 16, 2013.
• The Brooklyn Cyclones will host "Seinfeld Night" on July 5 at MCU Park. Read more in the Post.
• Rob Whalen won in his first start of the season as Savannah beat Augusta, 4-1. Read the full minor-league recap here.
• Gary Cohen lightheartedly blamed broadcast partner Keith Hernandez for jinxing Gee's perfect game. Hernandez had mentioned the no-no after Gee retired the game's first 14 batters. It ended immediately afterward. Read more in the Post.
• From the bloggers … NY Mets Life examines how social media has changed the way fans interact with the game.
BIRTHDAYS: Rico Brogna turns 44. ... Brady Clark is 41. ... Infielder Doug Flynn was born on this date in 1951.
TWEET OF THE DAY:
Maybe the #Mets should play every game on the road from here on out

— Unisa Fofana (@uni_fof84) April 17, 2014
YOU'RE UP: Will the Mets' winning ways continue during their upcoming homestand against the Braves, Cardinals and Marlins?