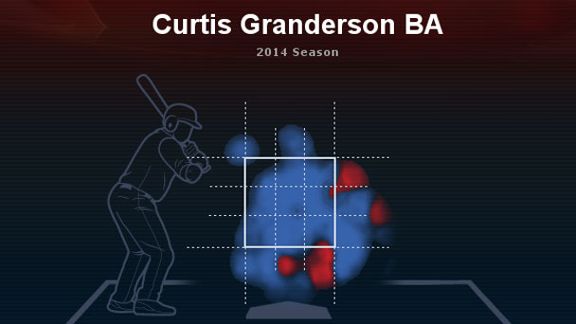 ESPN Stats & Information
Curtis Granderson is cold no matter where the pitcher places the ball.NEW YORK -- Moving to the No. 2 hole has not cured Curtis Granderson's batting woes.
#3 RF
New York Mets
2014 STATS
GM

18

HR1

RBI5

R5

OBP.224

AVG

.121
Granderson struck out in all three of his at-bats Monday but reached base by getting hit by a pitch. That upped his hitless streak to 19 straight at-bats.
That's two shy of his career high -- an 0-for-21 skid in 2006 with the Tigers -- according to ESPN Stats & Information research.
Granderson moved to the No. 2 hole Sunday and did have a walk-off sac fly that game. But he also went 0-for-6 in that series finale against the Atlanta Braves.
Monday, in a 2-0 win against the St. Louis Cardinals, Granderson struck out three times. He has now K'd 23 times in 66 at-bats this season. His average has sagged to .121.
"I just need to get results," Granderson said. "I've just got to go ahead and put the bat on the ball, put it in play, and hopefully some good things will happen."