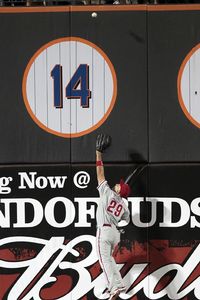 AP Photo/Frank Franklin II
Phillies left fielder Raul Ibanez chases a ball hit by Mike Hessman to the wall during the fifth inning. The hit was initially ruled a home run and changed to a triple after a review.
Mike Hessman had a memorable first career major league triple.
Hessman originally was ruled to have homered off Cole Hamels to lead off the bottom of the fifth inning in a scoreless game between the Mets and Phillies. After a six-minute, 35-second replay review, Hessman instead was placed on third base by the umpiring crew, which ruled a fan reached over the railing and interfered with a ball in play.
It was a difficult ruling, since the railing the fan reached over is several feet above the line at which a homer is awarded. The ball was headed downward, but it's unclear whether the trajectory of the baseball, if unimpeded, would have taken it below the line.
"Obviously when it took a while in there I was having a bad feeling," Hessman said.
Crew chief Tom Hallion offered this explanation to a pool reporter postgame: "The feeds that we had from the replay, the fan reaches over the fence, hits his hand and knocks the ball down. And in our judgment, [the baseball] would not have gotten out of the ballpark. That was from our feeds that we had on the replay."
Hallion watched again after the game.
"But it's so hard because the angle is looking from home plate out," he said. "And my experience in looking at replays, it's difficult. I wish you had the perfect angle to see everything. You don't."
Did Hallion think the crew made the correct conclusion with additional time to digest everything?
"No comment on that," he said. "We did our best. Of course an umpire wants to get a call right, OK?"
Said Hessman: "I didn't go in there and look at it, but everyone told me they thought it was a home run."
As for his first major league triple, where he was placed by the crew after the homer reversal, Hessman said with a laugh: "It's probably the only way I'll get one."
Jerry Manuel had lobbied for Hessman to at least be awarded third base if it wasn't a homer. The Mets suggested Hessman already had achieved second base by the time the ball ricocheted back into play.
"As for him being on third base, the good thing was he ran right out of the box," Manuel said. "When the ball hit the wall and came down, he had already hit second and was on his way to third. I thought that was the right call for us."