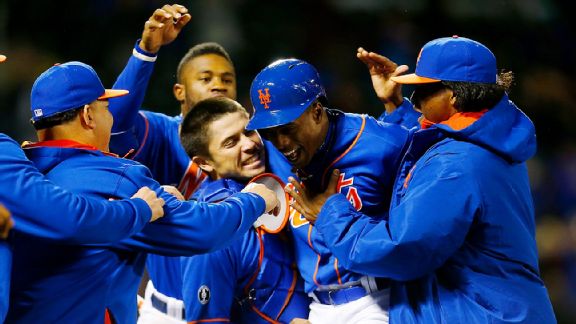 Mike Stobe/Getty Images
Curtis Granderson is mobbed by teammates after a walk-off RBI single.NEW YORK -- For the second time on this homestand, Curtis Granderson ended up the center of a postgame celebration.
Not bad for a player bounced from the cleanup spot and hitting .141 with seven RBIs on the season.
Facing Steve Cishek, Granderson completed a ninth-inning rally with a walk-off RBI single past first baseman Garrett Jones as the New York Mets beat the Miami Marlins, 4-3, Friday night at Citi Field.
#31 RP
Miami Marlins
2014 STATS
Cishek, a sidearm-thrower who pounds lefties with backdoor sliders with heavy sink, had entered the game having converted 33 straight save attempts -- the longest active streak in the majors.
Lefty batters had been 0-for-15 against Cishek this season entering Friday. Yet lefties Lucas Duda, Omar Quintanilla, Kirk Nieuwenhuis and Granderson had ninth-inning hits against Cishek in the blown save.
Jeurys Familia earned his first major-league win thanks to the comeback.
Granderson was mobbed by teammates after the game-winning hit that plated Quintanilla, as had been the case Sunday when he delivered a walk-off sac fly in the 14th inning to beat the Atlanta Braves.
After the latest win, which lifted the Mets a season-high three games over .500, Granderson received the traditional whipped-cream pie to the face.
"I've heard that the shaving cream one hurts, so I'm glad that they didn't do that," said Granderson, who had been hitless in four at-bats Friday and 2-for-29 on the homestand before the ninth-inning dramatics.
With the Mets trailing 3-2, Duda led off the ninth with a bloop single to left. Travis d'Arnaud, the lone right-handed hitter who ended up batting, then bunted Duda to second base. Next, Bobby Abreu lined out to left field as a pinch hitter for Familia and the Mets were down to their final out.
"After Bobby's at-bat, I think we were all pretty pissed that it didn't get down," Nieuwenhuis said.
Quintanilla, down to his final strike, then singled to left field to plate Duda with the tying run.
Duda planned to run home anyway, but left-fielder Christian Yelich stumbled and made no throw. It might have been interesting otherwise.
"I didn't have that Spider(man) sense that goes off," Duda said, about whether he would have been successful had Yelich cleanly fired the baseball. "But I knew I had to run."
Said Quintanilla: "I'll tell you what, it was a tough at-bat, especially against that pitcher. I went up there and battled and just tried to get something I could hit. He gave me a lot of backdoor sliders that were tough to lay off. A 3-2 count, I just went up there and put up a solid at-bat and I got it over the third baseman."
Nieuwenhuis, pinch-hitting for Eric Young Jr., doubled to advance Quintanilla to third base. Granderson took care of the rest.
Explaining why Nieuwenhuis pinch-hit for EY Jr., Mets manager Terry Collins cited Nieuwenhuis' two hits, including a double, in four previous career at-bats against Cishek.
"He's real good, and not many guys hit him," Collins said. "Kirk gets some hits off of him. He's faced him."
Said Nieuwenhuis: "Off of him, you've just got to see the ball up and try to shoot something the other way."