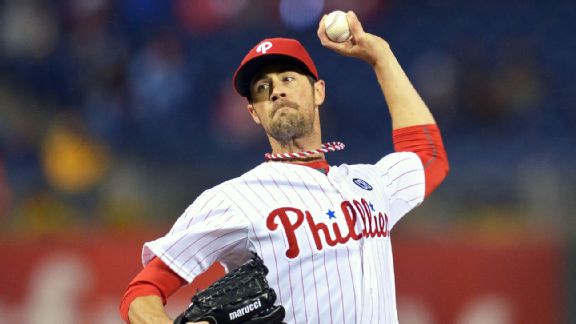 Drew Hallowell/Getty Images
Cole Hamels gave himself a harsh critique after losing to the Mets on Tuesday.PHILADELPHIA
FIRST PITCH: The Mets sit at four games over .500 for the first time since July 14, 2012. And they now have 15 wins, their most in April since 2007.
Now, Bartolo Colon attempts to keep the Amazin's rolling Wednesday night. Although the game may end up a washout given the dire weather forecast, Colon (2-3, 4.50 ERA) is scheduled to oppose right-hander Kyle Kendrick (0-2, 3.52) at 7:05 p.m. at Citizens Bank Park.
Wednesday's news reports:
• Jonathon Niese overcame rainy weather and allowed one run in seven innings and the Mets beat the Phillies, 6-1, Tuesday night. Cole Hamels, who was charged with all six runs, fell to 7-14 with a 4.65 ERA in his career against the Mets. He walked four, including Niese to force in a run, in the fourth.
"Sometimes when you pitch, you have to battle the elements, and the elements definitely got the best of me today," Hamels told reporters postgame, as quoted in the Star-Ledger. "Just not being able to locate pitches or throw strikes or even apply a plan of attack to hitters, when you're not able to execute, it creates a serious issue. It led to a very poor performance. I'm truly embarrassed.
"I didn't give anybody a chance. Balls weren't being put in play because I wasn't allowing them to be put in play. It's an embarrassment because I'm not allowing my team to get in the game. Even for the fans who stayed today, it's pretty embarrassing. The type of game I went out there and pitched is not the type of game I'd like to credit myself on. It was very poor."
Byrd, who homered against Niese for Philadelphia's lone run, said pregame that he appreciated the opportunity the Mets gave him last season when his career was on the ropes. Byrd had Lucas Duda work with him on hitting early this past offseason in Los Angeles.
Read game recaps in the Post, Daily News, Times, Journal, Newsday, Star-Ledger, Record and at MLB.com.
• The Mets intend to activate Juan Lagares from the disabled list on Thursday, for the series opener at Colorado. Terry Collins indicated he plans to rotate his four primary outfielders once Lagares returns. Lagares had a pinch-hit double for Las Vegas on Tuesday night. He is due to start for the 51s again on Wednesday as he returns from a pulled right hamstring. Read more in Newsday and at MLB.com.
• 1986 hero Mookie Wilson appeared on "The Daily Show" with Mets fan Jon Stewart. "Who would have thought that that would be the last championship the Mets ever won?" quipped Stewart to Mookie as the appearance concluded. Watch here.
• The Mets emailed a letter to fans, signed by '86 and '69 Mets including Ron Darling and Keith Hernandez, asking the fans to sign a letter and write a note supporting the team, which will be presented to players.
• Duda reportedly filed a report with police alleging he was the victim of theft, including the loss of a knock-off Breitling watch. Duda declined to comment Tuesday.
• Assistant GM John Ricco tells Ken Davidoff in the Post that Jacob deGrom and Rafael Montero beginning to work in relief at Triple-A is "not that far off."
• Savannah's Kevin McGowan and Robert Coles combined to blank Delmarva, 4-0. Read the full minor-league recap here.
• From the bloggers … Mets Police wonders if the Open Letter from Keith and Ron is actually an overreaction to the recent survey suggesting the Mets are not the most popular team in Queens. … The Eddie Kranepool Society writes about the 50th anniversary of Shea Stadium and how it's also the 50th anniversary of the author becoming a Mets fan.
BIRTHDAYS: Left-hander Bob Hendley, who finished his career with the Mets, was born on this date in 1939.
TWEET OF THE DAY:
Am I the only one that thinks Matt Harvey & Jon Hamm could be twins? @matthewcerrone @AdamRubinESPN @jonpresser pic.twitter.com/XRK8fFi7nQ

— Avery Decker (@averydecker28) April 29, 2014
YOU'RE UP: Are you getting excited about the Mets' play?