DENVER -- Retiring commissioner Bud Selig offered no concerns about the state of the Mets during a stop at Coors Field on Friday as part of a farewell tour.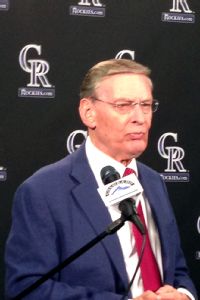 Adam Rubin
Bud Selig addresses the media in Denver on Friday.
"I just talked to Sandy Alderson on the field, who I have enormous respect for," Selig said. "I think the Mets are playing better. I think the Mets feel that they're better. And I have a lot of faith not only in the Wilpons, but in Sandy Alderson. And he tells me the farm system will produce the kind of talent they need to do better.
"It's interesting. We were talking about it on the field. A lot of people make judgments. Rebuilding a club through its farm system is a slow process.
"Branch Rickey used to say, and you're all too young to remember, that it takes three to five years before you can judge a farm system, a trade. He was right. I'm watching a lot of organizations, because this question comes up not only about the Mets but about other clubs, and you can see the byproducts of the true farm system working. They may not work as fast as you'd like, but the Mets have played much better so far this year. And the independent people that I talk to -- and I do have other people grading other clubs' farm systems -- give the Mets very high marks."
Asked as a follow-up if the Mets had the capacity to spend at a more customary New York level, Selig replied: "I said to you, and I mean this sincerely. And if I didn't I wouldn't say it: I am not the least bit concerned about the Mets' ability to compete at the major-league level. No doubt about it."