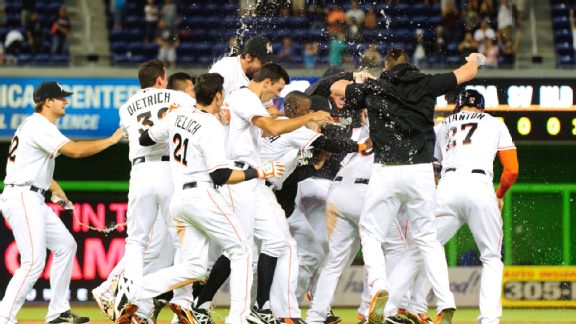 Steve Mitchell/USA TODAY Sports
The Marlins celebrate after scoring four runs in the final two innings for a 4-3 win Monday.MIAMI -- If only the New York Mets had committed more dollars to their bullpen and acquired a shortstop via trade or free agency.
Two areas the Mets failed to sufficiently upgrade entering the season again came back to haunt them in Monday's 4-3 walk-off loss to the Miami Marlins.
Daisuke Matsuzaka failed to protect a three-run lead and Omar Quintanilla committed a critical error during an eighth-inning meltdown. An inning later, the Marlins beat the Mets on Casey McGehee's RBI single against Gonzalez Germen.
#16 RP
New York Mets
2014 STATS
The implosion wasted seven scoreless innings from Jonathon Niese.
Matsuzaka, asked to be a reliever after starting throughout his career, walked the inning's first two batters after inheriting a 3-0 lead in the eighth.
Next, Giancarlo Stanton singled. McGehee reached on a line drive through Quintanilla's legs. Jarrod Saltalamacchia doubled.
The score was 3-3 before an out was recorded.
"When I was warming up in the bullpen, I was struggling with my command," Matsuzaka said through an interpreter. "Going into the game, I just tried to focus on the batter and getting outs. But I couldn't control my body well today. I really regret taking away Niese's win and the team win."
Said Niese: "Any time a game is lost it's tough to watch, but it is what it is. It's just one game. We've just got to come back tomorrow and get them."
Terry Collins expressed surprise with Matsuzaka's control problems, even though Matsuzaka had walked six in 10 1/3 innings over seven previous relief appearances.
Matsuzaka technically was working for the third straight day. He injured his right calf Saturday pitching in Denver, then was warming up in the bullpen Sunday as the game concluded. That's not the type of workload or role to which he is accustomed, but the Mets do not have better bullpen options, unless they dip to the minors for starters Jacob deGrom and/or Rafael Montero, which may happen soon.
Collins said Carlos Torres and Jeurys Familia were unavailable Monday because of their recent workloads.
"The command was off," Collins said of Matsuzaka. "He can go 3-2 [on counts], but I've got all the confidence in the world he's going to throw some strikes. Tonight, the two bases on balls sets up the middle of that lineup."
Matsuzaka insisted his calf was OK.
"Physically I was fine out there," he said. "Every time I go out there I expect to pitch well and get outs, but today I wasn't able to do that."
Quintanilla was starting at shortstop for the second straight game because Collins wanted to stack his lineup with lefties against Marlins starter Nate Eovaldi -- not that Ruben Tejada has been exceptional, either.
The Mets have balked at signing remaining free agent Stephen Drew because they do not view him as an $11 million to $12 million a year player. They also have not pulled the trigger on a deal for the likes of slick-fielding Arizona Diamondbacks shortstop Didi Gregorius or Seattle Mariners middle infielder Nick Franklin.
As for the eighth-inning error on McGehee's liner, Quintanilla said: "It knuckled a little bit. I'll take the blame for it. I still should have caught it. I saw it knuckling for a while and I tried to get in front of it and it just ducked right under my glove. That was a big play. It changed the game."
Collins noted: "That's the second time on this trip we had the chance to get out of an inning and didn't catch a ball, and it's hurt us." The manager was referring to Lucas Duda dropping a would-be double-play throw at first base in what became an eight-run fifth inning against Jenrry Mejia on Saturday in Colorado.
As for Niese getting removed after 108 pitches (which matched his season-high count), Collins said it was time. Niese had surrendered consecutive singles to open the seventh, but worked out of the jam by retiring Marcell Ozuna on an inning-ending double play.
"Every night we come in here and talk about the fact that he had all the arm issues in spring training anyway," Collins said. "We don't want to overdo it. He had to work hard to get out of that inning. That was what he had to do."
Said Niese: "I never want to come out of a game, so I can always go out there and give more. It's 108 pitches. I figured our bullpen has been doing great. So it's the right move. But I always want to go back out."