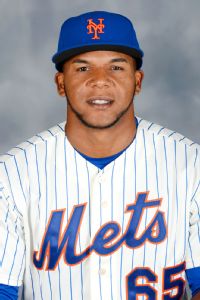 Courtesy of New York Mets
Cesar Puello
NEW YORK -- Mets outfield prospect Cesar Puello, who was placed on the temporary inactive list last week by Triple-A Las Vegas, quietly traveled to Miami during his absence for a Biogenesis-related matter, multiple sources told ESPNNewYork.com.
A federal grand jury in Miami is looking into charges against Biogenesis founder Tony Bosch, ESPN has reported.
There is no indication Puello, himself, is in any trouble. And the trip to Miami does not appear related to anything MLB may be continuing to pursue, a source said.
Puello, 23, satisfied the terms of a 50-game suspension last year for his Biogenesis involvement.
Puello's agent referred Biogenesis-related questions to a lawyer who protects Puello's interests. The lawyer declined comment.
The Mets did not immediately comment.
Puello was reinstated and resumed playing Friday, two days after being placed on the Pacific Coast League's temporary inactive list.