NEW YORK -- In his initial mock draft, ESPN's Keith Law projects the Mets will select University of Hartford 6-foot-4 left-hander Sean Newcomb with the 10th overall pick on June 5.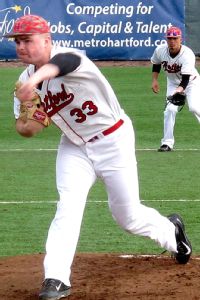 Pat Eaton-Robb/Associated Press
Keith Law's first mock draft has the Mets selecting University of Hartford left-hander Sean Newcomb.
In the first three years of Sandy Alderson's regime, the Mets have selected high school position players in the first round (outfielder Brandon Nimmo, shortstop Gavin Cecchini and first baseman Dominic Smith).
Law writes:
The Mets are just on the best player available, whoever that turns out to be, which could include Newcomb, [San Francisco outfielder] Bradley Zimmer, [LSU right-hander] Aaron Nola (although I can't see him getting here) or [Oregon State outfielder] Michael Conforto. I've heard them on all of the college arms, but again I don't think that implies they're not looking at bats.
On Newcomb, Law writes:
Newcomb's fastball has gone from a high 80s offering in high school to occasionally touching 97 mph, sitting in the 92-94 range with some tail. His slider will flash plus as well, a low 80s pitch with late bite and tilt that should be effective against both left- and right-handed batters. Newcomb also features a change that offers little in terms of movement, but he throws it with decent arm action and it should at least be an average third offering in his arsenal.
ESPN Insiders can view the full mock draft here and the full Newcomb scouting report here.