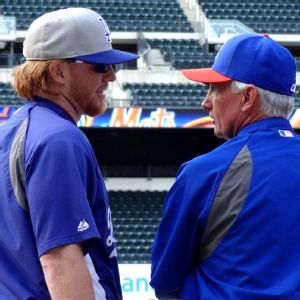 Adam Rubin
Justin Turner and Terry Collins chat during batting practice Tuesday.
NEW YORK -- Justin Turner, back in New York with the Los Angeles Dodgers, affirmed that his Dec. 2 non-tender by the Mets caught him off-guard.
"It was a shock, but it's part of the business," said Turner, who signed a minor-league deal with the Dodgers and then made the Opening Day roster.
Turner, 29, is hitting .230 with five RBIs in 74 at-bats this season.
Both the Mets and Dodgers spent Monday's off-day in New York, and Turner took advantage.
"I have a lot of good friends there, and it's good to see them," Turner said. "I had dinner with some of the guys last night."