Newly promoted Johnson: 'We've got talent'
May, 27, 2014
5/27/14
7:46
PM ET
NEW YORK -- Lamar Johnson had only recently arrived home to Arlington, Texas, after working with Mets prospects in extended spring training in Port St. Lucie when his phone rang on Memorial Day.
Sandy Alderson then informed the 63-year-old Johnson that he would be the successor to Dave Hudgens as Mets hitting coach.
"You're always surprised," said Johnson, who served as hitting coach for the Brewers, Royals and Mariners from 1995-2003. "I was down there working with the young kids and I got a call from Sandy and here I am."
Johnson was in his 11th season as Mets minor-league hitting coordinator, predating the arrival of Alderson's regime by several years.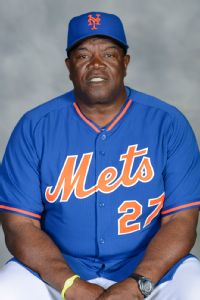 Courtesy of New York MetsLamar Johnson
Asked to contrast the hitting philosophy he recently has been asked to implement versus, say, the teachings under Omar Minaya, Johnson treaded lightly.
"The philosophy has been working real well for us in the minor leagues," Johnson said. "We've got guys now that are really being a lot more patient. We're scoring more runs. Our on-base percentage went up the last two or three years. So everything has been working out pretty good.
"I've always taught pitch selection, but I just want my guys to be aggressive on their pitch."
Johnson, who played for the White Sox and Rangers from 1974 through '82, acknowledged the technology available to a hitting coach now is considerably more advanced than his last time serving in that role in the majors.
"It's a lot different," Johnson said. "A lot more technology. We get a lot more stats. But, basically, you still have to go in there and you still have to hit the ball."
So what does a hitting coach actually do?
"I think what a hitting coach tries to do is get his guys ready to play that game that night both mentally and physically," Johnson said. "That's your biggest challenge right there."
Johnson, who has worked extensively with the players who came through the Mets system during their minor-league careers, suggested the Mets do have enough talent to produce offensively.
"We've got talent here," he said. "Basically, what we just have to do is get it going. That's what I'm here for -- to help out any way I can -- because I've seen some of these guys have some pretty good offensive years. So I know it's there. I'm just here to try to help those guys get back to where they were and be a little bit more consistent."
He steered clear of any theories on the Mets' disparity in home versus road success.
"I don't know anything about that," Johnson said. "All I know is you play the game and it happens that way sometimes. I can't say one way or the other, because I only see the games on TV."