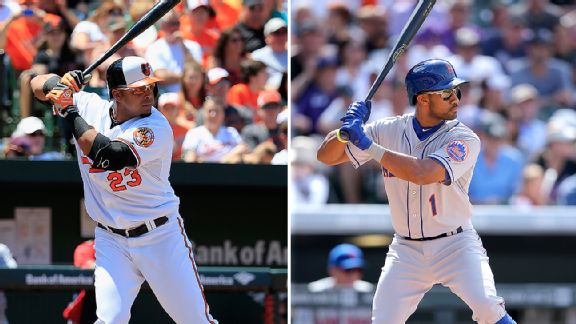 Getty Images
Sandy Alderson did not vigorously pursue Nelson Cruz. He instead jumped on Chris Young early in free agency.NEW YORK -- Chris Young is out of the starting lineup for a third straight game Tuesday, and it's safe to say he's been benched, no matter how the Mets spin it. Meanwhile, Nelson Cruz completed the Memorial Day weekend hitting .294 with an MLB-leading 16 homers and 45 RBIs for the Baltimore Orioles.
So, suffice it to say, Sandy Alderson blew it signing Young for $7.25 million on Nov. 26 when Cruz ended up signing for $8 million on Feb. 24, right? After all, Young is hitting .202 with three homers and 11 RBIs in 109 at-bats.
That's unfair, Alderson suggested Tuesday on The Michael Kay Show on ESPN New York 98.7.
"Keep in mind, when we signed Chris Young, we signed him to a one-year deal. It was early in the offseason and we wanted to get a marker on the board," Alderson said. "We had lost Marlon Byrd. The Phillies signed Marlon Byrd. So we wanted to make sure that we had ourselves covered in center field with somebody who had some pop and maybe could have the same type of bounceback year that a guy like Marlon Byrd had.
"At the time, Nelson Cruz was looking for like $65 million to play -- what? -- left field for us. Not center field, where we needed some protection. He was going to have to play left field. It was apples and oranges at that point. For the fact that he ended up signing for $8 million weeks, months later, I think is kind of an unfair comparison."
Asked about that being a topic among disgruntled fans, Alderson added: "Lots of stuff is out there. I get that. I can't really get into a debate on every issue that is out there."