Hitting coach Howard Johnson acknowledged sternly lecturing the team's position players before Friday's series opener against the Pittsburgh Pirates. The scolding came a day after manager Jerry Manuel labeled the team's offensive performance "pathetic" following getting three-hit in Houston.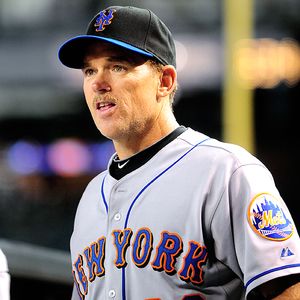 Mark J. Rebilas/US Presswire
Howard Johnson acknowledged lecturing the Mets hitters Friday.
"It was a little bit out of character for me yesterday. But, you know what? It was OK, because I think certain guys respond to that," Johnson said before Saturday's game against the Pirates, as batting practice concluded. "... I think the fellas took it right."
The Mets have scored 46 runs in August, fewest in the majors. Since the All-Star break, the Mets are hitting .225, also last in the majors.
Johnson denied assertions he called out players for excessive card playing. And he treaded lightly on Manuel's assertion that the Mets' offense had been "pathetic."
Said HoJo: "We have been pathetic. The bottom line is that's been true. We have not done well."
Still, Johnson initially appeared to take issue with Manuel using the word "pathetic" publicly.
"I don't think it's good for guys to be criticized. I think in the media you have to be careful," Johnson said.
He backtracked when asked if Manuel was out of line with the comment, which did annoy players.
"I think the guys took that a little personal and stuff when that stuff was said," Johnson said. "That's the world we live in and we have to be careful."