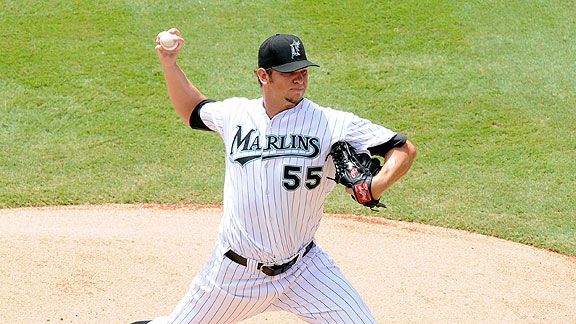 Steve Mitchell/US Presswire
Josh Johnson snapped a lull with his first win in six starts last week against the Pittsburgh Pirates.
METS (62-62, fourth place/NL East) vs. FLORIDA MARLINS (62-61, third place/NL East)
Tuesday: RHP R.A. Dickey (8-5, 2.41) vs. RHP Josh Johnson (11-5, 2.27), 7:10 p.m. ET
Wednesday: RHP Mike Pelfrey (12-7, 3.80) vs. RHP Alex Sanabia (2-1, 1.48), 7:10 p.m. ET
Thursday: LHP Jon Niese (8-5, 3.33) vs. RHP Anibal Sanchez (10-8, 3.16), 7:10 p.m. ET
Marlins short hops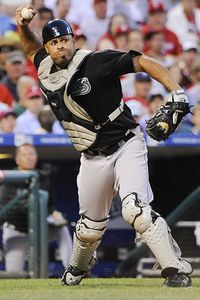 Howard Smith/US Presswire
Catcher Ronny Paulino's 50-game suspension will carry into next season.
The San Francisco Giants were awarded a waiver claim on outfielder Cody Ross on Sunday. The move saves the Marlins roughly $1.1 million. Cameron Maybin will rejoin the Marlins for Tuesday's series opener against the Mets. "You can characterize it as whatever you want -- a white flag, or anything like that," president of baseball operations Larry Beinfest was quoted by the Associated Press. "We're realistic about where we are." … Maybin hit .225 with five homers and 19 RBIs in 182 at-bats to open the season with the Marlins. He was demoted after a June 4-6 series against the Mets. He is part of an apparent flop of a trade that sent Miguel Cabrera and Dontrelle Willis to the Detroit Tigers in December 2007. Left-hander Andrew Miller, also acquired by Florida in that deal, went 3-5 with a 4.84 ERA in 20 appearances (14 starts) with the Marlins last season. He made his first start with the major league club this season on Sunday in place of Ricky Nolasco, who has torn meniscus cartilage in his right knee. The most serviceable piece the Marlins received from Detroit: reliever Burke Badenhop. … Right-hander Josh Johnson won for the first time in six starts when he beat the Pittsburgh Pirates on Tuesday. Florida's best pitcher of late actually has been right-hander Anibal Sanchez, who was acquired with shortstop Hanley Ramirez in the November 2005 swap with the Boston Red Sox for Josh Beckett and Mike Lowell. … Catcher Ronny Paulino was suspended by Major League Baseball on Friday for testing positive for a performance-enhancing drug. The 50-game ban will carry into the first eight games of next season. That leaves the Marlins with inexperienced catchers Brett Hayes and call-up Brad Davis. Hayes, who should receive the bulk of the starts, actually attended the same Sherman Oaks, Calif., high school as right fielder Mike Stanton, although the catcher graduated five years earlier. … Second baseman Dan Uggla became the franchise's all-time home run leader on July 31 at San Diego when he went deep against Kevin Correia. Uggla passed Mike Lowell with his 144th career homer with the organization. He also is the first Marlin with 20-plus homers five straight seasons. … The Marlins have four rookies in their most common starting lineup: left fielder Logan Morrison, first baseman Gaby Sanchez, Hayes and Stanton. … Wes Helms signed a $1 million contract extension for next season last week. … Left-handed reliever Will Ohman was acquired at the trading deadline for right-hander Rick VandenHurk. Ohman, a free-agent-to-be, opened the season with 25 straight scoreless outings spanning 15 2/3 innings with the Baltimore Orioles. … Stanton was named the National League Player of the Week last Monday. He tied a franchise record with five hits on Aug. 11. He was promoted on June 8 after hitting .311 with 21 homers and 52 RBIs in 52 games with Double-A Jacksonville. … Right-hander Alex Sanabia was promoted and entered the rotation Thursday against the Pirates after left-hander Sean West landed on the disabled list with right knee inflammation. Sanabia limited the Pirates to one run and four hits in 7 2/3 innings while striking out five and walking none in a 4-2 win. He had been 5-1 with a 2.03 ERA in 14 starts for Jacksonville, and also made a pair of starts with Triple-A New Orleans. … Third base has been a revolving door since Jorge Cantu was traded to the Texas Rangers for minor league right-handers Evan Reed and Omar Poveda. Hector Luna, Emilio Bonifacio and Helms have all seen action at third base. … Luna's homer Friday was his first since Sept. 14, 2007 for Toronto against Baltimore. … The Marlins were a franchise-record 0-for-36 with runners in scoring position before Nolasco snapped it last Tuesday. … After homering on July 2, Ramirez did not have an extra-base hit the rest of last month. … Struggling left-handed reliever Taylor Tankersley was demoted to New Orleans.
Matchups
Dickey vs. Marlins (career: 2-2, 7.11 ERA)
Hector Luna 1.000, 2 RBIs, 2 AB
Hanley Ramirez .500, 3 RBIs, 8 AB
Wes Helms .500, 2 AB
Gaby Sanchez .400, 2 RBIs, 5 AB
Dan Uggla .000, 7 AB
Brett Hayes .000, 3 AB
Donnie Murphy .000, 3 AB
Mike Stanton .000, 2 AB
Pelfrey vs. Marlins (career: 1-6, 5.79)
Mike Stanton .667, 3 AB
Dan Uggla .423, 10 RBIs, 26 AB
Chad Tracy .375, 4 RBIs, 8 AB
Wes Helms .333, 3 AB
Hanley Ramirez .310, 1 HR, 3 RBIs, 29 AB
Emilio Bonifacio .143, 7 AB
Gaby Sanchez .000, 3 AB
Niese vs. Marlins (career: 1-2, 3.60 ERA)
Dan Uggla .429, 1 RBI, 7 AB
Gaby Sanchez .375, 1 RBI, 8 AB
Cody Ross .333, 6 AB
Hanley Ramirez .000, 5 AB
Wes Helms .000, 1 AB
Johnson vs. Mets (career: 7-1, 2.55 ERA)
Ike Davis .333, 3 AB
Jeff Francoeur .269, 2 RBIs, 26 AB
Luis Castillo .214, 14 AB
Jose Reyes .211, 1 RBI, 19 AB
David Wright .174, 1 HR, 3 RBIs, 23 AB
Carlos Beltran .143, 3 RBIs, 21 AB
Angel Pagan .111, 9 AB
Sanabia vs. Mets (career: 0-1, 4.50 ERA)
Josh Thole 1.000, 1 RBI, 1 AB
Chris Carter 1.000, 1 AB
Ike Davis .000, 1 AB
Jeff Francoeur .000, 1 AB
David Wright .000, 1 AB
Sanchez vs. Mets (career: 3-4, 4.23 ERA)
Henry Blanco .500, 1 HR, 1 RBI, 2 AB
Carlos Beltran .400, 1 HR, 2 RBIs, 10 AB
Ruben Tejada .333, 1 RBI, 3 AB
Jeff Francoeur .250, 1 HR, 7 RBIs, 24 AB
Angel Pagan .222, 2 RBIs, 9 AB
David Wright .188, 1 RBI, 16 AB
Ike Davis .167, 6 AB
Jose Reyes .158, 1 RBI, 19 AB
Luis Castillo .143, 7 AB
Chris Carter .000, 1 AB
Last series results:
Mets lost 2-1 at Hiram Bithorn Stadium, San Juan, P.R., June 28-30 (AP game recaps)
Marlins 10, Mets 3: Cody Ross homered and had three hits, Ricky Nolasco pitched seven solid innings and the Florida Marlins gave interim manager Edwin Rodriguez a sweet homecoming in Puerto Rico. Chris Coghlan and Mike Stanton also homered for the Marlins, who handed knuckleballer R.A. Dickey his first loss in eight major league starts this season. Back in March, Major League Baseball moved this series from Miami, where the Marlins draw sparse crowds, to Hiram Bithorn Stadium in San Juan. Rodriguez, who was managing Florida's top farm team a week ago, took over the big club when Fredi Gonzalez the previous week, becoming the first major league manager born in Puerto Rico. Days later, Rodriguez got a chance to come home with his new squad, and what a homecoming it was. Out in the parking lot, fans who didn't have tickets to the game gathered around car radios. A few showed up just to soak up the atmosphere, playing the heavy BOOM-da-BOOM-BOOM bass rhythm of the popular hybrid Latin rap music of reggaeton. Meanwhile, in the street-level corridors of the stadium, a dozen musicians with trumpets, drums, and maracas played for fans who lined up at food stands that sold tropical fruit drinks alongside hot dogs and burgers. There were pockets of empty seats, however, in the announced crowd of 18,073. Rodriguez, who lives about five minutes from the ballpark, has been told he'll be with the Marlins for the entirety of the series in San Juan. What happens next is anyone's guess. But if Florida continues to play the way it did in the series opener against the Mets, he might be around for a while. Hanley Ramirez, Gaby Sanchez and Ross each drove in two runs. Coghlan scored three times from the leadoff spot and Stanton, a prized prospect, hit his second major league homer -- a three-run shot off Ryota Igarashi in the eighth. Nolasco (7-6) struck out nine and walked none, improving to 2-0 in four starts against the Mets this season. He allowed four hits, including two homers by Jason Bay. Florida took control with a four-run rally in the third, started by Nolasco's leadoff double. Dickey (6-1) had won six consecutive starts before getting tagged for five runs and five hits over five innings in this one.
Marlins 7, Mets 6: Hanley Ramirez hit a grand slam and Dan Uggla singled home the winning run in the ninth inning for his third RBI, giving Florida a victory hours after the Marlins announced Edwin Rodriguez will remain their manager for the rest of the season. New York scored twice in the ninth off closer Leo Nunez (3-1), tying it at 6 on a single by pinch hitter Josh Thole -- the rookie's second hit this season. It was Nunez's fourth blown save in 20 chances. Pedro Feliciano (2-3) retired his first two batters in the bottom of the ninth, but Jorge Cantu doubled to right-center and Uggla hit a grounder up the middle. Cantu slid home safely, beating a strong throw by center fielder Jesus Feliciano. Uggla was mobbed by excited teammates in the infield. Uggla also had a two-run homer to cap a six-run third against starter Hisanori Takahashi. Earlier in the inning, Ramirez's slam wiped out a 3-0 deficit for Florida. It was the eighth grand slam served up by the Mets this season, most in the majors. It's been a particularly thrilling week for Rodriguez, who lives about five minutes from the San Juan ballpark. Marlins owner Jeffrey Loria told the team before the game that Rodriguez will remain as manager through the rest of this season. Rodriguez is the first native of Puerto Rico to manage in the major leagues. He was named interim manager six days earlier, when Florida fired Fredi Gonzalez, its all-time winningest skipper. Rodriguez, who had been managing Florida's Triple-A team in New Orleans before he was summoned to the big club, was warmly embraced by his players in the dugout before the game. The club made the announcement in the second inning, and the Marlins improved to 3-4 under Rodriguez. Trailing by three, Florida first gained control of the game with a two-out rally in the third, started by a single from starting pitcher Nate Robertson. Chris Coghlan walked, Gaby Sanchez singled and New York's early advantage quickly disappeared with Ramirez's grand slam. Cantu followed with a double before Uggla went deep. Down 6-4 in the ninth, the Mets rallied. Rod Barajas singled and went to third on a double by pinch hitter Chris Carter. Jeff Francoeur drove in a run with a groundout that sent pinch runner Alex Cora to third. Thole then grounded a single through a drawn-in infield to tie it. Nunez retired Ike Davis and struck out Jose Reyes to end the inning. Reyes had an RBI double in the third and Angel Pagan added a sacrifice fly. Jason Bay hit a sacrifice fly for the Mets in the first. Pagan, who is from Puerto Rico, returned to the lineup in center field after missing five games because of an oblique strain on his right side.
Mets 6, Marlins 5: Mets shortstop Jose Reyes was scratched from the lineup with what was then labeled a stiff lower back, although Reyes subsequently acknowledged it was a right oblique strain. Meanwhile, the Mets were able to leave Puerto Rico with a much-needed victory. In the locker room at Hiram Bithorn Stadium, there were no high-fives and few smiles after the Mets won the final game of their Caribbean trip. Francisco Rodriguez got four outs for his 18th save in 21 chances. He struck out pinch hitter Brian Barden with runners at first and third to end the game, sending fireworks into the sky above the ballpark. Pinch hitter Josh Thole put the Mets ahead for good with an RBI single in the sixth inning that made it 5-4. Jason Bay singled home another run in the seventh. The Marlins lost despite outhitting New York 17-10. Every Florida starter except pitcher Chris Volstad had at least two hits. The Mets, who have more Puerto Rican players than any other big league team, were the crowd favorite at the cozy stadium. And after waiting out a rain delay of nearly 1½ hours at the beginning, the Mets gave the sellout crowd of 19,232 what they were waiting for during the three-game series. Mets manager Jerry Manuel said he thinks his team was "a little excitable" to play in Puerto Rico, especially those players with family and friends on the Spanish-speaking U.S. island. The Mets, who have struggled on the road all season, ended a streak of four straight losses away from Citi Field. David Wright, who leads the National League with 63 RBIs, helped the Mets score three times in the first. Jesus Feliciano led off with a double, Ruben Tejada reached on an error by first baseman Gaby Sanchez, and Wright doubled them home. Wright scored on a hard single by Ike Davis. The Marlins were hoping to cap their three-game stay with a sweep. Even so, it was a productive stay at their sometimes home, as the team found stability with manager Edwin Rodriguez. But the Marlins' night also included four errors. The costliest came in the seventh inning, when Wright reached first on a wild throw by third baseman Jorge Cantu. That helped set up Bay's RBI single. Cantu made two errors and later left the game, shortly after stretching far for a popup, because of dizziness. Mets starter Mike Pelfrey was tagged for 12 hits and four runs in 4 2/3 innings. It took the right-hander 40 pitches to get through the first inning, when he gave up two runs. Elmer Dessens (2-1) got one out for the win. The Mets made it 4-2 in the second. Puerto Rican native Alex Cora doubled and amped up the crowd with a neat slide to avoid second baseman Dan Uggla's glove, and Feliciano singled. In the fifth, Uggla slid along the turf and somehow grabbed a grounder by Feliciano, then threw out the speedster.