PITTSBURGH -- Reunion No. 2 with his original major league team is not quite the same for Ike Davis, the first baseman suggested before Thursday's Mets-Pirates series opener at PNC Park.
Davis, traded April 18 for Zack Thornton and player-to-be-named Blake Taylor, faced the Mets at Citi Field from May 26 to 28, going 0-for-7 with a walk. (His platoon mate, righty-hitting Gaby Sanchez, inflicted the damage that series.)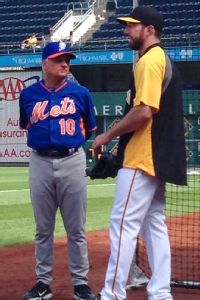 Adam Rubin
Ike Davis and Terry Collins chat before batting practice Thursday at PNC Park.
"It's totally different," Davis said. "Obviously I'm a Pirate now. It's not new. Now it's just playing them again."
Davis is hitting .254 with four homers and 19 RBIs and has a .360 on-base percentage in 58 games since the trade. He has started in the cleanup spot 24 times as a Pirate, although he now apparently has settled into the No. 6 slot.
"I've had some good weeks and some bad weeks," Davis said. "Overall, I'm playing all right. Obviously it's a better first half than most years. So if I can go out and have a good second half like I normally do, I should have a decent season."
Asked if he keeps in touch with any particular former teammates, Davis said: "Random texts here and there, but during the season it's tough. We've got jobs to do and we're on different schedules all the time. I've texted the majority of everyone once, I think. But we're on different teams and it's time to move on."
He does monitor their progress, though.
"Of course, because they're my friends," Davis said. "So I want to see them do well."
Davis remains gratified he received a mostly warm reception during last month's return to Queens.
"It was cool," Davis said. "It was a lot better than I thought, for sure."