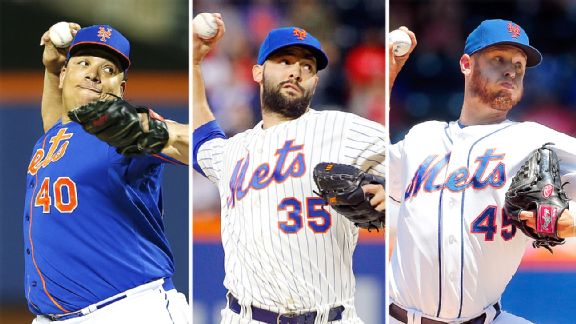 Getty Images
The Mets plan to open the second half using Bartolo Colon, Dillon Gee and Zack Wheeler in San Diego.NEW YORK -- When the Mets reconvene in San Diego to open the second half on Friday, Bartolo Colon is slated to start the opener against the Padres, Terry Collins said.
The rest of the rotation is not yet public, but a source told ESPNNewYork.com that Dillon Gee is likely to face the Padres on Saturday, followed by Zack Wheeler in Sunday's series finale.
Jonathon Niese and Jacob deGrom then would open the following series at Seattle, with Daisuke Matsuzaka likely beginning the second half in the bullpen if everything progresses as planned.
Gee returned from the disabled list Wednesday and limited the Braves to one run in seven innings. He plans to throw 75 pitches or so during the break while spending time in California with teammates, setting himself up to face the Padres in Game 2.
Niese is eligible to come off the DL the following day, but the Mets instead plan to use Wheeler that day. The Mets appear to prefer holding Niese back an extra day to have him face the Mariners, who have challenging lefty batters, including imported Robinson Cano.
Of course, all this presumes that Niese feels OK to make that start. The southpaw is expected to throw at Citi Field on Sunday to test himself. Niese officially was placed on the DL with a left shoulder strain, although he maintained he was uninjured. Niese has acknowledged an MRI on Monday revealed inflammation in the AC joint. His velocity has been down this season.
Assuming Niese returns after missing only the one first-half start, that means Matsuzaka should find himself relocated to the bullpen. He performed well in a relief role earlier this season, posting a 2.22 ERA and .145 opponent batting average in 17 appearances, albeit with 19 walks in 24 1/3 innings.
DeGrom remaining in the rotation with Niese's return validates how positively the rookie has pitched. It also signals the Mets are unconcerned with his innings count for the season. DeGrom is at 105 innings between the majors and minors in 2014. The Mets are comfortable with him getting to 185 innings this season.