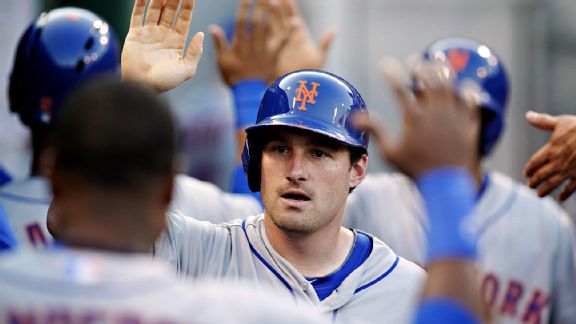 Charles LeClaire/USA TODAY Sports
Daniel Murphy has been on the giving end of a lot of high-fives this season.New York Mets second baseman Daniel Murphy is an All-Star for the first time, and the honor is a legitimate one. Even if the situation didn't require every team to have at least one representative, Murphy's play has been All-Star worthy.
Improvement in an environment of decline
In a season in which the average NL second basemen's performance has dropped considerably from the previous two seasons (they have a .249/.309/.367 slashline, well down from .263/.323/.391 of two seasons ago and .261/.320/.391 last year), Murphy's numbers have gotten better.
Most Wins Above Replacement
NL 2B in 2014
Murphy is hitting .292 with a .342 on-base percentage and .413 slugging percentage -- on pace for his best offensive season since 2011.
Murphy had the 11th-highest WAR among National League second basemen in 2012 and ninth-highest WAR among National League second basemen last season. This year, he's third in the NL with 1.9 Wins Above Replacement.
A better hitter
Has Murphy made an improvement anywhere at the plate?
One in which he has, at least statistically, is against left-handed pitching.
He offered a short explainer to Danny Knobler a few days ago:
"I think I'm just seeing them better," Murphy said. "I know early this year I started getting my front foot down faster. Maybe that has helped. Maybe it's just the comfort level."
Murphy has stopped chasing the down-and-in pitch from a lefty and has honed in on getting a pitch in the strike zone. Murphy had been very good against that type of pitch two and three seasons ago but wasn't in 2013.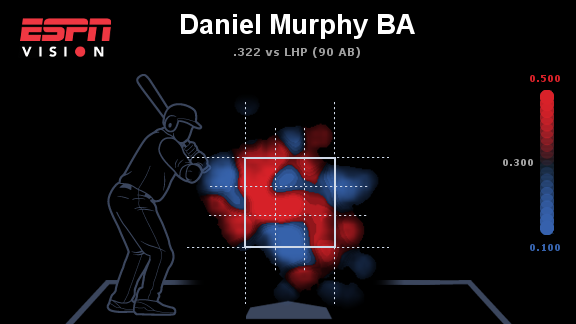 He has 12 hits and made only 14 outs against pitches from lefties that were on the inner-third of the plate (or off the inside corner) this season, after batting .233 in at-bats ending against them last season.
His seven walks in 99 plate appearances against left-handed pitching this season match the most he's had in any season against them.
Murphy's walk rate is much improved overall and that's notable. He has 30 walks in 418 plate appearances after mustering only 32 in 697 turns last season. He's on pace to reach the 50-walk mark for the first time in his career.
The other stuff
Murphy's defense and baserunning misadventures may frustrate you, but keep this in mind:
Murphy is actually on pace for better defensive numbers than he had the last two seasons. Murphy has chipped away at what were awful numbers turning groundballs into outs and converting double plays with a good stretch over the last month.
Entering June 12, he was at -7 Defensive Runs Saved this season. He's contributed two Defensive Runs Saved since then and his Revised Zone Rating (a measure of how often a fielder converts outs on balls hit to spots in which more than half of players at the position get outs) is at .838 (after lingering at .752 through June 11).
Also of note: Baseball Info Solutions credits Murphy with 23 plays in which the expected conversion rate for a second baseman was below 50 percent. That's the most of anyone at the position. In other words, Murphy has made his share of tough plays, both as a credit to his own skill and the positioning of the Mets defense by coach Tim Teufel.
Though he's gotten caught on some ill-advised advance attempts, he still ranks as an above-average baserunner. Fangraphs has a baserunning metric -- UBR (Ultimate Baserunning Rating), which encompasses not just stolen bases, but also advancing extra bases on hits and avoiding different types out baserunning outs.
Murphy's baserunning has been worth 2.8 runs in 2014, which ranks second best on the Mets, trailing only Eric Young Jr.
Looking ahead
The good news for the Mets: Murphy has historically been a better second-half player than first-half player -- numbers impacted a little by his outstanding 2008 post-break debut.
Daniel Murphy - Career
In fact, the groundwork for this season may have been laid in the close to 2013. Murphy hit .307 with seven home runs and 13 stolen bases after the All-Star Break last season.
So perhaps in what has already been a pretty good season for Murphy, the best is still yet to come.