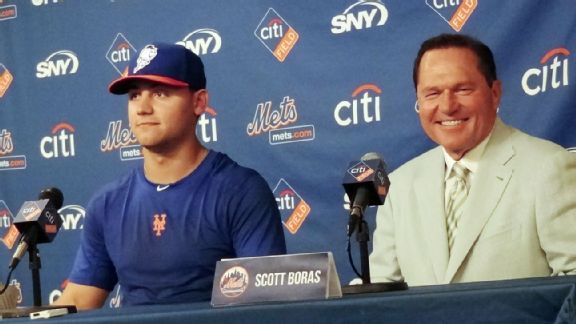 Adam Rubin
Michael Conforto officially was introduced as a Met last Friday, with agent Scott Boras on hand.SAN DIEGO -- First-round pick Michael Conforto will make his professional debut as the DH for the Brooklyn Cyclones on Saturday.
Conforto, the 10th overall pick in the draft, officially signed a week ago. The Oregon State outfielder attended the Golden Spikes Award ceremony on Thursday in Los Angeles. He was one of three finalists, but did not win the award.
Keith Law rates Conforto as the No. 32 prospect in MLB. Law writes about the two-time Pac-12 Player of the Year:
Conforto was the most advanced college bat in the draft class this year, leading Division I in OBP despite playing in a major conference (Pac-12, for Oregon State), while showing above-average power and adequate defense in left field. He doesn't have huge upside, but he's very close to major league ready and should be at least an above-average regular with a higher ceiling if the power exceeds expectations. The Mets should fast-track him if his performance warrants it.