Figgy's health scare
August, 27, 2010
8/27/10
11:17
AM ET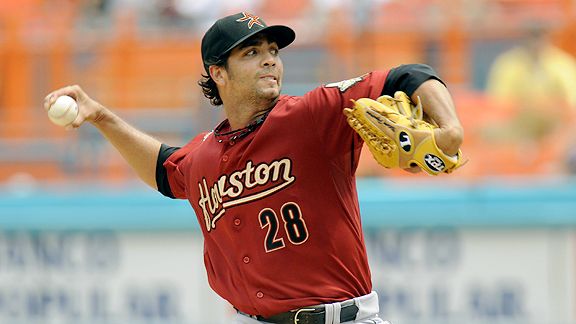 Steve Mitchell/US Presswire
Nelson Figueroa opposes the Mets on Friday night. The ex-Met had a serious health scare this month. The cause remains undetermined.
Houston Astros right-hander
Nelson Figueroa
opposes
Mike Pelfrey
at Citi Field on Friday night.
Amid his success on the mound since being claimed off waivers from the Philadelphia Phillies, Figueroa also has dealt with a serious health scare. He heard a pop in his head during an Aug. 7 game in Milwaukee and subsequently had severe migraine-type symptoms. The cause is still unresolved.
Read about his ordeal below:
First of all, you're fine now if you're pitching right -- no migraine-type symptoms?
"As far as I know, I'm fine. But they put a nerve block in. So I wouldn't be able to tell anyway. It's different now. I don't know. The only time I got them was pitching, after the pop in my head. It's hard to tell what's going on. They assured me it's nothing serious. It wasn't what they thought it was as far. Being an AV malformation is what they were worried about."
What exactly is a nerve block?
"It sounds like birth control. It's a three-month shot that they put in the back of my skull, in the occipital lobe, where the base or your skull and the top of your neck meet. That's where I was feeling the migraine. They put a nerve block in there on both sides and said I shouldn't feel anything for three or four months. After those three or four months, if I'm still experiencing the same symptoms, then they're going to have to run some more tests."
And the first time this happened was in a major league game?
"Oh yeah. I can tell you the exact pitch. It was a pitch against Milwaukee on that Saturday [Aug. 7]. I gave up a home run to [George] Kottaras. The second pitch to him was a strike with a curveball. They threw the ball back and I had heard the pop when I got the ball back. It was like I couldn't hear anything else, and I could just hear the thumping in my head. So I kind of took one step back off the rubber. I put my head down trying to clear the cobwebs, thinking -- 'All right, well, I've got two strikes. Let me get this guy out.' The more I tried to stare and focus on something, the more it pounded. I just got all out of whack. My body felt like it wasn't moving in sync with what I was thinking. I was just all off. I got out of the inning, went inside and saw the trainer. I had real high sensitivity to light. I could hear every noise. It just bothered me. They thought maybe I had tweaked something in my neck, but I had full range of motion with my neck. My hands weren't numb. No tingling. They checked for a possible aneurysm. No aneurysms. Nothing like that. I just had this real bad migraine all of a sudden. I don't get headaches or migraines. They gave me some Excedrin and a muscle relaxer and I went back to the hotel -- a dark room for a few hours -- and went to sleep. We had a day game the next day. I went out and jogged and felt fine. I told the manager I was good to go. I warmed up. No problem. I got in the game, and the first pitch I threw was a fastball, and something started immediately behind my right eye again. I was like, 'I have no idea what the hell is going on.' I got two outs and got out of the inning. They said that was all they were going to need me for. I went inside and told the trainer I was experiencing the same symptoms, but only behind the right eye. I went into Houston on Monday [Aug. 9]. We flew back. I got CT scans and the MRIs started."
And if they let you resume pitching in games nine days later, they're not overly alarmed? It's not minimal, but not a health risk?
"When I first got the MRI and the CT scan on Monday night, they saw nothing that looked extremely out of the ordinary, nothing to be alarmed about. But then they sent the MRIs to the top neurosurgeon at Baylor University, who I guess discovered what was the cause of Larry Dierker's seizures. He said it looked pretty similar to what they found in Larry Dierker's MRIs. He wanted to get a better scan of it. That's when they did the arteriogram, where they went in through the groin, to the main artery and had the needle go all the way up to the base of the neck and shoot the dye into my brain. It came out negative as far as being an AV malformation, but about an hour later I had a reaction to the dye and had to be kept overnight."
So you feel OK about where things stand now -- that when the nerve block wears off it's gone and behind you?
"That's what I'm hoping. I'm hoping I'm back to normal. I'm hoping the pop I heard was, you know, when you get a chiropractic adjustment you get that pop? I'm hoping that's what the pop was for some reason. I don't know why, because it's never happened before. I'm hoping that's what it was. I'm hoping it isn't anything more serious. I'm hoping I'm not causing any more damage. But I feel like I'm throwing the ball as well as I have ever. I feel strong. I'm starting now and have been able to go from being a one-inning guy/long reliever -- maybe throwing 30 pitches -- to 90 pitches my last two outings. I feel like I'm right where I need to be."
More generally, I don't know if you were thrilled to be claimed off waivers by the Astros from the Phillies. But getting a chance to start and prove yourself is a positive?
"Absolutely. I look for the silver lining in everything. I'm making the most out of a situation that they were looking to go young and rebuild. I'm trying to hopefully be a veteran presence, who can kind of do everything. We've put up great numbers in the second half. To be a part of that success and turnaround of the season, I definitely want to have my name in the forefront and be right there in the offseason."