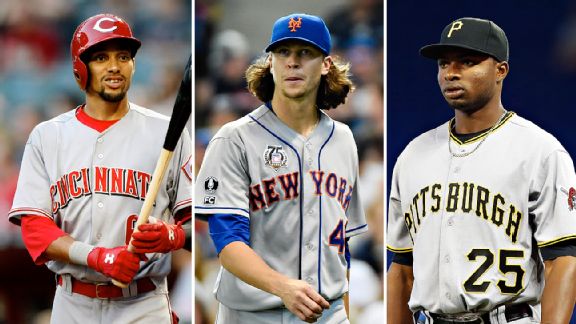 USA TODAY Sports
Billy Hamilton, Jacob deGrom and Gregory Polanco should be NL Rookie of the Year candidates.NEW YORK -- The Mets have produced four NL Rookie of the Year winners: Tom Seaver (1967), Jon Matlack (1972), Darryl Strawberry (1983) and Dwight Gooden (1984).
Could a 30-year drought be coming to an end?
Jacob deGrom added to his résumé on Sunday by tossing 6 1/3 scoreless innings against the Milwaukee Brewers at Miller Park.
OPPOSITION RESEARCH
Here are position-player candidates for NL Rookie of the Year. They should prove a bigger challenge for Jacob deGrom than the pitchers.
The 26-year-old deGrom has won four straight outings to improve to 5-5 with a 2.79 ERA in 14 starts. A former college shortstop, he also has a .250 batting average.
There are two months left in the season, so plenty of time exists for things to sort themselves out.
At the very least, deGrom can begin by getting consideration for NL Rookie of the Month for July. In five starts this month, deGrom went 4-1 with a 1.39 ERA. He produced 38 strikeouts and walked seven in 32 1/3 innings.
The July competition?
No other NL rookie starting pitcher has produced more than two wins this month. And that's San Diego's Jesse Hahn, who is 2-1 with a 2.37 ERA in three starts so far in July. (Of course, Jeurys Familia has excelled out of the bullpen.)
So the July challenge may come on the position-player side, with Arizona's David Peralta, St. Louis' Kolten Wong, Atlanta's Tommy La Stella, Cincinnati's Billy Hamilton and the Mets' Travis d'Arnaud and all having sound months.
• Wong has hit .315 with five homers in 50 at-bats this month.
• La Stella is hitting .296 with nine RBIs in 81 at-bats.
• Peralta is hitting .347 with one homer and 12 RBIs in 72 at-bats.
• Hamilton has 12 RBIs and seven steals in July, albeit with a .256 average
So far, the NL Rookie of the Month winners have gone to Chris Owings in April, Wong in May and Hamilton in June.
Owings (.277, 6 HR, 21 RBIs, 238 ABs) has been out since June 25 with a left shoulder strain.
Meanwhile, Gregory Polanco got off to a torrid start with Pittsburgh. He currently is hitting .247 with five homers and 19 RBIs in 162 at-bats on the season.
One impediment to deGrom winning the annual award could be an innings cap. He even could be briefly reassigned to the bullpen at some point. Sandy Alderson has said deGrom should get about 185 innings this season, which leaves only 59 2/3 to go.
One positive: Unlike recent seasons (Jose Fernandez, Bryce Harper) and unlike the AL this year (Jose Abreu), there is no dominant NL candidate.
So deGrom at least has a fighting chance.