NEW YORK -- Don't break up this juggernaut!
In his final start before the non-waiver trade deadline, Bartolo Colon took a scoreless effort into the eighth inning and the Mets routed on-the-block A.J. Burnett and the Philadelphia Phillies with a 7-1 victory on Monday at Citi Field.
Travis d'Arnaud doubled and scored in a four-run first inning and later had a three-run homer against Burnett as the Mets (51-55) emphatically snapped a streak of nine straight games scoring three runs or fewer.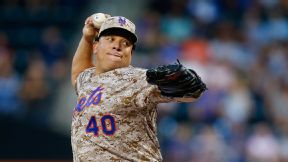 Mike Stobe/Getty Images
Bartolo Colon took a scoreless effort into the eighth inning on Monday.
Pending the West Coast results, the Mets moved to within 6½ games of a wild-card spot.
Coming off a start in Seattle in which he retired the first 20 Mariners, Colon surrendered 10 hits and one walk in a 121-pitch effort, but kept the Phillies off the scoreboard until consecutive two-out doubles in the eighth by Domonic Brown and Carlos Ruiz. Colon had faced a bases-loaded, two-out jam in the sixth, but struck out Cody Asche.
Although Mets GM Sandy Alderson implied during pregame media time that waiting until the offseason to trade Colon would be more prudent, the 41-year-old right-hander did make a strong final pitch that he could be valuable to a postseason contender.
Colon improved to 10-8 with a 3.88 ERA. He joined Tom Glavine (2007) and Orel Hershiser (1999) as the only pitchers in franchise history to notch double-digit wins at age 41 or older, according to the Elias Sports Bureau.
The Detroit Tigers, Milwaukee Brewers and Toronto Blue Jays were among the teams with scouts at Citi Field on Monday, with speculation at the ballpark that they were at least monitoring both starting pitchers.
Burnett allowed seven runs on eight hits and two walks in five innings.
Snapped: The Mets scored four runs during a 33-pitch first inning by Burnett. That snapped a string of nine straight games in which the Mets scored three runs or fewer. The drought had matched the franchise's longest streak since 1981, when the Mets went 11 straight games failing to reach four runs.
Daniel Murphy had an RBI double, Lucas Duda had a run-scoring single and Juan Lagares had a two-run double in the first.
D'Arnaud's double preceded Lagares' two-bagger. It ended a streak of 29 straight hitless at-bats with two outs and runners on base for the Mets, according to Elias.
D'Arnaud's fifth-inning homer staked the Mets to a 7-0 lead. He finished with three extra-base hits.
Ouch: Dana Eveland departed in the ninth inning after apparently getting struck in the back of the elbow by a line drive off the bat of Ben Revere.
What's next: Dillon Gee (4-3, 3.49 ERA) opposes left-hander Cole Hamels (5-5, 2.72) at 7:10 p.m. Tuesday. Eric Campbell will be in the starting lineup, Terry Collins pledged, although the manager was noncommittal about the position. Campbell would appear most likely to play first base, since Duda is a career 1-for-13 with seven strikeouts and five walks against Hamels.