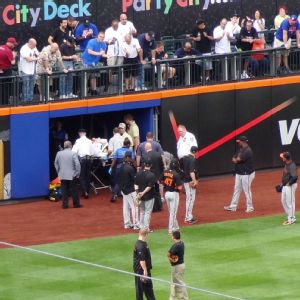 Adam Rubin
Fans on the party deck and Giants players watch as a fan who tumbled onto the warning track is taken away on a stretcher by EMTs.
NEW YORK -- A man watching the San Francisco Giants take batting practice from the party deck in left field at Citi Field tumbled over the railing and fell onto the warning track Saturday.
Paramedics placed the spectator on a stretcher. The team said in a brief statement that the fan was taken to the hospital.
Giants outfielder Jarrett Parker, who actually was demoted before the game, told the Associated Press a bone was protruding from the victim's arm.
Friends told the AP the fan's name was Nick Gambacorta, and he is in his 30s. They added that he was on an outing with local bus supervisors and their families.
One official said the injuries were not believed to be life-threatening.
The left-field wall is eight feet tall. Including the railing above it, the fall to the warning track appeared to be approximately 10 to 12 feet.
Giants players who had congregated in left field to shag fly balls watched as EMTs responded.