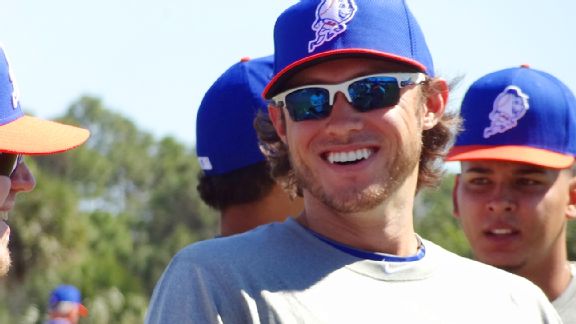 Adam Rubin
Matt den Dekker replaces Chris Young on the roster on Saturday in Philly.PHILADELPHIA -- The Mets asked outfielder Matt den Dekker to cut down on his strikeout totals this season. So den Dekker, who turns 27 on Sunday, worked to revamp his swing with Triple-A Las Vegas hitting coach George Greer.
The result: den Dekker has 65 strikeouts in 335 Pacific Coast League at-bats in 2014.
That 19.4 percent minor-league strikeout rate is the lowest of his career.
#6 CF
Las Vegas (AAA)
2014 STATS
GM

93

HR8

RBI46

R70

OBP.407

AVG

.334
It was 21.9 percent in an injury-shortened 2013, 29.9 percent in 2012, 28.9 percent in 2011 and 27.0 percent in 32 games in 2010 after being drafted in the fifth round out of the University of Florida.
Den Dekker is due to join the Mets on Saturday and is expected to get a legitimate look in left field. He replaces Chris Young, who was designated for assignment after Friday's 5-4 series-opening win against the Philadelphia Phillies in which he did not appear.
Den Dekker's .334 average leads the Pacific Coast League. His .407 on-base percentage ranks third, trailing only Albuquerque's Joc Pederson (.431) and Vegas teammate Allan Dykstra (.421).
"It doesn't really mean much," den Dekker said, downplaying being atop the leaderboard. "It's just playing well and hitting the ball well."
A more compact swing means he has that much longer to recognize and react to pitches.
"I made a lot of changes to my swing in Vegas here with George, the hitting coach," den Dekker said before boarding a redeye on Friday night. "I shortened up my swing, my stride, and it's a lot of using my hands. I think that's really helped out a lot, and my numbers have been a lot better because of that. I've kind of gone to more of a no-stride approach and using my hands. It's worked out a lot better for me."
Den Dekker has to prove that will translate to the major league level. There is no shortage of players who put up big numbers at Vegas and then did not thrive at the major league level.
Over two seasons, den Dekker is hitting .184 (19-for-103) with one homer and seven RBIs in the majors.
"Obviously there's a big difference between Triple-A and the major leagues," assistant GM John Ricco said. "But one of the things that we asked him to do, and that he has done, is cut down on the strikeouts. The strikeout rate is definitely down this year. And that was a big part of what was keeping him from having success up here. But until he comes out and does it, it's hard to say."
One reason for encouragement is den Dekker's knack for a dramatic uptick in production when he gains experience at a level.
Den Dekker hit .235 while finishing the 2011 season with Double-A Binghamton. He then hit .340 when he opened the next season there.
He hit .220 in his first season in 2012 in Triple-A, when the Mets were in Buffalo. The average rose to .296 last year, when the Mets' affiliate shifted to hitter-friendly Las Vegas and den Dekker had returned from a broken right wrist. The average rose again this year, to .334.
"There's definitely the comfort level and an adjustment period," den Dekker said. "That was part of the year in Vegas and helped me out as well."
Terry Collins plans to regularly use den Dekker in left field, with Juan Lagares in center field and Curtis Granderson in right field. Kirk Nieuwenhuis should still see playing time, but that will be rotating among the three outfield positions.
"Judging by the way Juan has played center field and then Kirk goes out there and plays, it's really nice to have those options," Ricco said. "Obviously we know Matt is a pretty good center fielder as well. That will be up to Terry, but Juan has played a really stellar center field. So I think right now it looks like the opening will be in the corner."
The Mets have pledged to give legitimate shots to call-ups before, only to deviate after a few days. That included Wilmer Flores' early promotion this season, when the Mets quickly reverted to using Ruben Tejada at shortstop. Still, there looks to be commitment across the board now to evaluating the Mets' youth, with the team having faded from the fringes of contention.
Asked if he sensed this call-up was different, that a legitimate opportunity awaited, den Dekker said: "I've been playing well, so I'm just going to go up there and try to do what I'm doing here and not get too excited or anything about it."