NEW YORK -- The Mets received an immediate return from the Aug. 27, 2013, trade of Marlon Byrd and John Buck to the Pittsburgh Pirates, with Vic Black joining the major league club for the final month of last season. The other piece acquired in that trade arrives in the majors Friday, two days after of the one-year anniversary of the swap.
In a jump not customary for the Mets, 20-year-old Dilson Herrera has been promoted directly from Double-A Binghamton, where he was hitting .340 with 10 homers, 48 RBIs and nine steals in 241 at-bats.
The promotion coincides with Daniel Murphy landing on the disabled list with strained right calf.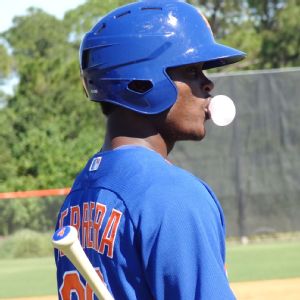 Adam Rubin
Dilson Herrera has been promoted from Double-A Binghamton.
One reason Herrera was selected undoubtedly is it allows the Mets to determine if they have a viable alternative that would allow them to consider trading Murphy this winter. Murphy is making $5.7 million this season, is eligible for arbitration one more time, then can become a free agent after the 2015 season.
After hitting .307/.355/.410 in the first half with St. Lucie, Herrera ascended to Binghamton during a wave of midseason promotions.
Herrera is a native of Colombia, a country that obviously does not produce the same volume of talent as, say, the Dominican Republic or Venezuela. Of the 224 foreign-born players on MLB rosters on Opening Day, four hailed from Herrera's native country: then Angel and now Pirate Ernesto Frieri, the White Sox's Jose Quintana, Marlins' Donovan Solano and Braves' Julio Teheran.
Herrera nonetheless said he grew up playing baseball from a young age -- 3 or 4 years old -- and particularly looked up to Colombia-born Edgar Renteria, who played for 16 seasons in the majors, through 2011.
"Colombia is a big soccer country, but I grew up and never stopped playing baseball," Herrera said through an interpreter.
As for what he particularly admired about Renteria, Herrera added: "On the field he was a really good player, always clutch, and he always came up big for his team. But what impressed me most was how good of a person he was. That's what I liked the most about him."
The Pirates used Herrera exclusively at third base in the Venezuelan Summer League back in 2011, after he first signed. Pittsburgh then only used him at second base for the next two and a half seasons, until last summer's trade. Herrera continued to exclusively play second base after joining Savannah late last season. He helped the Gnats win the 2013 South Atlantic League championship while manning that position.
This season, he is receiving his first professional exposure to shortstop. With St. Lucie, he appeared in 43 games at second base and 19 games at shortstop during the first half. With Binghamton, he played shortstop early on, while Wilfredo Tovar was still returning from a hand injury. More recently, Herrera exclusively has played second base.
"I grew up playing shortstop," Herrera said. "With the Pirates they turned me into a second baseman. And now I feel very comfortable at second base. But I can still play shortstop."
As for the trade that brought him to the Mets, Herrera added: "I was surprised. Obviously I wasn't expecting it. I was sad about leaving relationships and friendships with the Pirates organization, but was happy for the opportunity. I was excited about the opportunity to come to a new organization."
This was amended from a July "Farm Report" feature on Herrera