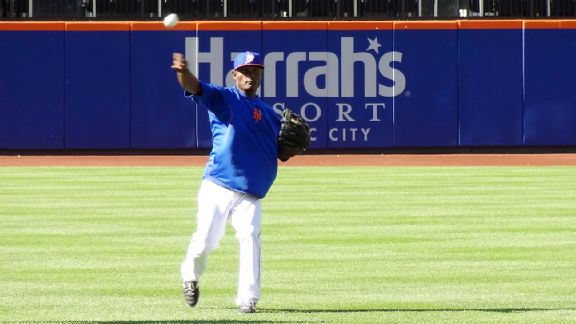 Adam Rubin
Dilson Herrera throws with teammates before his major league debut Friday at Citi Field.NEW YORK -- Dilson Herrera already had his belongings on the Binghamton Mets' Richmond, Va.-bound bus on Thursday night when Double-A manager Pedro Lopez gave him an alternate itinerary.
With Daniel Murphy landing on the DL with a right-calf strain, and with the Mets needing to add the 20-year-old Herrera to the 40-man roster after the season anyway, Herrera instead received a ride from upstate New York to Queens on Friday.
He will start at second base and bat seventh in the series opener against the Philadelphia Phillies at Citi Field.
Herrera will become the first position player in Mets history to start a season in Class A and make his major league debut the same season. He also will become the first Colombia-born player to appear for the Mets, and the 14th overall for any ballclub in major league history.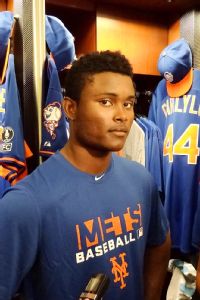 Adam Rubin
Herrera
The promotion comes a year and two days after he was acquired from the Pittsburgh Pirates with Vic Black for Marlon Byrd and John Buck.
"The manager told me after last night's game. We had lost, and he pulled me aside and told me and I was just in complete shock," Herrera said through an interpreter. "I couldn't believe it."
Said Sandy Alderson: "He's come sort of out of nowhere, but he's done everything we could have asked from him."
Herrera hit .340 with 10 homers and 48 RBIs in 241 at-bats after a midseason promotion to Double-A.
He has been exposed to both middle-infield positions this season, but Alderson confirmed Herrera will only be called upon to play second base at the major league level.
"He's very young, but he has to be on the roster, he has to be protected this year -- otherwise exposed to the Rule 5 draft," Alderson said. "So there was no question in our minds he would be on the roster. With the opportunity for actual playing time given the injury to Daniel, we felt this was an opportunity for us to see him and give him some time in the big leagues and let him play some second base. I'm sure he was very surprised last night."
Herrera has never played at any level with any of the current Mets. He was not in big league camp during spring training.
Terry Collins said he did not know much about him, but heard: "He can hit."
Said Herrera: "I think I'm good with line drives. I wouldn't say I always bat with a lot of power, but I think I'm very consistent and good at the plate."