Wednesday, September 22, 2010
Murph may be second base answer in '11

---
By Adam Rubin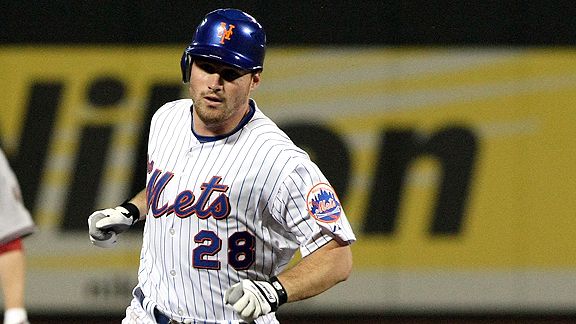 Brian J. Myers/US Presswire

Daniel Murphy, who did not appear in the majors this season because of knee injuries, could be a factor in 2011 at second base.


Luis Castillo has not started a game in 18 days. And although he is under contract for $6 million next season, the likelihood is the Mets find a matching bad contract to swap or otherwise heavily subsidize Castillo playing elsewhere in 2011.

So where does that lead at second base?

It's possible the answer is Daniel Murphy.

Murphy, you likely recall, was slated to be the Mets' Opening Day first baseman until he suffered a ligament sprain in his right knee in a rundown during the final week of the Grapefruit League schedule. By the time he was ready to return, the Mike Jacobs/Fernando Tatis platoon had fizzled and Ike Davis had firmly entrenched himself at first base.

Murphy, once he regained his health, was optioned to the minors and was beginning to learn second base at Triple-A Buffalo. But eight games into his Bisons career, he was the victim of an arguably dirty takeout slide at second base and was lost for the remainder of regular season with a tear to the same medial collateral ligament in his right knee. Neither issue required surgery.

Now, Murphy is in Fort Myers, Fla., with the Mets' instructional league team, where he will again play second base. Murphy then is due to get further experience at that position in the Dominican Republic this winter with Aguilas. The Dominican team intends to let Murphy play second base, although it also has Tony Abreu, Rafael Furcal, Miguel Tejada, Edwin Encarnacion and Hector Luna in the infield, according to ESPN's Enrique Rojas.

"When I talked to him, he said that was his biggest thing for going to winter ball -- to play second base. He's not worried about hitting," Mets infield coach Chip Hale said. "He's worried about playing second base."

Although Murphy had willed himself into being a passable first baseman, he never has been an accomplished fielder. As the story goes, when he first arrived at the University of Jacksonville and was asked what he played, the response was: "Hitter."

At least he is a natural infielder, which should make the adjustment to second base possible. Murphy particularly struggled in left field after the Mets threw him out there at the major league level in 2008 with only limited experience.

Still, second base figures to be a work-in-progress, and Murphy may have range issues.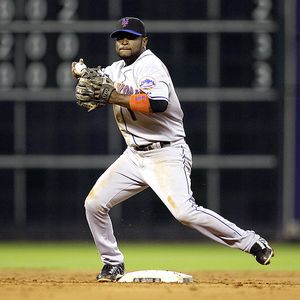 Brett Davis/US Presswire
Luis Castillo is owed $6 million in 2011, but the Mets are expected to rid themselves of the second baseman.


"I always thought he did a good job over there," said Josh Thole, who saw Murphy's initial second-base experience in the Arizona Fall League in '08, as well as his other dabbling at the position earlier this season with Buffalo. "He always would make the routine play. Most important, he did a good job turning double plays. The thing is that Murph is going to play hard for you. He's going to try to make diving plays, try to make good plays. He's smart out there. … I specifically remember him doing a very good job turning double plays. That's the one thing that comes to my mind. He was very good around the base."

If not Murphy, what direction do the Mets turn?

If Ruben Tejada can hit at a modest enough level and the Mets can get offense elsewhere, he's clearly the best defensive option. Tejada may get further experience playing in Venezuela this winter with Leones del Caracas.

In fact, pairing Murphy and Tejada might be a decent scenario. They are offensive-defensive complements as well as lefty-righty complements. And Murphy conceivably could be versatile and be a part-time pinch hitter off the bench if he can solidify himself as a left fielder and corner infielder as well.

Luis Hernandez, who is out for the remainder of the season with a broken foot, and Joaquin Arias, who was acquired from the Texas Rangers for Jeff Francoeur, are not considered serious starting options.

Justin Turner is a favorite of Mets special assistant Wayne Krivsky, the former Cincinnati Reds GM. He was curiously snubbed for a September call-up despite solid numbers at Triple-A Buffalo (.333, 11 HR, 35 RBIs in 312 at-bats), but could be a spring-training factor either at second base or as a backup infielder.

The Mets could even try to do a salary exchange with the Seattle Mariners for Chone Figgins, who is owed $26 million over the next three seasons.

Hale believes there would be enough time for Murphy to get acclimated to second base between instructional league, the Dominican Republic action this winter and spring training.

"We hit him groundballs there two or three times -- more as drills than anything," Hale said about some dabbling at second base last spring training. "From what I saw, his feet are good enough to play there. It's just turning the double play. We need to see that. Unfortunately, he gets hurt in Triple-A on kind of a dirty slide."


---