Sunday, March 27, 2011
Postgame review: Cards 3, Mets 1

---
By Adam Rubin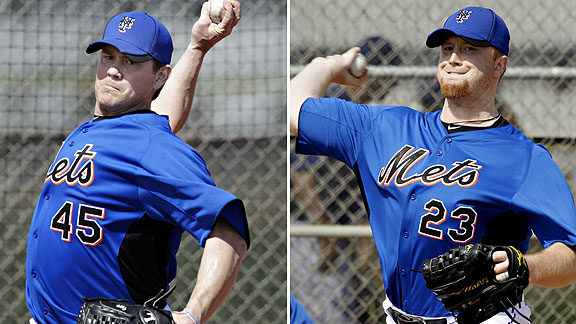 AP Photos

Jason Isringhausen (left) and Blaine Boyer (right) appear going head-to-head for the final bullpen spot.

Jon Niese surrendered a two-run homer to Allen Craig and was charged with three runs on four hits and a walk while striking out three in five innings of a breezy, one-hour, 51-minute loss to the St. Louis Cardinals on Sunday in Jupiter. Blaine Boyer, Jason Isringhausen and Taylor Buchholz each contributed scoreless relief innings in the 3-1 defeat.

The details:

• With six bullpen spots seemingly decided (Francisco Rodriguez, Bobby Parnell, Tim Byrdak, Buchholz, D.J. Carrasco and Pedro Beato), Isringhausen and Boyer realize they may be competing for one spot -- technically with out-of-options Manny Acosta and Pat Misch as the other contenders.

"Me and Boyer hate each other," Izzy joked inside the visitors' clubhouse in Jupiter after they each tossed a scoreless inning.

Replied Boyer: "We argued yesterday and wrestled."

In the sixth, Boyer allowed a leadoff single to Craig. He then retired Jon Jay on a flyout to center and completed a scoreless frame by coaxing Nick Stavinoha into a 1-6-3 double play.

The following inning, in his first Grapefruit League appearance since elbow inflammation briefly shut him down, Isringhausen fielded David Freese's swinging bunt down the third-base line and fired to first base for the first out. He then retired Gerald Laird on a foul pop-up to catcher Mike Nickeas and Daniel Descalso on a foul fly ball to left field to complete a seven-pitch frame.

"Anytime you put up a zero, that's what people want," said Boyer, who is on a minor league deal, but who has a Thursday out in his contract. "As far as a reliever, four pitches [in that inning], that's what we're called to do. It doesn't matter how it happens as long as you get a zero up there. … I've shown everybody I'm able to work the two-seamer. It's still here. Everything is working good. Velocity is good. I'm getting lefties out. My slider is fantastic now, I think, at least as far as I'm concerned. I like what I'm doing."

Said Isringhausen: "If he makes the team, I want him to do well, because I want the Mets to win. They're still my first team ever, and I still root for them every day. And I'll still root for the Cardinals [another former employer] -- just not when I play against one or the other. I've said all along I want to make the decision tough for them. And if I've done that, I've done my job coming into spring. I've proven to myself I can pitch again. That's all I care about."

Going into front-office meetings Sunday, it sounded like Boyer had the advantage, in part because the Mets are leery of losing him and then having an injury-susceptible pitcher such as Isringhausen potentially break down.

"There's always going to be questions about my health. That's just always going to be there," Isringhausen said.  "… If my arm is healthy, I'm going to get people out. I know that."

Said Terry Collins: "They both have had very, very good springs. They've both thrown the ball well. So we just have to sit down and look at all the options we have and make a decision. … It's going to be a very, very tough decision. And somebody is going to be disappointed, for sure. That's the nature of the game."

The Mets may start trimming the field Monday by placing players such as Acosta and Misch on waivers, although that 48-hour process is supposed to be a secret.

Isringhausen repeated he's not interested in going to the minors, although he didn't outright rule out staying in extended spring training.

"I won't go to the minor leagues," he said. "I don't know what their plans are, or what they're going to talk to me about. We'll just see what happens. I'll make that decision then. As of right now, my decision is not to go to the minor leagues. We'll just leave it at that right now."

Asked specifically about just staying at the Mets' Florida complex for extended spring training, he added: "We'll address all that when it comes about. I don't know. I've got to talk to a lot of people before I make a decision. We'll figure it out."

Boyer summed up the circumstance by saying a murky status isn't something he thinks about on the mound "but when you go home and try to plan for the season, you can't help but wonder, 'All right, is it going to be in New York? Is it going to be somewhere else?'"



Starting Pitcher
New York Mets
2010 Season Stats

| | | | | | |
| --- | --- | --- | --- | --- | --- |
| GM | W | L | BB | K | ERA |
| 30 | 9 | 10 | 62 | 148 | 4.20 |
• Niese had his final tune-up for Saturday's start in Miami against the Marlins opposite Ricky Nolasco, after Mike Pelfrey handles Opening Day against Josh Johnson. Niese finished with a 4.62 Grapefruit League ERA.

He walked opposing pitcher Kyle McClellan ahead of Craig's two-run homer. Niese threw 64 pitches (45 strikes).

"It went a lot easier today. I was able to get quick outs," Niese said. "Obviously the mistakes I made I paid for them. That goes along with pitching, and it's a learning experience."

• Carlos Beltran went 2-for-5 with three RBIs against the Cardinals' Triple-A Springfield affiliate in Port St. Lucie. It marked his second straight day playing five innings in right field. Afterward, Beltran predicted he would appear in a Grapefruit League game Tuesday.

"I'm happy the way I've been feeling," Beltran told Rich Coutinho. "I'm just looking forward to continuing to get better. … There are going to be days where you feel better than others. Yesterday I didn't have a good day. Today I was able to get two hits out of five at-bats. Basically we gain confidence by results. That's how this game works."

Collins would prefer Beltran play Grapefruit League games Monday and Wednesday, but said he will defer to Beltran, in case the right fielder wants to try Tuesday and Wednesday instead.

Beltran indicated he wants to sit out Monday.

"Tomorrow's going to be kind of like a day off rehabbing," he said, "and then Tuesday being able to play with the team."

Actually, Alderson said, there has not been a formal decision yet to use Beltran in a major league exhibition game. Once Beltran appears in the Grapefruit League, the Mets largely lose the ability to backdate any ensuing DL stint.

Collins did allow Sunday afternoon that he might use a defensive replacement such as Willie Harris for Beltran late in early season games assuming Beltran is on the Opening Day roster.

"As we try to keep him healthy and keep him going on a daily basis, I haven't talked to him, but he's done so far what's best for the club," Collins said. "That's the only way he's gone about things so far. And I don't think that will change."

Regardless, Beltran sounded like he planned to be active with the Mets on Friday in Miami, even if he has a tall order in the Marlins' Opening Day starter.

"I don't think there are going to be a lot of people ready for Josh Johnson, honestly," Beltran said. "He's one of the best pitchers in the game."

• Daniel Murphy played a full nine innings in right field in the Double-A game, going 1-for-5. The Mets want to increase Murphy's versatility for a utility role, even if he's unlikely to start a regular-season game in the outfield.

• R.A. Dickey, whose wife Anne gave birth to son Van Allen on Friday in Nashville with the knuckleballer by her side, is expected to pitch in a minor league game Monday to avoid facing the Marlins. Dickey is scheduled to face Florida in Game 3 of the regular season opposite Javier Vazquez. Boof Bonser instead is scheduled to start Monday's Grapefruit League game.

• The Mets' Twitter following may take a hit after an MLB security meeting Monday morning with players. A similar meeting in Cardinals camp prompted prolific tweeter Ryan Franklin to halt his activities.

• Scott Hairston accounted for the Mets' lone run, with a first-inning homer off McClellan.


---