Sunday, April 3, 2011
Postgame review: Mets 6, Marlins 4 (10)

---
By Adam Rubin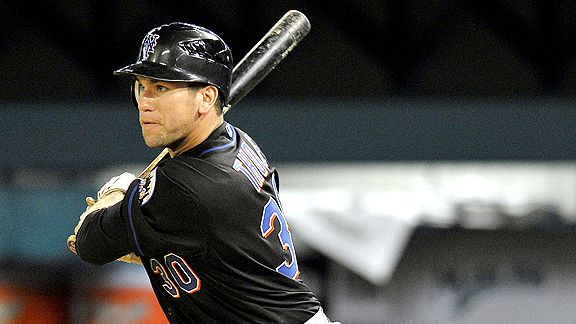 Steve Mitchell/US Presswire

Josh Thole's ninth-inning RBI with two out looked like it would be the decisive blow until K-Rod blew a save in the bottom half.

David Wright had no clue he was given a second chance for a clutch hit in the 10th inning. He only learned about it after driving in Jose Reyes with the go-ahead run on a single off Marlins reliever Ryan Webb.

With Reyes at second base and Angel Pagan at first base and none out in the extra frame, Wright sent a foul ball down the right-field line. Marlins right fielder Scott Cousins confirmed after the game that he intentionally let it drop with the score tied, since catching it would have allowed the speedy Reyes and Pagan to tag and put two runners in scoring position with one out for Carlos Beltran (with first base open). With two strikes on Wright, Cousins was hoping the Mets' third baseman would ultimately fan.

Wright didn't know what had happened until he got to first base after driving in Reyes with a subsequent hit.

"It's a pretty good play, I would imagine -- with Webb, with that kind of stuff, on the mound, to trust him to get an out," Wright said. "You've got to give him credit for being heads up. Because there's a good chance if he catches that ball it's just like laying down a bunt. Angel on first, Reyes on second, that's some pretty good speed.

"I guess I'm pretty grateful now, but at the time it was a pretty good play. To be honest with you, I didn't even notice it. Actually, [first base coach] Mookie [Wilson] told me on first base, was complimenting him that it was a good play. We were talking during the pitching change."

Wright earlier homered. He finished the game 3-for-5 with two RBIs and two runs scored. He tied Mike Piazza's franchise record for most game-winning RBIs with 89.

"When you watch him on the bench the whole night long, he's into the game from the first to the last pitch," Terry Collins said. "He walks in the dugout before the game starts with a look on his face that I haven't seen in a long time on a player. … He's the ultimate teammate as the game's going on. He's behind everybody.  He's patting guys on the back. He's trying to lift guys up. That's all you're supposed to get out of the leader on your team."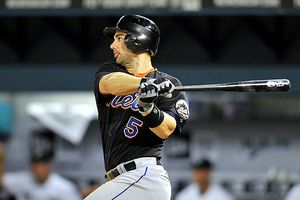 Steve Mitchell/US Presswire
David Wright drives in Jose Reyes with the go-ahead run in the 10th inning Saturday night.


Said Wright about the 6-4, 10-inning victory: "A win's a win, but at the same time, the way that we won it, I think is important -- to kind of lose it there late and then to come back the very next inning and get the momentum back on our side was impressive. And from what I've seen, being in the league, that's what winning teams do. Even when things don't go well late, they find a way to change the momentum around and get it back on their side."

• Ike Davis, who had two doubles, a walk and was robbed of another hit, suggested the Mets might not have won a similar game a year ago.

"Last year we had a lot of these games and didn't come out on top," Davis said. "It's good for this year to build confidence going into the later innings that we can win these things when we're behind or in front. It's just going to help us in the long run."

• Francisco Rodriguez really wanted to hit in the 10th inning Saturday night, with the Mets already up three runs. Collins instead sent Scott Hairston to pinch-hit. The manager said he would have sent out Rodriguez for a six-out performance after the closer blew the save in the ninth if the pitcher's turn at-bat had not come up.

"It was kind of strange, me getting a helmet and batting gloves and trying to figure out which bat I was going to use," K-Rod said. "… I don't want to make a fool out of myself up there."

Would he have swung?

"I don't know what to tell you," Rodriguez said. "If I would have seen that thing coming up, I'm going to swing as hard as I can. If I hit it, I hit it. If I don't, good luck. … I don't even know whose bat I grabbed. I got [Chin-lung] Hu's helmet because he struck out. He was walking in. I took it."

This marked Rodriguez's first official game since he was placed on the disqualified list in August as the result of the incident with his girlfriend's father at Citi Field.

"I was more happy than nervous," K-Rod said.

As for blowing the save, Rodriguez said the Marlins were sitting on his breaking call. He had not allowed a run in 10 2/3 Grapefruit League innings.

"It was a pretty disappointing outing for me today," he said. "Unfortunately, I couldn't get it done. The good thing, my team was able to get back in the lead and [Blaine] Boyer did a great job in the pen to finish it."

• Collins confirmed Carlos Beltran will not start Sunday after playing consecutive full games.

"I'll tell you, he ran for two foul balls tonight," Collins said. "He caught one. The other one just dropped in. And those were long runs. He scored from first base. Yeah, he's going to get a day off tomorrow."

Said Beltran: "I will get better every day when I play more in the field. So far I feel good. … Today I was able to do a little more than yesterday in the field. I don't think about my knees anymore. I'm just trying to play the game right."

• Jon Niese on the difference between the two-run first inning against him and his remaining six scoreless innings, during which he allowed only one hit: "Obviously the first inning was a little rocky -- some unfortunate luck. … I think the biggest key was we stuck with our plan and it worked."

• Josh Thole (3-for-4) felt great after his two-out RBI in the ninth gave the Mets a 3-2 lead. After all, his previous at-bat, he had rounded first base too far on a single. Right fielder Emilio Bonifacio threw behind him, initially surprising Thole, who stumbled back and was thrown out at first base.

"I took about 25 steps to get back to first," Thole quipped about his awkwardness retreating.

Said Collins: "You know, I pinch-hit for him [Friday] night against the lefty and he never said a word, and patted the guy who was going up to hit for him on the back."

• Reyes had been 0-for-8 before his table-setting leadoff single in the 10th.

"I know the hits are going to come, but I was a little bit upset I didn't get on base yet," Reyes said. "Especially in a game like this -- close -- I love to get on base and make something happen."

• Boyer recalled his only other major league save, which came in Philadelphia on May 14, 2008 for the Atlanta Braves. This time, he allowed one run. Then, he also allowed a run, on three straight two-out singles, before Shane Victorino's flyout to Jeff Francoeur ended it.


---