Thursday, July 21, 2011
Series preview: Mets at Marlins

---
By Adam Rubin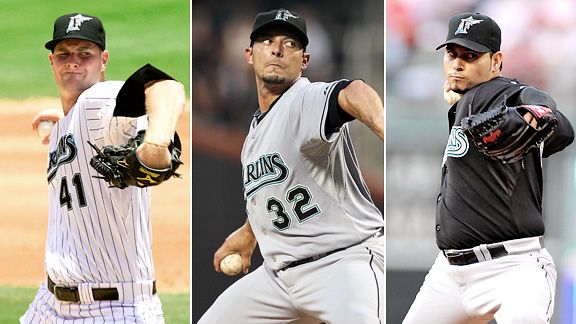 Getty Images

The Mets face (l to r) Chris Volstad, Clay Hensley and Anibal Sanchez this weekend in Miami.

METS (49-49, third place/NL East) vs. FLORIDA MARLINS (47-52, fifth place/NL East)

Friday: RHP Mike Pelfrey (5-9, 4.67) vs. RHP Chris Volstad (5-8, 5.59), 7:10 p.m. ET

Saturday: LHP Chris Capuano (8-9, 4.16) vs. RHP Clay Hensley (1-2, 2.70), 7:10 p.m. ET

Sunday: RHP Dillon Gee (9-3, 3.67) vs. RHP Anibal Sanchez (6-3, 3.52), 7:10 p.m. ET

Marlins short hops

• Emilio Bonifacio has hit safely in 20 straight games, the longest active streak in the majors. He is the sixth major leaguer to have a hitting streak of that length this season. All have occurred in the National League. Bonifacio is hitting .382 (29-for-76) with 13 steals during the streak. He has the longest streak by a Marlin since Jorge Cantu hit safely in 21 straight games spanning the 2009 and 2010 seasons.

• Chris Volstad enters Friday's start off his shortest outing of the season. Volstad allowed four runs in three innings at Wrigley Field against the Cubs.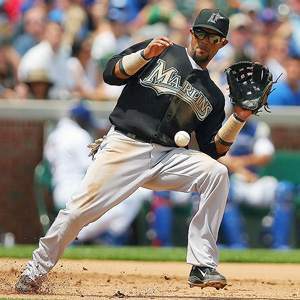 Dennis Wierzbicki/US Presswire
Emilio Bonifacio has a 20-game hitting streak, longest active in the majors.


• Clay Hensley limited the Mets to one hit and two walks in five scoreless innings Monday in his first appearance off the disabled list and first major league start since July 24, 2008. Hensley notched his first win since last Aug. 31 and first win as a starter since Aug. 16, 2007. Hensley had landed on the DL June 3 with a sprained right shoulder, two days after making his 20th relief appearance of the season. He was 13-15 with a 4.35 ERA in 40 career starts with San Diego. Hensley will continue in Josh Johnson's rotation spot until the ace returns from a shoulder injury.

• Second baseman Omar Infante has appeared in every Marlins game this season.

• The Marlins acquired outfielder Mike Cameron from the Boston Red Sox on July 5 for a player to be named or cash. Cameron is earning $7.25 million this season, but Florida only is responsible for the prorated portion of the major league minimum. Cameron hit .149 with three homers in 105 at-bats for the Red Sox. He has started his Marlins career in a 4-for-28 rut with a homer and four RBIs. Cameron has returned to center field, after primarily manning right field this season with Boston.

• Edward Mujica leads major league relievers with eight wins. The total is one shy of the franchise single-season record for a reliever -- nine by Robb Nen in 1997.

• At 80 years old, Jack McKeon is the second-oldest manager in major league history. Only Connie Mack managed at an older age, presiding over the Philadelphia Athletics in 1950 at age 87. McKeon succeeded Edwin Rodriguez, who resigned June 19.

• Right fielder Mike Stanton has 20 homers in 333 at-bats this season, and 42 for his major league career. Only three active major league players had more homers before their 22nd birthday: Alex Rodriguez (56), Andruw Jones (55) and Miguel Cabrera (48). Adrian Beltre also had 42. Stanton does not turn 22 until Nov. 8.

• Shortstop Hanley Ramirez has heated up since a June 21 move to the cleanup spot. Ramirez is hitting .351 (34-for-97) with six homers and 25 RBIs since that point. Ramirez (1,008) recently passed Jeff Conine (1,005) for second on the franchise's all-time hit list. He trails only Luis Castillo, who had 1,273 hits as a Marlin.

• Wes Helms made his first career appearance at second base Wednesday, in career game No. 1,201.

• San Diego outscored Florida 23-6 while sweeping a midweek series.

• Outfielder Bryan Petersen registered 92 mph while tossing a scoreless ninth inning Wednesday with the Padres leading by 11 runs. Petersen did have some pitching experience in college at UC Irvine.

Matchups

Pelfrey vs. Marlins (career: 1-7, 5.24 ERA)
Omar Infante .550, 3 RBI, 1 BB, 1 K, 22 PA
Mike Stanton .444, 1 HR, 1 RBI, 2 BB, 1 K, 11 PA
Gaby Sanchez .400, 1 BB, 2 K, 11 PA
Greg Dobbs .350, 1 HR, 3 RBI, 1 K, 20 PA
Hanley Ramirez .256, 1 HR, 3 RBI, 3 BB, 5 K, 42 PA
Wes Helms .250, 4 PA
John Buck .200, 1 HR, 4 RBI, 5 PA
Logan Morrison .143, 1 BB, 1 K, 8 PA
Emilio Bonifacio .143, 7 PA

Capuano vs. Marlins (career: 4-3, 3.36 ERA)
Gaby Sanchez .500, 2 RBI, 1 BB, 1 K, 8 PA
Mike Cameron .400, 2 HR, 5 RBI, 3 BB, 3 K, 14 PA
Mike Stanton .400, 2 RBI, 2 K, 5 PA
Omar Infante .286, 1 K, 8 PA
Logan Morrison .286, 1 RBI, 1 BB, 8 PA
Emilio Bonifacio .250, 4 PA
Hanley Ramirez .188, 3 K, 16 PA
Wes Helms .143, 1 RBI, 1 K, 8 PA
John Buck .000, 1 K, 3 PA

Gee vs. Marlins (career: never faced)
Omar Infante .000, 4 PA

Volstad vs. Mets (career: 1-2, 3.18 ERA)
Carlos Beltran .500, 1 RBI, 1 BB, 6 PA
Scott Hairstson .333, 1 K, 3 PA
Jason Bay .250, 1 RBI, 1 K, 4 PA
Angel Pagan .200, 1 RBI, 5 PA
Jose Reyes .167, 1 K, 6 PA
Daniel Murphy .100, 3 K, 11 PA
Willie Harris .000, 2 BB, 1 K, 10 PA
Josh Thole .000, 1 RBI, 2 PA

Hensley vs. Mets (career: 2-2, 3.64 ERA)
Willie Harris .600, 1 BB, 6 PA
Jason Bay .333, 1 HR, 2 RBI, 2 K, 10 PA
Daniel Murphy .333, 1 RBI, 3 PA
Carlos Beltran .250, 1 RBI, 1 BB, 2 K, 9 PA
Angel Pagan .222, 1 RBI, 1 BB, 10 PA
Jose Reyes .200, 1 RBI, 3 K, 11 PA
Josh Thole .000, 1 K, 3 PA
Lucas Duda .000, 2 PA
Scott Hairston .000, 2 PA
Nick Evans .000, 1 K, 1 PA

Sanchez vs. Mets (career: 4-4, 4.53 ERA)
Jason Bay .500, 1 RBI, 6 PA
Josh Thole .500, 3 PA
Daniel Murphy .429, 1 RBI, 1 K, 7 PA
Carlos Beltran .385, 1 HR, 2 RBI, 1 BB, 2 K, 14 PA
Angel Pagan .273, 3 RBI, 2 BB, 4 K, 13 PA
Jose Reyes .190, 1 RBI, 5 BB, 3 K, 26 PA
Willie Harris .000, 2 BB, 2 K, 7 PA

Last series results

Marlins won, 1-0, at Citi Field, July 18 (AP game recap)

Marlins 4, Mets 1: Clay Hensley came off the disabled list to win his first major league start in three years. Mike Stanton hit a two-run double off Chris Capuano and slumping Mike Cameron followed with an RBI single for Florida. The Marlins improved to 15-9 under 80-year-old manager Jack McKeon. In the makeup of a May 17 rainout, Hensley (1-2) allowed one hit over five scoreless innings against a depleted Mets lineup minus Carlos Beltran (flu) and Jose Reyes (hamstring). It was Hensley's 41st big league start but first since July 24, 2008, for San Diego. The right-hander made 20 relief appearances this season before a sprained shoulder sidelined him June 1. Willie Harris' first-inning double was the only hit given up by Hensley in an 84-pitch outing. Michael Dunn, Edward Mujica, Randy Choate and Leo Nunez completed the three-hitter. Choate gave up a leadoff single and a one-out walk in the ninth before going to a 2-0 count on Lucas Duda. That was enough for McKeon, who strolled to the mound and brought in Nunez as a furious Choate stomped around in the dugout. Duda drew a walk, charged to Choate, before Jason Bay's sacrifice fly made it 4-1. With runners at the corners, Nunez retired Ronny Paulino on a slow grounder for his 27th save in 30 tries. Harris' double was New York's lone hit until Nick Evans singled off Dunn to start the seventh. Harris also singled leading off the ninth. McKeon stacked his lineup with eight right-handed batters, but Capuano (8-9) held Florida hitless until Hanley Ramirez singled on a two-strike pitch with two outs in the fourth. Gaby Sanchez walked and Stanton laced a two-run double to left-center. Cameron, who began the night 3-for-20 (.150) with Florida, singled to make it 3-0. Capuano tossed a season-high 7 2/3 innings. Mets shortstop Ruben Tejada made a spectacular play in the fifth when he ranged far into shallow center field for a fully extended, diving catch of Hensley's soft looper. Emilio Bonifacio singled to start the eighth, extending his career-best hitting streak to 17 games, and advanced on Omar Infante's sacrifice. He stole third and scored on Logan Morrison's single.


---