Sunday, July 31, 2011
Series preview: Mets vs. Marlins

---
By Adam Rubin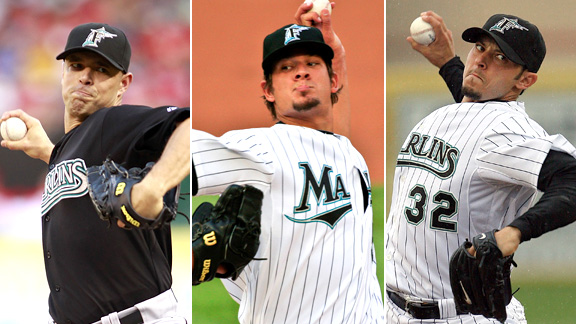 Getty Images

The Mets face (l to r) Javier Vazquez, Brad Hand and Clay Hensley as they return home to play the Florida Marlins following a 6-4 road trip.

METS (55-53, third place/NL East) vs. FLORIDA MARLINS (53-55, fourth place/NL East)

Monday: RHP Mike Pelfrey (6-9, 4.55) vs. RHP Javier Vazquez (7-9, 5.10), 7:10 p.m. ET

Tuesday: LHP Chris Capuano (9-10, 4.51) vs. LHP Brad Hand (1-3, 2.73), 7:10 p.m. ET

Wednesday: RHP Dillon Gee (10-3, 3.69) vs. RHP Clay Hensley (1-3, 3.09), 7:10 p.m. ET

Marlins short hops

• Third baseman Emilio Bonifacio's hitting streak ended at 26 games Friday. It was the longest single-season streak by a Marlin since Luis Castillo hit safely in 35 straight games in 2002.

• First baseman Gaby Sanchez, Florida's lone All-Star representative, returned to the lineup Friday after missing three games with a tight left hamstring. Sanchez had started Florida's first 102 games.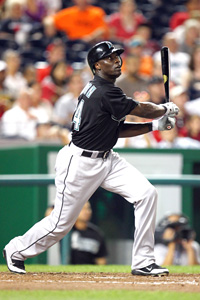 Ned Dishman/Getty Images
Mike Cameron returned to the NL East after a trade from Boston, which ate his salary.


• Left fielder Logan Morrison, in a 2-for-18 rut, was given Sunday's game in Atlanta off. His 26 RBIs in July still tied Texas' Nelson Cruz for the most in the majors. The franchise record for a month was produced by Hanley Ramirez with 33 in June 2009. Morrison had been using right fielder Mike Stanton's bat, which is two ounces heavier, during a recent home run surge. He first dabbled with that last year, when he borrowed Stanton's lumber and got a hit off then-Brewer Chris Capuano, according to The Miami Herald.

• Ramirez has been engaged in a war of words with team broadcaster Jeff Conine, who is known as "Mr. Marlin." After Conine drew the ire of front-office executives -- and Ramirez -- for questioning Ramirez's effort and saying he would trade the shortstop, Ramirez shot back. "I think he wants to be Mr. Marlin forever," Ramirez said, according to the Herald. "It won't happen. I'm coming, baby. I think I'm going to be Mr. Marlin. That's my goal now. I wasn't thinking about that (before Conine's comments). … If he's got a problem, just come over and talk to me like a man. Don't be a chicken, talking on the (radio), because whatever you say is going to stay out there. … I'm still playing. I'm in the game. Where is he?"

• Ex-Met Mike Cameron, acquired from Boston, had a two-homer game Wednesday at Washington, off Todd Coffey and Drew Storen. He nonetheless is hitting .185 (10-for-54) since joining Florida.

• Rookie left-hander Brad Hand replaced Chris Volstad in the rotation, after Volstad was optioned to Triple-A New Orleans following a subpar July 22 start against the Mets. Hand allowed one run and three hits at Washington on Thursday, but he was pulled with two out in the fourth after issuing his sixth walk, which upped his pitch count to 71.

• Javier Vazquez limited the Nats to one run in seven innings in his most recent start. He has produced three scoreless efforts in his past eight starts, and is 4-3 with a 2.40 ERA during that stretch. His lone rough outing during the span came July 21, when he allowed five runs in 4 1/3 innings against the San Diego Padres. That damage occurred after Vazquez resumed pitching following a two-hour, 29-minute rain delay.

• Despite rumblings of second baseman Omar Infante and closer Leo Nunez potentially getting traded, both remained with the organization as Sunday's 4 p.m. deadline passed. Nunez, who is arbitration-eligible, is making $3.65 million this season and is likely to return in 2012. Infante is a free agent and likely will yield a draft pick if he signs elsewhere, with Bonifacio then being used at second base in 2012. Nunez notched his 30th save Sunday in Atlanta. He has converted 11 straight opportunities since blowing three out of four chances from May 25-June 15.

• Ace Josh Johnson (shoulder) is on the disabled list and not throwing and is likely done for the season. He is due to earn $13.75 million in 2012 and again in 2013 before he is eligible for free agency, after making $7.75 million this season.

Matchups

Pelfrey vs. Marlins (career: 1-7, 5.29 ERA)
Omar Infante .565, 3 RBI, 1 BB, 1 K, 25 PA
Mike Stanton .455, 2 HR, 2 RBI, 3 BB, 1 K, 14 PA
Gaby Sanchez .385, 1 HR, 1 RBI, 1 BB, 2 K, 14 PA
Greg Dobbs .350, 1 HR, 3 RBI, 1 K, 20 PA
Hanley Ramirez .244, 1 HR, 3 RBI, 4 BB, 6 K, 45 PA
Emilio Bonifacio .222, 1 BB, 1 K, 10 PA
Wes Helms .200, 5 PA
John Buck .167, 1 HR, 4 RBI, 1 BB, 7 PA
Logan Morrison .100, 1 RBI, 1 BB, 1 K, 11 PA
Bryan Petersen .000,  3 PA

Capuano vs. Marlins (career: 4-4, 3.60 ERA)
Gaby Sanchez .556, 1 HR, 4 RBI, 1 BB, 2 K, 11 PA
Logan Morrison .400, 1 HR, 2 RBI, 1 BB, 11 PA
Mike Cameron .333, 2 HR, 5 RBI, 4 BB, 4 K, 17 PA
Omar Infante .300, 1 RBI, 2 K, 11 PA
Mike Stanton .286, 2 RBI, 1 BB, 2 K, 8 PA
Emilio Bonifacio .286, 2 K, 7 PA
Hanley Ramirez .167, 1 BB, 3 K, 19 PA
Wes Helms .125, 1 RBI, 1 K, 9 PA
John Buck .000, 1 K, 5 PA

Gee vs. Marlins (career: 0-0, 5.40 ERA)
Emilio Bonifacio .667, 1 RBI, 3 PA
Hanley Ramirez .500, 1 RBI, 1 BB, 3 PA
Brett Hayes .500, 2 PA
Mike Stanton .333, 1 RBI, 1 K, 3 PA
Logan Morrison .333, 3 PA
Omar Infante .167, 1 BB, 7 PA
Gaby Sanchez .000, 1 BB, 3 PA
Bryan Petersen .000, 1 K, 3 PA

Vazquez vs. Mets (career: 10-10, 3.33 ERA)
Lucas Duda .500, 2 PA
Ronny Paulino .417, 1 RBI, 3 K, 12 PA
David Wright .308, 1 HR, 2 RBI, 3 BB, 4 K, 16 PA
Angel Pagan .286, 3 BB, 2 K, 10 PA
Daniel Murphy .250, 1 RBI, 1 BB, 9 PA
Jose Reyes .190, 1 BB, 2 K, 22 PA
Willie Harris .167, 1 HR, 2 RBI, 2 BB, 2 K, 14 PA
Jason Bay .118, 1 BB, 6 K, 18 PA
Josh Thole 2 BB, 2 PA

Hand vs. Mets (career: never faced)

Hensley vs. Mets (career: 2-2, 3.63 ERA)
Justin Turner 1.000, 1 BB, 3 PA
Willie Harris .600, 1 BB, 6 PA
Jason Bay .273, 1 HR, 2 RBI, 2 K, 12 PA
David Wright .235, 3 RBI, 4 K, 17 PA
Jose Reyes .231, 1 RBI, 3 K, 14 PA
Angel Pagan .182, 1 RBI, 1 BB, 12 PA
Daniel Murphy .167, 1 RBI, 1 K, 6 PA
Josh Thole .000, 1 K, 5 PA
Lucas Duda .000, 1 BB, 3 PA
Scott Hairston .000, 2 PA

Last series results

Marlins won, 2-1, at Sun Life Stadium, July 22-24 (AP game recaps)

Mets 7, Marlins 6: David Wright came off the disabled list swinging, and his two RBI doubles helped the Mets win. The five-time All-Star was activated before the game after being sidelined for two months with a stress fracture in his lower back. He doubled home the Mets' first run in the first inning, then put them ahead to stay with a run-scoring double in the eighth. Wright also scored twice. Daniel Murphy drove in two runs, with a single and a double. Jose Reyes had two hits to keep his NL-leading average at .349. Florida's Emilio Bonifacio extended his hitting streak to 21 games and later scored from first on a single. But he and Steve Cishek committed errors that helped the Mets score two unearned runs. Mike Stanton hit his 21st homer and Gaby Sanchez hit his 14th for the Marlins, but they went 1-for-9 with runners in scoring position. Florida starter Chris Volstad allowed four runs, three earned, in five innings. Mike Pelfrey twice failed to hold the lead. He allowed four runs in six innings and has only one victory over Florida in 15 career starts. Wright put the Mets ahead for good with a one-out double in the eighth off Edward Mujica (8-3). Murphy followed with a run-scoring double. Florida closed to 7-6 on a broken-bat RBI single by Greg Dobbs in the eighth, but Bobby Parnell (3-1) struck out Bonifacio with the potential tying run at third. Jason Isringhausen pitched a perfect ninth for his second save since the departure of closer Francisco Rodriguez.

Marlins 8, Mets 5: Chris Capuano started the game with three consecutive strikeouts, wiggled out of two early jams and took a shutout into the sixth inning. Three batters later, the Mets' lead was gone for good. Because of his letdown in the sixth, Capuano (8-10) lost for the second time this week going against Clay Hensley, the victor when they faced each other in New York. The fateful inning started with an infield single by Emilio Bonifacio. He scored on a triple by Omar Infante. Gaby Sanchez's homer put the Marlins ahead 3-2. Sanchez's 15th homer in the sixth put the Marlins ahead for the first time in five games on their homestand. He hit another homer in the seventh off D.J. Carrasco and has three in the past two games. Logan Morrison added his 14th homer for Florida. Capuano, who lost his third start in a row, allowed six hits and four runs in six innings. Bonifacio's hit in the sixth extended his career-best hitting streak to 22 games, the longest active streak in the majors. He added a second infield hit, scored twice, robbed Angel Pagan of a hit with a nifty play at third base and tied a career high with his 21st stolen base. Pinch-hitter Lucas Duda and Jose Reyes homered on consecutive pitches against Marlins closer Leo Nunez in the ninth. It was the first homer for Duda and the fourth for Reyes. David Wright had a two-run single. He was retired three other times, stranding six runners, and he made his second throwing error in two nights. Reyes finished 3-for-5. Florida went 4-for-9 with runners in scoring position after going 5-for-33 in those situations in the first four games of the homestand. Carlos Beltran singled home a run in the seventh against Florida's Burke Badenhop (2-1), who went 1 2/3 innings. The game was scoreless until the fifth, when New York scored twice after the first two batters were retired. Reyes singled and stole second. After consecutive walks loaded the bases, Wright hit a two-run single.

Marlins 5, Mets 4: The sweltering heat began bothering Angel Pagan early in the game. His teammates wilted in the eighth. The Mets couldn't hold a late lead after David Wright put them ahead with a homer, and the Marlins rallied to win. On a 92-degree afternoon, Pagan left the game in the sixth inning because of dizziness and dehydration. Wright gave the Mets a 4-3 lead with a two-out, two-run homer in the seventh, his first long ball since returning from a back injury. Bobby Parnell (3-2) entered to start the eighth and allowed a game-tying leadoff homer to Logan Morrison. Mike Stanton singled and advanced on a sacrifice. John Buck followed with a double for his first career pinch-hit RBI. Wright hit his seventh homer to go with a double and a single. He has had two RBIs in all three of his games since being activated. The Mets had 12 hits, but went 1-for-9 with runners in scoring position. Wright led off the fourth with a double, but Anibal Sanchez retired the next three batters. After Jason Bay singled home a run in the fifth, Sanchez struck out the next two batters with runners at the corners. Dillon Gee departed for a pinch-hitter after five innings trailing 3-1. Florida's Emilio Bonifacio singled leading off the first inning to extend his career-best hitting streak to 23 games. He later added an RBI single, while Stanton hit his 22nd homer. Randy Choate (1-1) retired the only batter he faced, and Leo Nunez pitched a perfect ninth with two strikeouts for his 28th save in 31 chances. Sanchez allowed 11 hits and four runs in seven innings. The Mets went ahead in the seventh when Carlos Beltran singled with two out and Wright hit his first homer since May 13.


---