Friday, September 23, 2011
These Phillies can't match 1986 Mets

---
By Mark Simon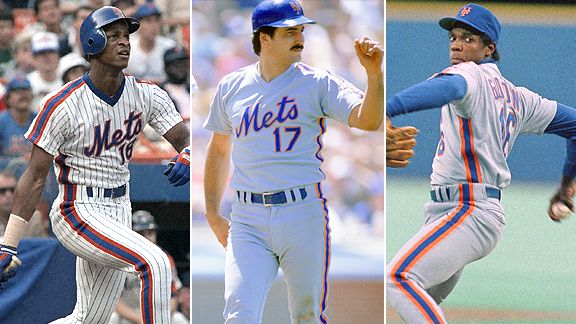 Getty Images/AP Photo

Darryl Strawberry, Keith Hernandez and Dwight Gooden were part of of one of the best National League teams ever.


The 2011 Phillies may be the best team that the National League has had in quite some time. Even if you're jealous of the success that this franchise has had recently, you have to admit that.

But I'll still take the 1986 Mets over them any day.


From a statistical perspective, there's one number I point to: 108. The 1986 Mets went 108-54 in the regular season. No National League team since them has won two-thirds of its games. The only other NL teams to win two-thirds of their games since the end of World War II are the 1953 Dodgers and 1975 Reds.

The 2011 Phillies, no matter what they do in the final week of the season, can't get to 108 regular season wins. We'll see how close they can get, but in the end, they're going to come up short.

"A lot of people might not like the Mets because of what they perceive to be an arrogance about them," said CBS Radio announcer Jack Buck during his broadcast of Game 6 of the 1986 World Series. "But, brother, they can play some baseball."

Indeed, many have made much of the arrogance and off-the-field antics of the 1986 team, so much so that their overwhelming statistical domination of the sport gets overlooked.

What some people forget is how well the Mets fared offensively, relative to the rest of the league. They led the NL in batting average, on-base-percentage, slugging percentage, and runs scored. They had the most runs scored in the National League in nine years. And they led the National League in ERA.

The 1986 Mets on-base percentage is nearly 20 points better than the 2011 Phillies and they have an edge in slugging percentage as well, despite having played half of their games in an offense-challenging ballpark, Shea Stadium.

If we go position by position, the Mets are better around the diamond at catcher (Gary Carter vs Carlos Ruiz), first base (Keith Hernandez vs Ryan Howard), third base (Ray Knight vs Placido Polanco), left field (Mookie Wilson and Kevin Mitchell vs Raul Ibanez), and right field (Darryl Strawberry vs Hunter Pence).

The Phillies have a decisive edge at shortstop (Rafael Santana vs Jimmy Rollins), an edge at second base based on historical rep (Wally Backman and Tim Teufel vs oft-sidelined Chase Utley), and a thin advantage in centerfield (future Phillie Len Dykstra vs Shane Victorino).

The Mets bench that season included two players who went on to become superstars (Howard Johnson and Kevin Mitchell) and an outstanding pinch-hitter in Danny Heep. The Phillies have one standout reserve, John Mayberry, but don't match up with the depth of the Mets.

We'll concede the greatness of the top three in the Phillies starting rotation, but the Mets can stand almost toe-to-toe with them. Dwight Gooden, Bob Ojeda, and Ron Darling are not far behind Roy Halladay, Cliff Lee, and Cole Hamels.

Gooden, Darling, and Ojeda gave the Mets length, quality, and consistency, almost every time out. The Mets top three combined to have 49 starts (out of 66 by the team) in which they went at least seven innings and allowed two runs or fewer. The 2011 Phillies big three have had 48 (out of the team's 63). Vance Worley does edge out Rick Aguilera as a No. 5 starter, but Sid Fernandez's 1986 outdistances Phillies No. 4 Roy Oswalt.

In the bullpen, Roger McDowell and Jesse Orosco were both terrific, and gave the Mets length. When the Mets needed five innings from McDowell and three innings from Orosco in Game 6 of the NLCS against the Astros, they persevered through it, Orosco doing so after throwing two innings in a win the day before.

Defensively, the Mets may have made significantly more errors than these Phillies, but that's offset by the differences on batting average on balls in play (BABIP), where the Mets have a 16-point advantage (.271 to .287). The Mets having a perennial Gold Glove winner at first base in Hernandez, helped greatly there.

"I think our infield defense was quite a bit stronger," Darling told Adam Rubin earlier this week.

But going beyond the statistics, the 1986 Mets had the feeling, at least to their fans, of being baseball superheroes.

They went from a 2-3 start to 44-16 with a whoosh of invincibility.

They were a superior team right up to the end of the regular season, closing with 32 wins in their final 45 games, even after the NL East crown was long decided, never losing more than four in a row (these Phillies couldn't match that, though they came close, not suffering five straight defeats until this past week). They had 39 regular season come-from-behind wins and five more in the playoffs.

Ruben Tejada's at-bat in Thursday's amazing comeback reminded me of the at-bats the Mets had in Game 6 of the NLCS (in which they rallied from three runs down in the ninth inning) and Game 6 of the World Series (in which they came back from two runs down, one out from season's end in the 10th inning).

There's the famous story of each of the hitters who came to the plate with two outs in Game 6 telling first base coach Bill Robinson: "I'm not going to make the last out." That's how the Mets played from Game 1 of the regular season to Game 7 of the World Series.

The Phillies have shown that. They showed it on Opening Day when they furiously rallied in the ninth inning to beat the Astros. Now the question is: can they show it in October?

"I'll defer (on picking who was better)," said ESPN baseball analyst Rick Sutcliffe, who played against the 1986 Mets and has watched this Phillies team extensively. "The 1986 Mets got their rings. These guys, the Phillies still gotta get theirs."



---