Tuesday, October 18, 2011
This date in '86: 1-0 loss, again

---
By Mark Simon, ESPN Stats & Information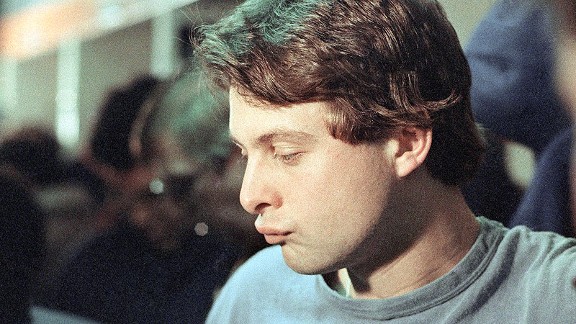 Ray Stubblebine/A.P. PhotoTim Teufel, now a Mets coach, took the heat for the Mets loss in Game 1 of the 1986 World Series.



Over the next three weeks, Mark Simon will reminisce here about the 1986 postseason. The 1986 Mets won the World Series in an exhilarating fashion. Here's a capsule look at Game 1 of the 1986 World Series, played on this date, 25 years ago.

Game 1, Shea Stadium: Red Sox 1, Mets 0
After the Red Sox and Mets had two days off following draining wins in their respective League Championship Series, the two teams convened at Shea Stadium for the Fall Classic, in a great game with an unfortunate ending.

Those who like pitcher's duels would have loved this contest, a matchup of Red Sox lefty Bruce Hurst and Mets right-hander Ron Darling.

Hurst gave the Mets the same kind of troubles that Astros lefty Bob Knepper did in the early part of Game 3 and Game 6 of the NLCS. Though Hurst walked four and allowed four hits, he was able to sidestep trouble when he needed to do so.

Darling, who was very shaky and fortunate to get a no-decision in Game 3 of the NLCS, pitched very well in his World Series debut. He would allow just one run and three hits, but would be hurt by his own doing.

With the score tied in the top of the seventh, Darling walked Jim Rice, and allowed him to advance to second base on a wild pitch. Darling got Dwight Evans to ground out, but having a runner in scoring position proved painful when Rich Gedman's grounder to the right side went through the legs of Tim Teufel. Rice scored for the only run the Red Sox would need.

The Mets got the leadoff man on base in the seventh inning against Hurst and in the ninth inning against Red Sox closer Calvin Schiraldi, but failed to score both times. The Red Sox won 1-0 and led in the series by that same margin.

Turning Point
In the third inning, the Mets had two on and one out for Keith Hernandez. But Hernandez flied out and Gary Carter grounded out to end that scoring threat. They'd put two on with nobody out in the home sixth, but their rally was killed by a Darryl Strawberry strikeout and a Ray Knight double play grounder.

The Mets would finish the game 0-for-8 with runners in scoring position.

The Red Sox would also make a couple of key defensive plays. Third baseman Wade Boggs made a diving stop to thwart one late rally and first baseman Dave Stapleton, inserted as a late-game replacement for Bill Buckner, got a force play on Knight's bunt attempt in the ninth inning to stymie another Mets comeback bid.

What They Wrote
"Game 1 of a World Series is like the first clash of two great heavyweights, the first spotting of an iceberg by a ship captain, the first across-the-room sighting of a woman by a man.

Who knows what majesty or tragedy might ensue?

The Boston Red Sox and the New York Mets met Saturday night at Shea Stadium for the first time in a game that counted, and the mixture was intoxicating to the point of causing hallucinations.
-- Kevin Modesti, Los Angeles Daily News

"It was a Little League error. No, worse than that.It was the sort of play your Uncle Ralph makes in the softball game at the family reunion after he`s had a few too many beers. The groundball rolls out to him at second base, and Uncle Ralph draws a crafty bead on it, slyly puts down his glove and . . ."
--Mark Purdy, Knight-Ridder Newspapers

Quote of the Day
"The ball just scooted on me. I didn't get my glove down. It took a big hop just before a small one and I didn't have the glove down low enough. Do I feel terrible? Yes."
-- Tim Teufel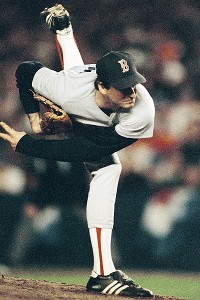 Rusty Kennedy/A.P. PhotoThe Mets could not solve Bruce Hurst in Game 1.

"It reminds me of the Yankee infield," he said. "The dirt gets loose quick and causes bad hops. It doesn't look level."
-- Red Sox second baseman Marty Barrett on Shea Stadium's infield

Further Reading
The Society for Baseball Research is in the midst of its Bioproject, attemping to provide a biography for every major league player. Here's a very thorough look at the life and baseball career of Teufel.

Stats To Remember
1-- The 1986 Mets are the only team in postseason history to lose multiple series openers by a 1-0 score. They also lost Game 1 of the NLCS, 1-0.

2-- This was the Red Sox first 1-0 win since May 3, 1984 against Jack Morris and the Detroit Tigers. The winning pitcher that day? The Mets Game 3 starter, Bob Ojeda.

3-- This was the first postseason game in which the losing team lost 1-0 on an unearned run in 65 years. The last prior to this was Game 8 of the 1921 World Series (a best-of-9) in which the Giants defeated the Yankees, 1-0.

The Mets are the only team with two postseason 1-0 losses on unearned runs. The other such defeat came against the Braves in Game 3 of the 1999 NLCS.

And talk about hard-luck losers: Darling allowed one run and three hits in seven innings. Starting pitchers who allow one run or fewer, and three hits or fewer in seven-or-more innings are 129-11 all-time in the postseason.


---