Tuesday, February 14, 2012
What's next for Andres Torres?

---
By Mark Simon, ESPN Stats & Information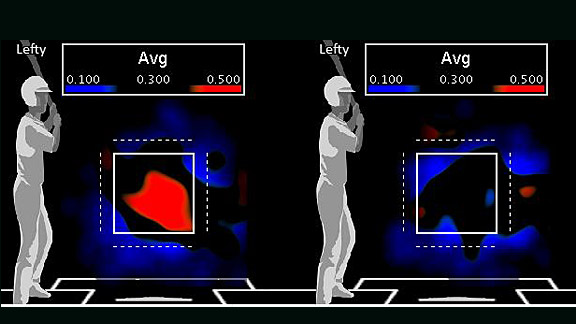 Left: Andres Torres' hot/cold zones in 2010
Right: Torres' hot/cold zones in 2011
Click here to create your own Torres heat maps



What's next for Andres Torres?

On the long list of things that the Mets need to happen to be reasonably decent in 2012, one is for Torres to re-find the magic that turned him into a first-time success at age 32 in 2010.

It wasn't quite Jeremy Lin-like, but Torres made quite an impression in the Giants' championship run that season. Much of that came from the value he brought with his baserunning and defense. But he did hit a little bit too.

For the switch-hitting Torres, hitting success came from the left side of the plate.

The lefty-swinging version of Torres thrived at slamming fastballs down the right field line for doubles (his spray chart shows 19 doubles along the right field line, tied for most in the majors by a lefty) or for a home run (he had nine such home runs, a total that would have led the Mets that season).

That patch of space by the foul pole in right field that we now refer to as "Utley's Corner" (because of the Phillies second baseman's propensity for homering there) would seem to be an inviting target for Torres, if he can find some of that 2010 magic.

That's a big if, however, given what happened in 2011.

Last season, Torres battled through an Achilles injury that caused him to miss a month early in the year and lost a little bit of the oomph he generated from the left side.

He was unable to sustain the rate at which he hit line drives. Those turned into fly balls, and the fly balls he hit left the ballpark about half as often. Torres stopped crushing the fastballs, cutters and sinkers and those slams down the line became less frequent.

Check out the heat maps at the top of this article. In 2010, Torres had a specific area in which he could crush pitches. That completely vanished in 2011.

This offseason, Torres was deemed expendable and sent to the Mets with pitcher Ramon Ramirez in the trade for Angel Pagan. He gets a chance to start from scratch and work with hitting coach Dave Hudgens on re-finding his form.

Can Torres return to his 2010 level of performance? You tell us. Share your thoughts in the comments section.



---