Saturday, June 5, 2010
Ollie to DL? Blanco's disc herniated

---
By Adam Rubin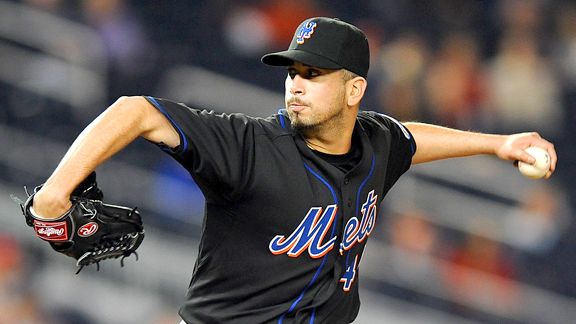 G Fiume/Getty Images

Teammates believe Oliver Perez will head to the DL, not the minors Saturday when the Mets activated Jon Niese for a start against the Florida Marlins.

The Mets plan to wait until Saturday to announce a roster move to make room for Jon Niese's activation from the disabled list. Regardless, multiple teammates told ESPNNewYork.com they expected Oliver Perez would land on the DL with a knee injury. One teammate said Perez had an MRI of the knee after the Mets returned from San Diego.

Such as decision, assuming it materializes, would avoid a confrontation with Perez over going to the minor leagues.

Perez ultimately had season-ending knee surgery last year on his right knee. Earlier in the 2009 season, after similar dialogue arose about the minors, Perez landed on the DL.

Meanwhile, GM Omar Minaya denied agent Scott Boras had requested last month that Perez be placed on the DL and see a sports psychologist, which had been reported.

DISC-OH: Backup catcher Henry Blanco had a cortisone shot Thursday because of a herniated disc in his neck. Blanco insisted the shot had started to take effect and he was available Friday,

Still, to ensure they weren't short behind the plate, the Mets called up a third catcher, Omir Santos, rather than outfielder Jesus Feliciano -- temporarily. Gary Matthews Jr. was designated for assignment.

"The neck has been bothering me a little bit -- I have a herniated disc -- but the whole body completely is kind of sore a little bit," Blanco said. "I don't know if I have a flu or something, but hopefully I'll feel better tomorrow."

Asked if the disc issue needed to be addressed after the season, Blanco said: "Let's hope I leave it alone. Right now I had a better day today. We'll see what happens tomorrow. … I'll be all right tomorrow. I don't think it's any big deal."

THREE JEERS: Marlins shortstop Hanley Ramirez relishes playing at Citi Field.

Why?

"They boo their own players, so we like to come here and beat the Mets," Ramirez told the Palm Beach Post. "We just laugh every time they boo their own players. It's weird."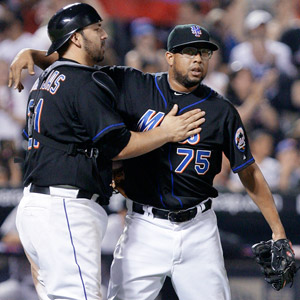 AP Photo/Frank Franklin II
Francisco Rodriguez recorded Friday's save, but placed two Marlins in scoring position.


ADVENTURES WITH K-ROD: Francisco Rodriguez was within a strike of a save Wednesday in San Diego before allowing an RBI single to David Eckstein in what became an 11-inning loss to the Padres. With a chance for redemption, K-Rod ultimately got the job done in the Mets' 4-3 victory against the Florida Marlins on Friday.

He nonetheless made it interesting.

Chris Coghlan reached against Rodriguez on a swinging bunt with two out and two strikes. Rodriguez then walked Gaby Sanchez and issued a wild pitch, advancing both runners. With two Marlins in scoring position, Ramirez grounded out to David Wright at third base as K-Rod secured his 11th save in 14 chances.

"What can I say? The infield hit pretty much changed everything," Rodriguez said. "I've got a game plan there I had to follow. I lost a little bit of control after that."

Said right fielder Jeff Francoeur: "He gets two quick outs and then that happens, you kind of just feel like he's got buzzard's luck out there."

Then, Francoeur added with a laugh: "I think he just wanted to go after Hanley and make it interesting."

PENSIONEER: With his workload for the Mets last season, Elmer Dessens increased his major league service time over 10 years. That meant he qualified for a full major league pension of more than $180,000 annually once he reached his mid-50s.

With that accomplished, Dessens discussed with his wife retiring after 2009.

After not making the Mets out of spring training this year, he told his spouse, Lorenia, he wanted to give it at least one month in the minors to see if he would be called up.

Now, he's glad he did.

Dessens, by default one of Jerry Manuel's key eighth-inning options, picked up the final out of the seventh inning and tossed a scoreless eighth to serve as the bridge to the closer Friday.

"Of course I thought about retirement," said Dessens, who opened the season at Triple-A Buffalo. "But I went to winter ball and I felt like I could still pitch, so I decided to come back. In spring training I decided to take one more chance. I proved I could still pitch in the big leagues. I got lucky and I got called up."

JUST RAD: Knuckleballer R.A. Dickey improved to 3-0 as a Met and established a career high with two hits in the victory. Dickey limited Florida to three runs on seven hits and two walks while striking out four in 6 1/3 innings. He has completed six innings in all four of his Mets starts.

"It's something that's taken some time to really feel like I can trust it completely every outing," Dickey said about his knuckleball. "There are little mechanical nuances that you have to really be able to feel. It's a lot like a golf swing. But I've been able to do that. Because I've committed to it -- this is Year 5 for me to throw this pitch -- I feel like the more I've committed to it, the more I've really gotten to make the in-game adjustments that you have to make to stay in games for a long amount of time."

Dickey, meanwhile, is hitting .375 with two RBIs and three sacrifices through four starts.

"I don't know if 'comfort' is the word," Dickey said about himself at the plate. "I'd like to say that I possess a small amount of skills to be able to put the barrel of the bat on the ball, but I don't know if I feel real comfortable up there."

SECOND THAT: Manuel said he planned to primarily use 20-year-old rookie Ruben Tejada at second base while Luis Castillo is on the disabled list, leaving Alex Cora in a backup role. Tejada offered little reason to alter that plan in his return.

In his game with the Mets since the season's opening week, Tejada went 1-for-4, doubling in the first at-bat and later contributing his first major league RBI while grounding into a fielder's choice.

Tejada -- who can play both middle-infield positions -- had been playing shortstop with Triple-A Buffalo for all but two games the past month. But he feels comfortable at second base, he insisted.

"I've been working hard every day at shortstop and second base," Tejada said. "I played shortstop most of the time, but I'm working at second, too."

In Tejada's final appearance with Buffalo, he faced Washington Nationals phenom Stephen Strasburg.

"It's a hard fastball. Everything for strikes," Tejada said.

SHORT VISIT: Trainer Ray Ramirez came onto the field to check with Jose Reyes after the shortstop needed a minute to shake off a takeout slide after receiving a seventh-inning throw from left-hander Pedro Feliciano. Reyes insisted afterward he felt fine.

"I don't know why they came out," Reyes said. "I'm good. It's no problem."

Reyes also said the takeout by Coghlan wasn't over the top.

"It was a clean slide," Reyes said.

Reyes actually playfully took issue with Feliciano, who short-hopped the throw to the shortstop, leaving Reyes vulnerable.

"I said, 'Throw that thing in the chest, man -- joking around," Reyes said.

Describing Feliciano's throw to him, Reyes said: "A sinker. The same way he throws to home plate. Nothing different."

CITI DWELLING: The Mets are 20-9 at home and 8-18 on the road. The home win total leads the majors, one ahead of Cincinnati, San Francisco, Atlanta and the Yankees. The Mets have a six-game home winning streak.

An explanation?

"I don't know. You'd have to ask somebody else," said Francoeur, who extended his hitting streak to eight games with a fourth-inning single. "I think I've given three or four suggestions and none of them have worked. I don't know. This last road trip we didn't play that bad. We got blown out of that one game in San Diego, but other than that we battled back and were in some games. We've just got to find a way to win.

"But, at the same time, we can't worry about next week on the road trip. If we can go 5-1, 6-0 at home, we can maybe keep going 2-4 on the road."

ANGEL IN OUTFIELD: Angel Pagan had his sixth outfield assist in the third inning, when he threw out the Marlins shortstop Ramirez trying to score from second base. That's already a career high for assists for Pagan, and one off the major league lead.


---