Thursday, April 12, 2012
Series preview: Mets at Phillies

---
By Adam Rubin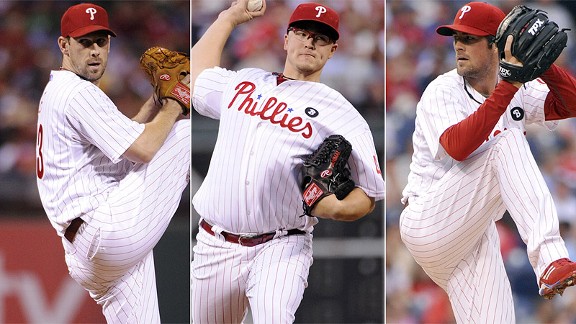 Howard Smith/US Presswire

The Mets face (l to r) Cliff Lee, Vance Worley and Cole Hamels this weekend in Philly.

METS (4-2, second place/NL East) vs. PHILADELPHIA PHILLIES (3-3, third place/NL East)

Friday: RHP R.A. Dickey (1-0, 3.00) vs. LHP Cliff Lee (0-0, 1.50), 7:05 p.m. ET

Saturday: LHP Jon Niese (1-0, 4.50) vs. RHP Vance Worley (0-0, 1.50), 4:05 p.m. ET

Sunday: RHP Mike Pelfrey (0-0, 4.76) vs. LHP Cole Hamels (0-1, 5.06), 1:35 p.m. ET

Phillies short hops

• First baseman Ryan Howard and second baseman Chase Utley will remain sidelined for the foreseeable future. Howard was examined Tuesday by foot and ankle specialist Mark Myerson in Baltimore. He developed an infection in the back of his left heel as the result of surgery to repair a torn left Achilles tendon. That prompted a Feb. 27 surgical procedure to address the infection. Utley has dealt with chronic knee pain and is rehabbing in Arizona.

The Phillies already have used four different first basemen in Howard's absence -- Ty Wigginton (twice), John Mayberry Jr. (twice), Laynce Nix and Jim Thome. Thome's start was his first at the position since June 13, 2007. Nix previously had started only six career games at first base. Rookie Freddy Galvis has started all six games at second base. Michael Martinez, a Rule 5 pick last season, who now is Phillies property, started seven games at second base last season, but has a broken right foot. Martinez suffered the injury when he was hit by a pitch from Baltimore's Jim Johnson in a March 20 spring-training game.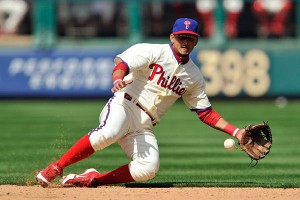 Howard Smith/US Presswire
With Chase Utley out, rookie Freddy Galvis is manning second base for the Phillies.


Galvis, 22, became the first player to make his major league debut on Opening Day with the Phillies since shortstop Larry Bowa and second baseman Denny Doyle in 1970. He exclusively played shortstop in the minors and shifted to second base during spring training. Galvis hit a combined .278 with eight homers and 43 RBIs last season between Double-A Reading and Triple-A Lehigh Valley. He went 0-for-12 to start this season, before doubling in his final at-bat Monday, against Miami's Anibal Sanchez.

Nix, 31, signed a two-year, $2.5 million contract in December. He hit .250 with 16 homers and 44 RBIs in 324 at-bats with the Washington Nationals last season.

• The Phillies had a fortuitous break in not re-signing Ryan Madson, whose agent originally believed the sides had agreed to a four-year, $44 million deal. Philadelphia quickly regrouped and landed former Red Sox closer Jonathan Papelbon for four years, $50 million. Madson then signed with the Cincinnati Reds late on a deal that guaranteed $8.5 million for 2012. He will end up missing the season following Tommy John surgery. Phillies GM Ruben Amaro publicly stated there was never an agreement, while Madson's agent, Scott Boras, said at the time: "We never rejected any offer from Philadelphia at four years and $44 million. We advised Philadelphia that we would agree to such a proposal. And Philadelphia decided upon hearing that to go in a different direction."

Papelbon last season became the first pitcher to have 30-plus saves in each of his first six full major league seasons. He also became the fastest to 200 saves -- in his 359th appearance. Papelbon's new entrance music, by the way: Alice in Chains' "Man in the Box."

• Shortstop Jimmy Rollins re-signed with the organization on Dec. 17 for three years, $33 million, plus a 2015 vesting option.

• Reliever Jose Contreras, who underwent elbow surgery in September, has started a rehab assignment with Class A Clearwater. Contreras is expected to work consecutive minor league games Thursday and Friday, after which he could be activated from the disabled list.

• Former Met-killer Pat Burrell plans to sign a one-day minor league contract with the Phillies next month and officially retire with the organization. Burrell is fourth all time in homers in the uniform, with 251. He will throw out the ceremonial first pitch before Philadelphia's May 19 game against the Boston Red Sox.

• Thome has 96 homers as a Phillie. If he notches four more long balls, he will become the fourth player in major league history to reach 100 homers with three teams. Thome has 334 with the Cleveland Indians and 134 with the Chicago White Sox.  The others who have triple-digits with three teams: Alex Rodriguez, Reggie Jackson and Darrell Evans.

• Vance Worley finished third in National League Rookie of the Year balloting last season, after going 11-3 with a 3.01 ERA in 25 appearances (21 starts). Atlanta's Craig Kimbrel and Freddie Freeman finished 1-2. Worley typically throws to ex-Met Brian Schneider.

• Cole Hamels, a free-agent-to-be at season's end, has not had any extension negotiations with the Phillies in more than a month, according to ESPN's Buster Olney. Hamels allowed four runs (three earned) in 5 1/3 innings against the Marlins on Monday in his season debut.

• Lefty-hitting Juan Pierre has shared left field with the righty-hitting Mayberry. Pierre is the active major league leader in steals, with 556. He needs one more steal to match Davey Lopes for 25th on the all-time list, and two more to tie Brett Butler's 558 for 24th.

• After arriving in a July 29 trade with the Houston Astros for four minor leaguers last season, right fielder Hunter Pence led the Phillies in average (.324), on-base percentage (.394), slugging percentage (.560), hits (67), doubles (12), extra-base hits (25), total bases (116) and walks (26). He ranked second in homers (11) and RBIs (35).

Matchups

Dickey vs. Phillies (career: 2-3, 2.61 ERA)
Juan Pierre .500, 2 PA
Brian Schneider .429, 1 RBI, 2 BB, 9 PA
Carlos Ruiz .400, 1 RBI, 1 BB, 2 K, 11 PA
Shane Victorino .273, 1 HR, 2 RBI, 1 BB, 3 K, 12 PA
Placido Polanco .269, 2 RBI, 1 BB, 2 K, 28 PA
Ty Wigginton .200, 5 PA
Hunter Pence .167, 1 HR, 1 RBI, 2 BB, 3 K, 14 PA
John Mayberry .167, 2 RBI, 1 K, 6 PA
Jimmy Rollins .071, 2 K, 14 PA
Jim Thome .000, 1 BB, 2 K, 4 PA
Pete Orr .000, 1 PA

Niese vs. Phillies (career: 3-4, 4.07 ERA)
Placido Polanco .429, 6 RBI, 2 BB, 2 K, 23 PA
Carlos Ruiz .357, 2 RBI, 4 K, 14 PA
John Mayberry .357, 2 HR, 4 RBI, 2 K, 14 PA
Shane Victorino .267, 1 HR, 2 RBI, 1 BB, 2 K, 16 PA
Jimmy Rollins .250, 2 BB, 2 K, 18 PA
Hunter Pence .182, 1 BB, 3 K, 12 PA
Brian Schenider .000, 1 K, 2 PA

Pelfrey vs. Phillies (career: 7-7, 5.37 ERA)
Pete Orr .444, 9 PA
Hunter Pence .389, 1 HR, 3 RBI, 4 K, 18 PA
Shane Victorino .313, 1 HR, 8 RBI, 2 BB, 6 K, 50 PA
Carlos Ruiz .308, 3 RBI, 4 BB, 2 K, 31 PA
Jimmy Rollins .293, 1 HR, 4 RBI, 1 BB, 4 K, 42 PA
Juan Pierre .250, 4 PA
Placido Polanco .240, 3 RBI, 1 BB, 27 PA
Brian Schneider .231, 2 BB, 1 K, 16 PA
Ty Wigginton .091, 1 RBI, 2 BB, 3 K, 13 PA
John Mayberry .000, 8 PA
Laynce Nix .000, 3 PA

Lee vs. Mets (career: 2-0, 0.43 ERA)
Ruben Tejada .667, 3 PA
Lucas Duda .333, 1 K, 3 PA
Daniel Murphy .333, 1 K, 3 PA
David Wright .286, 3 K, 7 PA
Jason Bay .273, 1 RBI, 2 BB, 3 K, 13 PA
Ronny Cedeno .111, 1 HR, 1 RBI, 1 K, 9 PA
Scott Hairston .091, 2 K, 11 PA
Justin Turner .000, 1 BB, 1 K, 7 PA
Ike Davis .000, 2 K, 3 PA

Worley vs. Mets (career: 3-1, 3.00 ERA)
Daniel Murphy .500, 1 RBI, 1 K, 8 PA
Justin Turner .400, 3 RBI, 10 PA
Josh Thole .375, 3 RBI, 1 BB, 1 K, 9 PA
Jason Bay .250, 3 BB, 1 K, 11 PA
Ruben Tejada .250, 1 RBI, 2 K, 8 PA
Lucas Duda .250, 1 BB, 1 K, 5 PA
David Wright .143, 2 K, 7 PA
Ike Davis .000, 1 BB, 3 PA
Mike Baxter .000, 1 K, 1 PA
Scott Hairston .000, 1 K, 1 PA

Hamels vs. Mets (career: 3-10, 4.46 ERA)
Daniel Murphy .500, 1 HR, 3 RBI, 1 K, 6 PA
Ike Davis .429, 1 RBI, 1 K, 7 PA
Scott Hairston .400, 3 HR, 6 RBI, 1 BB, 4 K, 21 PA
Jason Bay .400, 3 RBI, 2 BB, 4 K, 13 PA
Justin Turner .400, 1 RBI, 1 BB, 2 K, 6 PA
David Wright .308, 2 HR, 6 RBI, 2 BB, 12 K, 42 PA
Ruben Tejada .167, 1 BB, 4 K, 14 PA
Ronny Cedeno .143, 1 BB, 1 K, 8 PA
Mike Nickeas .000, 5 PA

Last series results

Mets won, 2-1, at Citi Field, Sept. 24-25, 2011 (AP game recaps)

Mets 2, Phillies 1
Mets 6, Phillies 3: Hunter Pence dropped a deep fly ball for an error that led to five unearned runs, and the Mets completed a doubleheader sweep that handed the NL East champions their eighth straight defeat. Having already secured home-field advantage throughout the postseason, the sluggish Phillies remained winless since clinching their fifth consecutive division title. In the afternoon opener, R.A. Dickey took a no-hit bid into the seventh inning and David Wright hit a tiebreaking double in the eighth. Bobby Parnell (4-6) got the win and Manny Acosta recorded three outs to earn his third save. Jimmy Rollins started both games for the Phillies. He had three hits in the nightcap, including a bunt and an RBI single. Slumping second baseman Chase Utley doubled, walked and hit the ball hard three times. Brad Lidge (0-2) and David Herndon (1-4) each picked up a loss. Mets starter Dillon Gee (13-6) allowed three runs, two earned, and nine hits in six innings in the second game.

Phillies 9, Mets 4: Roy Halladay, Hunter Pence and the fully loaded Phillies snapped their eight-game losing streak, looking playoff-ready in every way by routing New York. Playing their regular lineup for the first time since clinching the NL East, the Phillies posted their major league-leading 99th victory. Pence homered during a three-run first inning, each starter had a hit by the third and Carlos Ruiz's single made it 9-0 in the fourth. That was plenty for Halladay (19-6). He tuned up for his expected start in Game 1 of the NL playoffs by throwing six scoreless innings of four-hit ball. The 2010 unanimous Cy Young Award winner finished the regular season with career bests in ERA (2.35) and strikeouts (220). Mike Pelfrey (7-13) was gone after three innings, leaving him with one win in his last 12 starts of the season. With their 83rd loss, the Mets matched their 2010 total.


---