Tuesday, April 24, 2012
In-depth: Memorable Mets reunions

---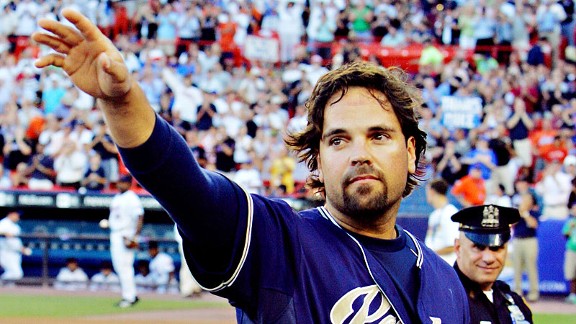 Linda Cataffo/Getty Images

Mike Piazza received a warm reception when he return to Shea Stadium with the San Diego Padres.

Five days after Lenny Dykstra and Roger McDowell were traded from the Mets to the Philadelphia Phillies for Juan Samuel, they returned to Shea Stadium as division rivals in 1989.

"I was excited to see them, but it obviously was a different mindset," recalled Mets third base coach Tim Teufel, who started at second base for the Mets in Dykstra and McDowell's reunion game. "It was all good hellos early, and then it was war after that. The reception was great for Lenny. Lenny especially got a big ovation. He's a fan favorite here. And Roger, with the job he did with [Jesse] Orosco in the bullpen, both of them got great ovations. It was a little bit different, knowing it was so quick a turnaround. But the fans reacted well."

Just has Dykstra stepped into the batter's box as the leadoff hitter on June 23, 1989 for the opposition, so too will Jose Reyes do so for the Miami Marlins on Tuesday night, facing Johan Santana -- albeit with Reyes having departed as a free agent rather than via a trade.

In fact, other than Darryl Strawberry and Reyes, most reunions occurred without the returnee willingly having chosen to leave New York. (And in Reyes' case, it's debatable if he actually had a choice, since the Mets never made an offer.)

"I'm sure Jose's going to get a mixed reaction," Teufel said.

Here's a roundup of notable returns to Flushing by ex-Mets:

• Mike Piazza, Padres, Aug. 8, 2006: Piazza got royal treatment in his first game back in Flushing, after being forced to leave as a free agent. "Just from start to finish, it was one of those things that I didn't want to end," Piazza said that day, after going 1-for-4. "I just can't explain how honored I am, because you just don't see that a lot." Said manager Willie Randolph at the time: "That's how you treat heroes."

Piazza drew wild cheers the second he emerged for batting practice. He placed a finger to his lips, as if his "shhhh" would silence the Shea faithful. Later, when the crowd rhythmically chanted "Mike Pi-azz-zza," Piazza lifted his cap while shaking his head.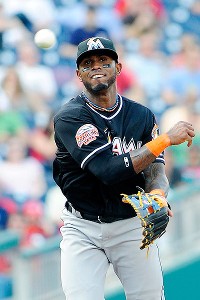 Brad Mills/US Presswire
Jose Reyes' reunion at Citi Field on Tuesday should be the latest in a memorable line.


When Piazza settled into the batter's box to lead off the second inning, the public-address system blared the familiar guitar riff he used during his Shea heyday. A 23-year-old David Wright turned to third base ump Chuck Meriwether and told him, "This is pretty cool."

"We both agreed," Wright said that day, adding: "All the former Mets that come back usually don't get too warm a reception."

The following day, Piazza homered twice, both off Pedro Martinez.

• Al Leiter, Marlins, April 16, 2005: Leiter had denied reports that he badmouthed New York while successfully courting Carlos Delgado to join him with the Marlins. He also differed with Omar Minaya and the new Mets regime about whose fault it was that he did not return. Then the southpaw, who was roughly treated by the crowd in his return, allowed one run and three hits in seven innings, but got a no-decision in the Mets' 4-3 win while starting opposite Martinez.

"I don't know what they were booing at," Leiter said that day. "One guy in the bullpen said, 'Al, we love you and I think you're great, but I'm still going to boo you.' You have fans that root for the marks and logos of their teams. You root for the fabric and I understand that. That's probably what it is."

Paul Lo Duca, Leiter's batterymate with the Marlins that day, told Newsday after the game: "When I went back to L.A., it was emotional. I asked him yesterday. He didn't want to pitch. For him to do what he did, I don't think people realize how hard it is. You have that anxiety and you want to do too much. You want to hit a ball eight miles. You want to throw a ball 100 miles an hour, because there's part of you that sort of wants to shove it up you-know-what."

• John Franco, Astros, April 11, 2005: Yes, the Mets displayed a tribute video on the Shea scoreboard before the start of the second inning. And, yes, Franco was warmly cheered by the Flushing crowd pregame, after being forced to leave as a free agent the previous offseason.

Franco actually surrendered a key two-run single to Cliff Floyd that accounted for the final runs in the Mets' 8-4 win. He was booed upon entering as a reliever. "The crowd treated me nice," Franco said after that game. "[The boos] don't bother me. That's just part of it. I played 15 years here and probably heard a lot of that. There are people who like you and people who don't like you."

• Darryl Strawberry, Dodgers, May 7, 1991: Unlike many of the other departures via trade or free agency, Strawberry left mostly of his own volition, to sign a five-year, $20.25 million deal with L.A. And he often has said of late he regretted the decision.

Strawberry, mired in a 1-for-23 slump and prolonged long ball drought, belted a two-run homer against Frank Viola in his return. But Straw also grounded out to end the game while facing Franco with the potential tying run on third base. The Mets won, 6-5.

Fans lustily jeered and chanted "Dary-llll, Dary-lll." According to the Associated Press report, extra security was positioned in right field, but the only issue was some strawberrys being chucked at the slugger in the on-deck circle. Said Franco, according to the Times: "Everybody says they hate him. But then why do they come out to the ballpark? It's because they admire him. Hey, they got their money's worth."

• Gary Carter, Giants, May 8, 1990: The aging Carter hit .183 in 50 games with the Mets in 1989, so the organization decided to go with Barry Lyons and Mackey Sasser behind the plate the following season. The Mets also parted with Keith Hernandez that same offseason. That prompted Carter to sign with the Giants to platoon with Terry Kennedy. San Francisco manager Roger Craig sent Carter out to exchange lineup cards with Davey Johnson, and Kid was given a prolonged standing ovation by the Shea faithful. He started the game and went 1-for-2 with a single and walk in seven innings.

• Dykstra and McDowell, Phillies, June 23, 1989: After receiving a standing ovation prior to his leadoff at-bat from the Shea crowd of 44,828, Dykstra tripled on the second pitch of the game, off former teammate Bobby Ojeda. But the Mets won, 9-3. They capped the scoring with eighth-inning singles against McDowell by Dave Magadan and Kevin McReynolds that allowed inherited runners to score.

• Bud Harrelson, Phillies, May 19, 1978: Harrelson went 1-for-3. The opposing second baseman that day? Bobby Valentine for the Mets.

• Tom Seaver, Reds, Aug. 21, 1977: Two months after he was traded to Cincinnati for Doug Flynn, Steve Henderson, Dan Norman and Pat Zachry in an acrimonious departure, Seaver was back at Shea Stadium. He limited the Mets to one run in a complete-game 5-1 win, part of a stretch of six straight nine-inning performances for Seaver. "It's awfully nice to come home," Seaver said afterward, according to the Times. "But this was no fun. It would've been fun if this had been spring training, but it was too emotional. I was aware that they were up there at bat, but I tried to block it out of my mind. And now I'm awfully glad that it's over."

• Tug McGraw, Phillies, June 29, 1975. Traded by the Mets to Philadelphia the previous offseason, McGraw pitched both ends of a doubleheader in his return to Shea Stadium, logging a save and a win while tossing a combined nine relief innings.

• Others such as Dwight Gooden, Jerry Koosman and David Cone did not face the Mets until years after their departures.

"In-depth" appears Tuesdays during the regular season


---